It's been a pretty lacklustre year for the oil majors despite a rise in Brent crude prices of around 14% year to date, though it has to be acknowledged that oil prices and the oil companies had a pretty poor start to 2017, with oil prices hitting their low point in mid-June, against a backdrop of scepticism that the OPEC centre would hold with respect to production output caps.
That it has done so at a time when oil demand has shown some signs of picking up has helped Brent crude prices to their highest levels since 2015, with US oil prices not too far behind.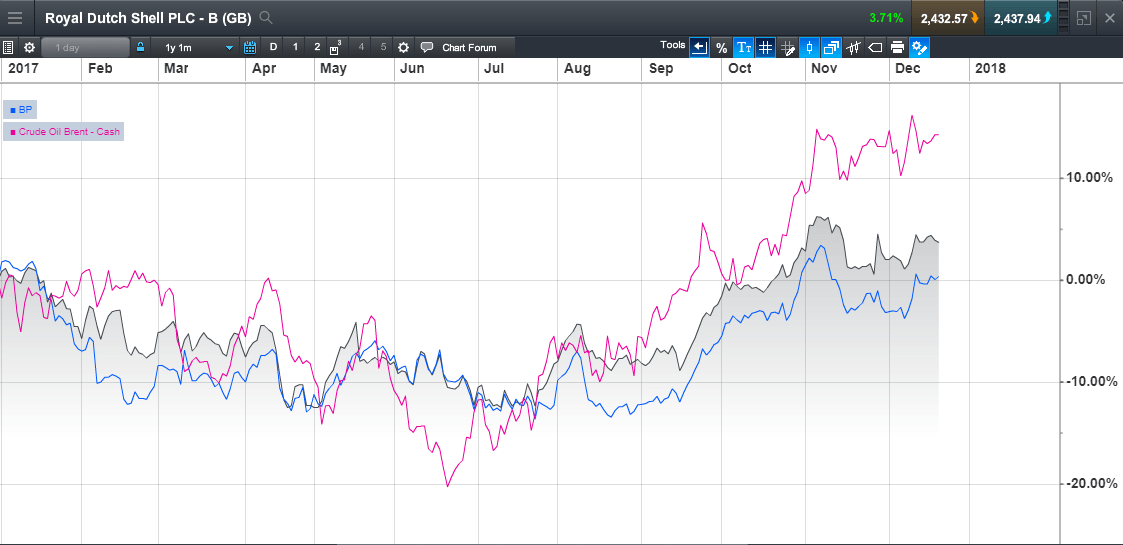 Source: CMC Markets
The rally in oil prices since the summer also marked a turnaround in the fortunes of the UK's two big oil majors, BP and Royal Dutch Shell, with the share prices of both rallying in concert with the oil price along with some positive trading updates for the third quarter.
BP's Q3 results reinforced the positive picture seen in the summer, with profits coming in at $1.9bn, well above the $684m seen in the previous quarter. More importantly, operating cashflow has increased from a year ago, with the year to date number increasing to $13bn from $8.3bn the year previously, while BP has also managed to get its breakeven price down to $49 a barrel from $60 a barrel at the beginning of the year.
The larger concern remains around the company's overall debt level, which is currently at $39.7bn and is up from $32.4bn a year ago, giving it a gearing of 28.4%. This helps explain why the share price has struggled to move beyond the peaks that we saw in November and marks the highest point since the summer peaks of 520p in 2014. The 528p November peak, the highest level since the aftermath of the Macondo oil spill in 2010, proved to be fleeting which suggests that investors probably want to see a combination of lower debt levels along with a more sustainable dividend policy.
As far as Royal Dutch Shell is concerned the company has performed a little better than its smaller peer, helped in no small part by the continued integration of the BG Group assets, but it has still underperformed relative to the oil price.
This underperformance has come about despite a 50% rise in profits at its latest trading update in November and saw the company boost profits across all of its divisions. Both upstream and downstream businesses saw significant increases in income while the gas division also saw an increase in profits.
The company also announced at the end of last month that it was restarting all cash dividend payouts after bringing in scrip dividends in 2015 to offset the slowdown in cash flow caused by the oil price slide of 2014/2015. Unlike BP, the company has also managed to reduce the amount of debt with a view to lowering its gearing towards 20% in the coming years.
The biggest problems the companies are set to face is the move away from oil consumption towards renewables and biofuels as measures to deal with climate change become more mainstream.
With the Norway sovereign wealth fund announcing it would be pulling back from investing in oil and gas assets in the coming years the big task for oil companies in the coming years will be to reduce their reliance on their traditional means of income and invest in renewables like wind and solar energy.
BP appears to be already leaning in this direction after investing $200m in Europe's largest solar power provider, Lightsource, which is developing solar projects in Asia, the US and Europe.
Royal Dutch Shell appears to be leaning in a slightly different direction after it agreed to buy NewMotion, an electric vehicle charging company last month, in an attempt to roll out charging point technology to its forecourts.
The company is also investing in other alternative fuels including liquefied petroleum gas and hydrogen on top of its $50bn investment in liquefied natural gas when it bought BG Group in 2015.
As we look ahead to 2018 and the prospect for the UK's two biggest dividend payers, the outlook continues to look positive despite the shares of both being close to multi-year highs. Whether or not we see further gains will largely depend on firstly whether the gain seen in the oil price so far this year is sustained, but also in how successful both companies are in diversifying away from their traditional business models. Both have made decent progress in terms of their gas businesses and in cutting costs but more progress needs to be made, with gas making up about 50% of BP's business now.
The biggest concern remains around BP, in that its high debt levels and wafer-thin dividend cover still make it vulnerable to an economic slowdown or a drop in demand. But with breakeven costs on oil set to come down further it would need a sharp drop to cause significant concern.
CMC Markets is an execution-only service provider. The material (whether or not it states any opinions) is for general information purposes only, and does not take into account your personal circumstances or objectives. Nothing in this material is (or should be considered to be) financial, investment or other advice on which reliance should be placed. No opinion given in the material constitutes a recommendation by CMC Markets or the author that any particular investment, security, transaction or investment strategy is suitable for any specific person.