US tax reform negotiations are approaching a critical stage. Markets are now keenly focused on this and US bond charts look primed for a short covering rally. This is worth watching, not only as a trading opportunity but because it could have significant implications for both Forex and stock markets. 
Bonds and the tax reform package
As things currently stand, US tax reforms are projected to add $US 1.5tn to the budget deficit over 10 years. That potentially means more bonds being sold, economic stimulus and a higher Fed rate. All that suggests higher bond yields and in recent months markets have been reacting accordingly, with bond prices falling.
US T-Note 2 Year Cash Chart – bullish divergence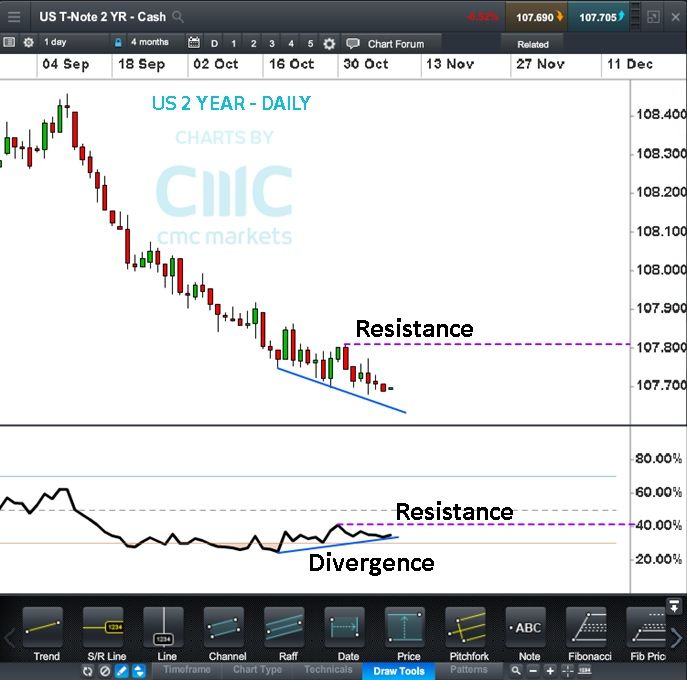 Falling bond prices mean rising yields. As you can see from the chart above, the 2 year Note has been in a consistent, low volatility down trend. Yields on US 2 year notes have risen from 1.25% in early August to current levels of 1.63%
For me, the interesting thing about this chart,is that it is now displaying bullish divergence. The 14 period RSI is rallying out of the oversold zone, making higher lows and higher highs. At the same time, price is still making lower lows.
Leading into a major news event like the tax reform package; bullish divergence suggests the market might be primed for one of 2 possibilities:
A powerful pop to the upside if the news is disappointing ( in this case the reform package is less stimulatory for the economy than expected) OR
A profit taking rally even if the news comes in as expected. The big downtrend followed by slowing momentum indicates market positioning might be pretty short but with profit takers becoming trigger happy. This is the classic sell the rumour; buy the fact situation
A break above resistance on either the RSI or price charts could indicate that a rally is beginning to get underway
Implications for other markets
A corrective rally in bonds is likely to see a corrective sell-off in the US Dollar based on disappointment that interest rates are not being pushed higher.
It seems to me, that the impact on the stock market may be a bit more clouded.
In broad terms there are 2 main themes for stocks in the tax reform package:
Potential cuts to company tax costs
Potential economic stimulus
If the market is disappointed by corporate tax cuts, there could be selling pressure on stocks regardless of the stimulus impact and a bond rally.
However, forecast corporate tax relief combined with a sell the rumour; buy the fact rally in bonds would be good news for stocks. That scenario would see lower tax costs and a delay in higher interest rates - happy days.