A clear down draft in AUD/NZD is re-igniting talk of a "parity party". However the daily chart shows there are a number of clear levels on the potential path ahead. These are hurdles to jump if the NZD is to strengthen above the AUD for the first time in modern history.
This is not the first time the pair has approached the magical 1.0000 level. In April 2015 AU/NZD touched 1.0020 - tantalisingly close. Interestingly, there is a corresponding low in June 1997 - at 1.0021. This is the support barrier that AUD/NZD must breach if parity is to occur.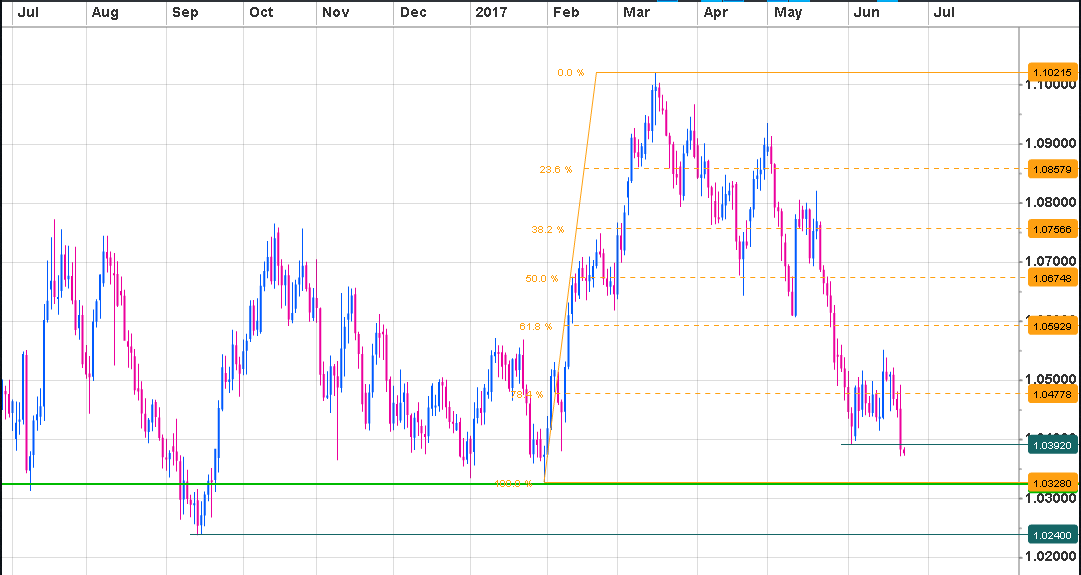 However the chart suggest there are a number of points where traders could expect work, if not a bounce. This is how I tick them off:
1) The breach of the recent low at 1.0392 gave the sell signal. While it remains below this point the down trend is intact and lower levels are in sight.
2) The first target level is 1.0328, the previous low that signifies a 100% retracement of the early 2017 rally. The drop through the 76.4% retracement level took work, and it's possible the pair could do more work around 1.0328. This level also lines up with previous support levels from the weekly chart (not shown).
3) The take profit target is just above the 2016 low at 1.0240. I'm looking for a downward shove to this stretch low. While I suspect a bounce off this level is the most likely scenario, if the pair sliced straight through I'd seriously considering re-establishling shorts for a test of the all time