After a tough few years there was some optimism that the food retail sector was starting to show signs of a turnaround after a significant rebound in the share prices of Tesco and Morrisons, on the back of rising confidence that the worst of the sectors retail woes were behind it.
When looking at the numbers with respect to overall UK retail sales there were good reasons for thinking this, though the recovery in the fortunes of two of the UK's biggest food retailers has to be put in the context of the fact they were rebounding from multi year lows in their share prices.
The entry of lower cost retailers has continued to be a challenge to the established order for food retailers, as the market share of Aldi and Lidl has proved with Aldi now the fifth largest food retailer in front of Co-op and Waitrose.
Higher food prices and a more discerning consumer, who is not only prepared to shop around but to make more regular shops as opposed to one big shop, has ensured that food retailers have stayed incredibly price sensitive.
The Tesco turnaround story which was a feature of 2016 and which won them some PR plaudits when they took on Unilever in the now famous Marmitegate row, really focussed attention on all of the big supermarkets pricing policies on their flagship brands.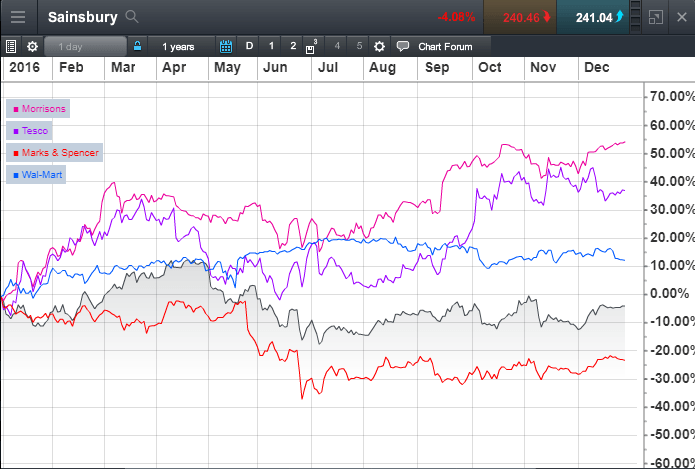 Source: CMC Markets
It also made consumers much more aware of the various ploys companies use to disguise an increase in prices, like making a product smaller and keeping the headline price unchanged.
Tesco's return to profit in 2016 was a welcome relief for shareholders along with a pension deficit which is now more manageable. There is a concern about other underlying problems, including but not confined to, questions about the wisdom of the recent £3.7bn acquisition of wholesaler Booker Group which is due to complete next year after being given the green light from the Competition and Markets Authority.
Booker not only supplies a range of convenience store brands like Londis and Budgens but it also owns Makro which has a number of outlets throughout the UK.
Booker is also a catering supplier to restaurant chains Byron Burgers, Wagamama and Prezzo, and most of the cinema chains around the UK so Tesco's acquisition not only secures a new network of stores, but it also helps it diversify in a whole new direction as a supplier to the leisure industry.
Despite all of this and the fact that Tesco has managed to maintain its lead as the UK's number one grocer the share price performance this year has been disappointing, however Tesco hasn't been unique in that with similar underperformance from most of its peers.
More positively there does seem to be some evidence that the worst of the consumer squeeze could be starting to ease.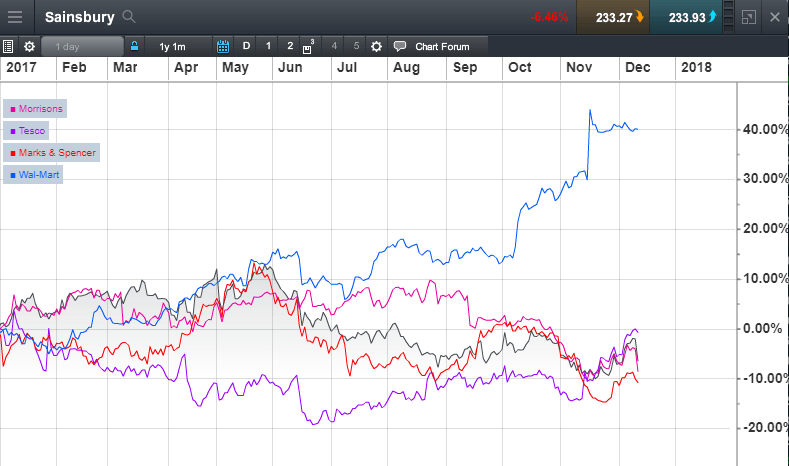 Source: CMC Markets
The recovery in Morrison's share price that we saw in 2016 has also stalled this year but like other food retailers is now starting to move its prices higher after years of sharp discounting.
The business has also gone down the diversification route, signing a deal with convenience store chain McColls in addition to last year's tie-up with Amazon, which has seen the shares trade at a slight premium in the hope that a bid might be forthcoming.
That became less likely when Amazon bought the Whole Foods business, but Morrisons should reap any benefits if Amazon does start to make inroads into the UK food retail sector.
Earlier this year Morrison's saw an increase in profits of 40% while its overall sales numbers were also showing signs of acceleration on previous years.
It would appear that the efforts of CEO David Potts of drilling down on costs and maintaining market share are continuing to bear fruit against a backdrop of a tough retail environment.
It's been a pretty steady couple of years for Sainsbury, even though it still remains Britain's number two supermarket, but this is probably down to the fact that it has been able to ride out the worst of the turmoil that affected its peers in the last two to three years.
Like its peers its share price has fallen in 2017 but not by much, although it also needs to be set in the context of the last few years where its policy has been a little different. New CEO Mike Coupe has decided to take a different route, with the acquisition of Argos, a move that has caused some debate as to the company's long term policy.
CEO Mike Coupe cut the dividend in 2016 as profits came in below expectations and the trend has been fairly similar so far this year.
In November the company reported a 9% fall in half year profits but was able to paint a more positive picture going forward, saying the inflationary pressures were likely to subside as we headed into 2018. The integration of the Argos business has continued but the company did take a hit from the closure of 100 Argos stores, which were in Homebase stores, after the chain was taken over by Bunnings.
The company has continued its program to integrate Argos stores within its supermarkets, adding 112 so far with another 53 expected to open by Christmas.
Asda owner Wal-Mart has been the notable outperformer, but this is misleading as the share price gains have been largely as a result of its US operation. Asda's performance has been consistently woeful, outflanked by its larger peers in terms of their growth strategies, and by the discounters of Aldi and Lidl who have stolen its market share by undercutting its prices.
The UK supermarket sector continues to undergo significant amounts of change from a few years ago, with fewer large out of town stores, and more mini stores.
The continued expansion of Aldi and Lidl is still likely to pressure margins, but there does appear to be some signs that the supermarket sector is more able to pass on price increases than it has been in the last three years.
Whisper it softly but maybe 2018 might see the slowdown in profits that we've seen in the past few years, start to turn itself around.
This will still be dependent on the expectation that inflation starts to fall back and wage growth starts to accelerate. The jury remains out on wages despite this week's rise to 2.3%, and 2.5% including bonuses, on Wednesday.
The real worry remains inflation given the rise to 3.1% in the November numbers and recent rises in oil and gas prices. January also tends to be a big month for inflation as travel fares also go up, so it could take a few months into 2018 for CPI to start coming down.
The material (whether or not it states any opinions) is for general information purposes only, and does not take into account your personal circumstances or objectives. Nothing in this material is (or should be considered to be) financial, investment or other advice on which reliance should be placed. No opinion given in the material constitutes a recommendation by CMC Markets or the author that any particular investment, security, transaction or investment strategy is suitable for any specific person.