A lot of Australian stocks have had a good run in recent weeks but the Resmed stock price has gone in the opposite direction, down 11% since its peak on 17 February
A lot of the recent weakness has been about strength in the Aussie Dollar. Resmed is listed in the US and reports in $US. It derives more than half its revenue from the Americas and about a third from Europe, the Middle East and Africa. This means it has a negative risk to a stronger $A, especially against $US and the Euro.
If you are not familiar with Resmed, it's an international operator specializing in the manufacture and distribution of equipment for diagnosis and treatment of sleep and breathing disorders like sleep apnia. This is mainly about flow generators, masks and accessories. It's also a growth stock that has benefited from the growing recognition of the problems caused by sleep disorders and developing wealth in emerging markets.
Resmed stock chart
The recent drop finds Resmed stock yet again testing the support of a well defined trend channel.
A bounce off this support would be positive. A quick move to fill last week's price gap would be even more constructive.
However, it might pay to have a flexible attitude about this chart. It's hit the support level with considerable downward momentum.  This is indicated by the Slow Stochastic below the chart which is falling hard and breaking below its support line. If the Resmed stock price also makes a clear break of its trend line support more downside could be in prospect
A break of the channel support brings the longer term trend line support into play. The low of the current channel is not far under that and might stop a minor false break of the longer term trend line. This support zone is around $6.70-$6.90 or possibly a bit above if price falls quickly to the trend line.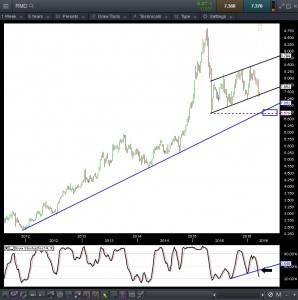 Resmed Stock Weekly Chart
Click to enlarge
Not only about the Aussie Dollar
The currency is the key variable for Resmed but it's not the only source of short term nervousness . While it looks like a quality growth stock over the medium term there are a couple of potential short term head winds.
First it is facing increased competition for its sleep disorder equipment. This has seen its profit margins under a bit of pressure over the past couple of years.
Second, it recently acquired Brightree, a medical software company.In the medium term this looks a good strategic fit. It's a source of growth; fits with Resmed's diagnostic and data collection functions and provides some potential diversification. However, it's a move into a different industry, software development, and that carries management and execution risk. The market will be keen to see it bedded down an producing ongoing results.
With these things in mind, and given that its currently trading at around 22 times earnings, a 5-9% decline to the longer term support level doesn't look out of the question.