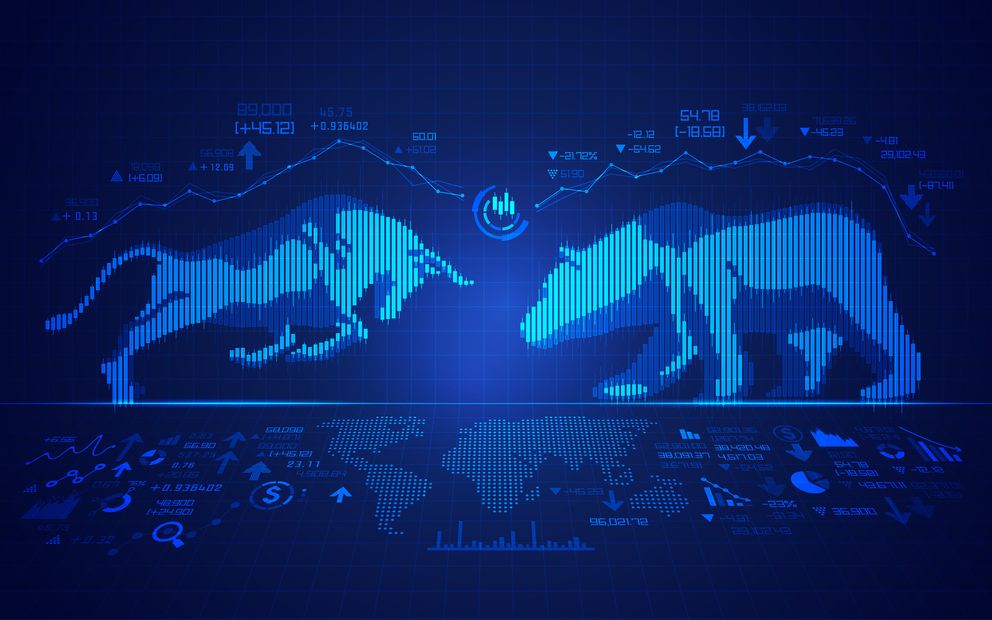 20-08-2019
The Reserve Bank of Australia releases the minutes from the most recent meeting today. Interest rate markets reflect little chance of a cut in September after back-to-back cuts in June and July. However two cuts by year end is the majority view, and the minutes will be scrutinised for further clues on timing.
The world's biggest mining company, BHP, narrowly missed underlying profit forecasts. Although headline profits more than doubled and the dividend was lifted to 78 US cents, the shares may come under pressure today after the miss and management's estimate that cost will rise this year.
Other reports so far include better than forecast profits from Tassal Group and Sonic Healthcare. Industrial services group Monadelphous disappointed with a 29% drop in earnings, and intellectual services group IPH also missed analysts' estimates.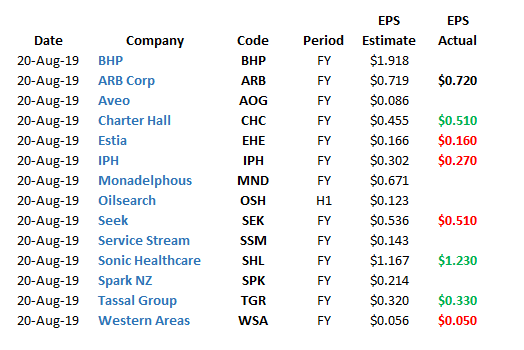 19-08-2019
Seven of Australia's top two hundred companies report today as the season approaches the half way mark. Beach Energy, Lend Lease and GWA Group missed estimates by small margins and investors may not punish them too severely. BlueScope Steel shareholders could celebrate a 17% lift in underlying profit despite a 35% drop in headline earnings. A lack of one-off benefits meant the headline number suffered in comparison to last year's result.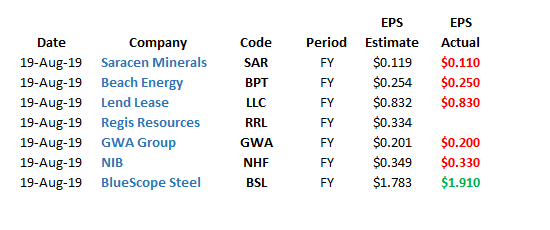 16-08-2019
As the Australian reporting season clears the one-third point, sales growth across the top 200 companies is running at a healthy 8.5%. However earnings pressure in telcos, utilities and energy stocks has profits in the red for the half year.
Record highs for gold in Australian dollar terms brings a particular focus to Newcrest Mining's full year result today. Consensus forecasts are centred around a 50% increase in profits. Star entertainment reports today, and analyst will look for details of strategy to deal with competition from the imminent Crown casino in Sydney. Surprisingly good results in property so far puts Abacus and Charter Hall in the spotlight, and healthcare is represented by pathology group Healius and hearing device manufacturer Cochlear.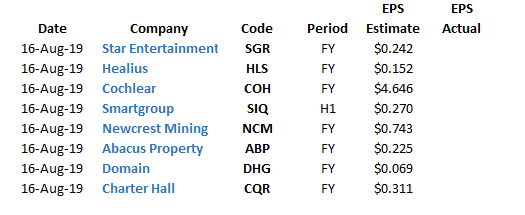 15-08-2019
European and US shares were thumped in overnight trading after the US bond curve signalled an imminent recession in the US. Bonds rallied everywhere. Oil and base metals tumbled and gold rose as investors fled growth exposures. Financials and energy stocks fell furthest as traders factored a weaker demand scenario and lower for longer interest rates. Currency markets remained relatively calm.
The sell-off comes despite a better than forecast US earnings season. More than 90% of SPX500 companies have reported. Aggregate earnings are up around 2%, beating forecasts of a negative quarter. However The Asia Pacific futures markets indicate opening losses around 2% for major markets.
Australian company results could add to market pressures. Telstra reported a 40% drop in profit, worse than forecast. Optimistic messages around the introduction of the 5G spectrum may not be enough to stem investor displeasure. Other misses include Blackmore's, Cleanaway, Treasury Wine Estates and Super Retail. Both Sydney Airports and QBE Insurance delivered earnings above expectations, and funeral group Invocare surprised with a 7.5% lift.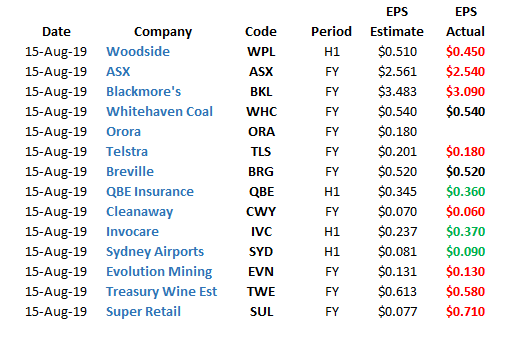 14-08-2019
Australian company reporting hits full stride today with nine Australia 200 index releases. Dexus property group may see unit price pressure after reporting a 26% fall in profits on lower revaluations. Packager Pact Group also reported a profit decline as write-downs pushed the bottom line to negative. On the other hand, Computershare and CSL both beat consensus forecasts. However analysts are waiting on Australia's largest telco Telstra to reveal its result and flesh out its evolving strategy.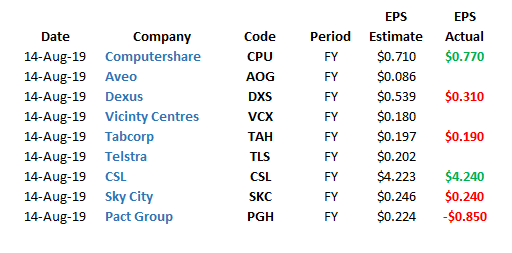 13-08-2019
Companies reporting today include Hong Kong listed Tencent Holdings and Australian fund managers Magellan (MFG) and Challenger (CGF). The contrasting fortunes in the wealth management space are on display. MFG is trading near all-time highs, and is in suspense due to a capital raising this morning. CGF is trading at 4-year lows. It reported a 5% fall in net profit and $2.4 billion lower FUM after a 9% reduction in advisers. Management spelled out an ongoing growth strategy and a positive outlook.

12-08-2019
The US corporate reporting season is close to done. Growth in Healthcare and Telco earnings is offset by weakness in Materials, Technology and Consumer Goods, and it's Iikely this will be the second quarter in a row of negative earnings for the S&P500.
JB HiFi (JBH) has once again confounded the short sellers, delivering 7.1% profit growth and $1.42 dividend for the full year. Day traders are on alert for a short squeeze. Property Group GPT saw earnings drop 52%, slightly better than expected. Ansell and Bendigo Banks also saw bottom line pressures. However Ansell management posted a positive outlook that could find shareholder support.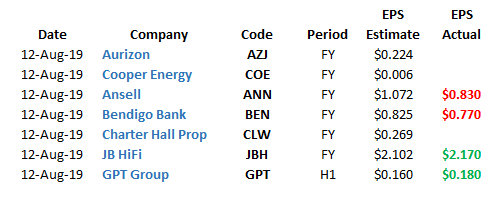 9-08-2019
Data could dominate the global trading session. Japanese preliminary Q2 GDP and July inflation numbers for China arrive today. If either come in above forecasts there is potential to add to the positive momentum. Tonight the focus turns to the UK for the release of GDP, trade, investment, production, manufacturing and construction data. Forex traders could re-position ahead of the numbers deluge.
Online real estate group REA reported a 58% decline in headline profit after booking a $173 million charge against its Asian operations. However underlying profits surprisingly rose, and both earnings and revenue lifted 8%. In an echo of yesterdays' result from developer Mirvac Group, a decline in residential activity was offset by gains in industrial and office activity. Management issued a positive outlook, and REA investors will hope the share price follows Mirvac's 6.5% post-result gain.

8-08-2019
Stock and commodity markets stabilised overnight, with a few key exceptions. Oil prices plummeted 4.5% after the US Department of Energy reported an unexpected 2.4 million weekly build in crude stockpiles. Gold traded to six-year highs above US $1,500 an ounce. Overall sentiment was modestly pro-growth lifting European shares, sparking an inter-session bounce in US equities, and pushing bond yields higher.
Asia Pacific shares are set for a mixed start, as futures traders pushed the Nikkei higher, left the Hang Seng flat, and the ASX200 lower.
The Australian company reporting season is in full swing. The situation at Australia's former biggest wealth manager remains highly concerning. AMP revealed a $2.3 billion loss, a 38% drop in operating profit and a $650 million capital raising. The shares are in trading halt as the capital raising proceeds, but there is a stronger probability of a new share price low when they re-commence.
Profits were generally down. Property group Mirvac saw a 6% drop and IAG's insurance profit fell 15%. IAG's sale of a Thai business bolstered its headline number. AGL provided a cautious outlook, but provided a reporting bright spot with a 2.2% lift in underlying profit and a $650 million buyback.

7-08-2019
The full year result from the Commonwealth Bank of Australia released this morning may dominate local investor responses. Profits dropped 4.7% for the full year, driven by almost $1.3 billion in costs associated with the banking Royal Commission and customer compensation.
Operating income dropped 2%, but the bank held the dividend at $4.31 for the full year. The result is better than expected, but the market response could be tempered by the fact the $5 billion sale of its asset management business did not produce a special dividend. CEO Matt Comyn cited ongoing pressure on margins
The sale of Suncorp's life insurance arm and the associated loss saw its full-year result down 84%. The yearly dividend is 70 cents, down from 81 cents. The acting CEO Steve Johnson spoke to organic improvement. A modest drop in net interest margin is impressive in light of the lower interest rate and lending environment.
6-08-2019
An escalation of trade hostilities roiled markets in overnight trading. Yesterday China devalued the Yuan to eleven-year lows and instructed state organisations to halt purchases of US agricultural goods. The White House responded by labelling the move "currency manipulation". Shares dropped, bond prices hit fresh highs and gold continued its ascent as investors raced for the exits. In scenes reminiscent of the 2018 fourth quarter sell-off the S&P 500 index dropped 3%, extending the four day drop to 6.5%.
Australian top 200 companies reporting this morning offer some cold comfort to local investors against this distressing backdrop. Both Pinnacle Investments (PNI) and Bunnings Warehouse Trust (BWP) beat Bloomberg average full-year earnings estimates. A miss from Shopping Centres Australia appears to confirm ongoing weak consumer activity, and may better match the current market pulse.
Investors look forward to two key releases tomorrow. The Commonwealth Bank of Australia (CBA) is expected to unveil a 10% decline in earnings as remediation expenses continue to hit the bottom line. As it the only big four bank to report in this cycle analyst will look to the reported Net Interest Margin as an indicator for the sector. Transurban (TCL) could see an increase in toll revenues after recent acquisitions but lower economic growth and increased expenses may mean a significantly weaker bottom line.
5-08-2019
We are kicking off the ASX reporting season blog page for the August 2019.
The Reserve Banks of Australia and New Zealand deliver interest rate decisions on Tuesday and Wednesday. Analysts are forecasting a 0.25% cut for New Zealand, dropping the cash rate to 1.25%. In contrast, Australian interest rate markets indicate almost no chance of a change after two adjustments in the previous months. Both nations' currencies are under pressure from weakening growth sentiment and a resurgent US dollar.
The weakness comes at a crucial time for Australian shares. The semi-annual reporting season will see reports from Commonwealth Bank, Transurban, AMP, AGL, IAG and James Hardie this week, among many others. Resource stocks are expected to feature given key commodity prices have surpassed consensus forecasts aver the last year. Lower growth rates and cautious consumers mean the outlook for industrial and financial stocks is less bright.