By Chloe Edwards
The first quarter of 2019 has seen many currency pairs fairly range-bound, meaning my trend trading opportunities on these have been relatively scarce. As a result, I've been looking elsewhere for trend opportunities, with most indices still rallying strongly across the board. Further opportunities have presented themselves on Crude Oil, and today I shall be looking at both West Texas and Brent.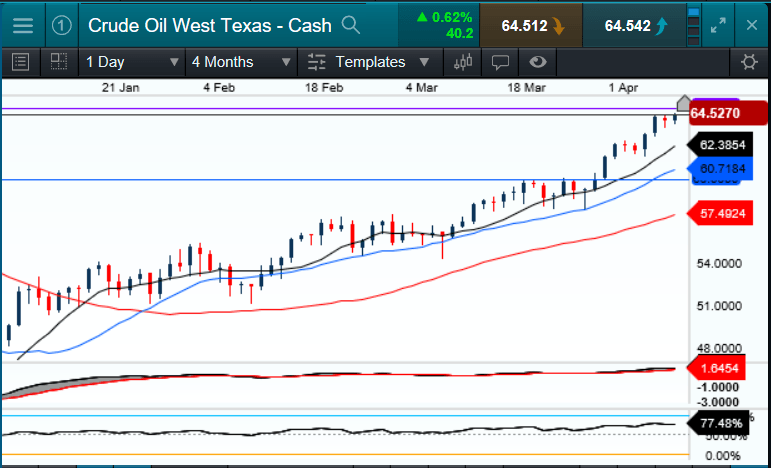 Looking at the Daily chart of West Texas Crude Oil above, we can see that the beginning of April marked the break above the significant price of $60 per barrel, and price has continued up strongly towards $65. We can see an uptrend in place, with price action forming a series of higher lows and higher highs since early January.
We can also notice that the 10, 20 and 50 moving averages (MAs) are showing bullish geometry as they trend upwards with space in between. Both the MACD and the RSI indicators are trending higher in a bullish fashion, which could confirm the trend momentum. My reading of price action and the indicators suggests there is potential for possible long swing trading opportunities, so I will be awaiting a pullback into the MAs on the daily timeframe.
I do see some potential resistance at the $65 level, but if this is breached, the next significant horizontal level of resistance could be at $70, so this leaves the potential for a good reward-to-risk opportunity on both the daily timeframe and on lower timeframes.
In terms of trading the lower timeframes, my preference would be to wait for the $65 level to be breached before continuing to build on a swing trading position.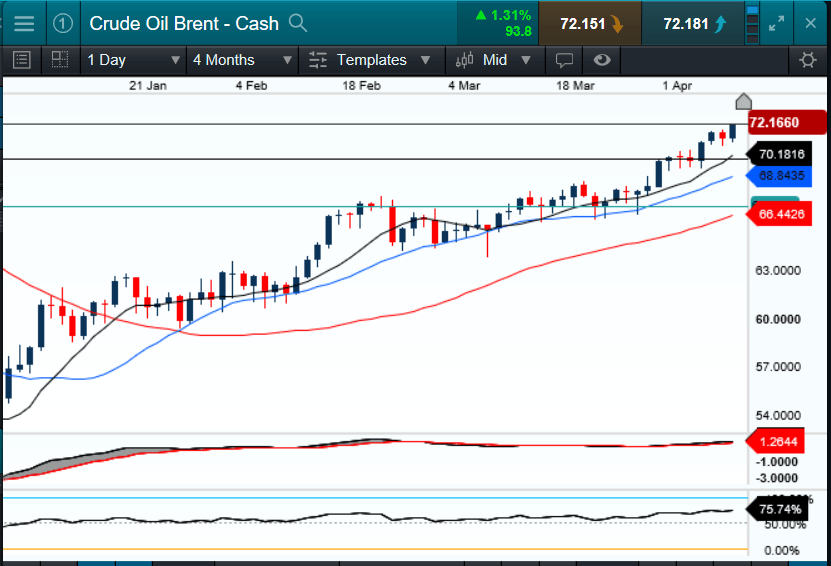 The daily chart of Brent Crude is showing a very similar picture, with the $70 level recently breached. Again we can see good trend structure with higher highs and higher lows supported by the correct MA geometry and the convergence of momentum indicators. I will be awaiting a pullback into the MAs on the daily timeframe.
I will also be looking for valid trade setups on a lower timeframe. The four-hour chart has been showing some good trend structure, which could lend itself to trading pullbacks to the MAs. Entry on this lower timeframe could also have the benefit of offering a more accurate entry than entering on the daily timeframe with a potentially even better risk-to-reward ratio as I build a longer-term swing position.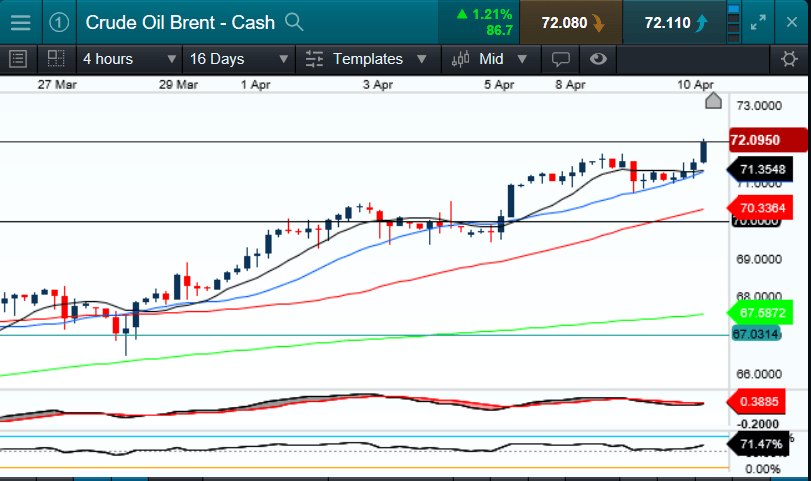 I am waiting for price to pull back to the Buy Zone around the 10 and 20 period MAs. If this happens, I will be looking for a small reversal candle to form in order to take a swing trading position to the upside. In terms of the potential move, I see the possibility of the next major resistance level above price on Brent Crude Oil at around $80, so there could be the possibility of a high reward-to-risk trade.