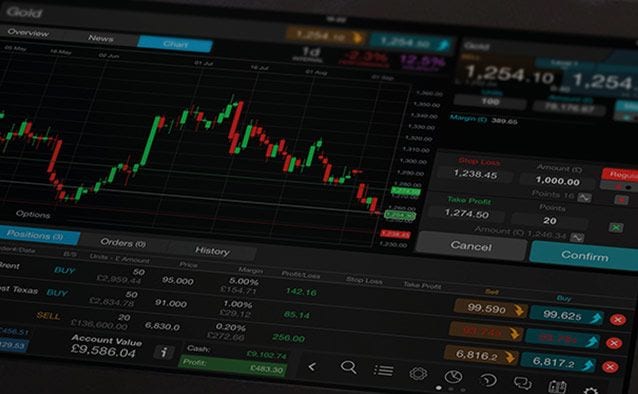 From Craig Cobb at Trade with Precision:
Well didn't Monday start off with a bang! Pretty soon after the week begun we saw gold, platinum and silver all sell off hard! Platinum was down over 5% at one stage and it all happened within a 30 minute window. Last week, my colleague Hao Sun, blogged about the impending slide in metals ('Metals ready to move? 15th July) and boy has the market followed through with massive moves and volatility. It's this volatility that makes me hungry, so today I will be pointing out a few "burger joints" I am stalking for a bit of "all you can eat" action this week.
Since I mentioned it in my opening paragraph I will start with Platinum. A fall in 30 minutes, yup it was a black diamond of a run down for platinum at the open. Have a look at the chart below as to how it went down.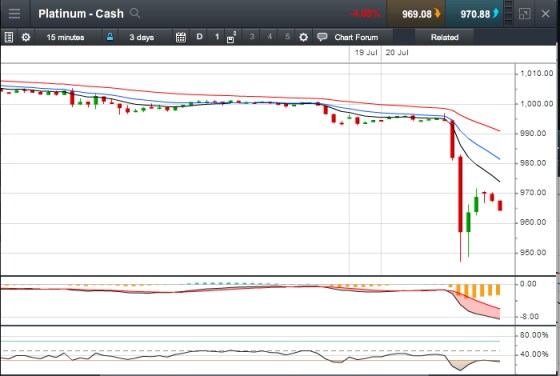 It certainly bounced back pretty quick though and by midnight most of the fall had been gained back. So where are we now? Well the below chart of platinum is the daily time frame and it is clearly in a down trend. With a great daily down trend and a lot of attention on the metals I will be hunting out trades on any time frame to the short side. Especially since there was a nice pull back on the daily.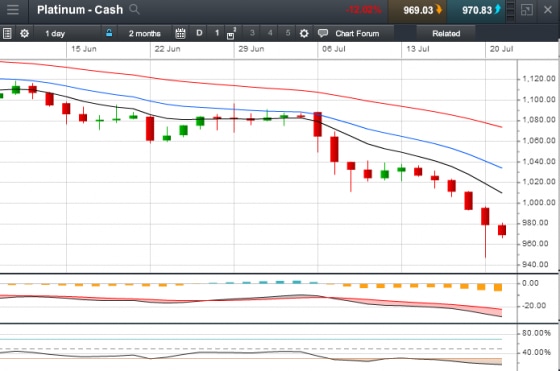 Gold is next. Gold closed the sessions towards it's low which is a good sign that the price may hold off for a while. I love to see a close towards the extremity of the range to suggest the momentum and selling was real and likely to continue.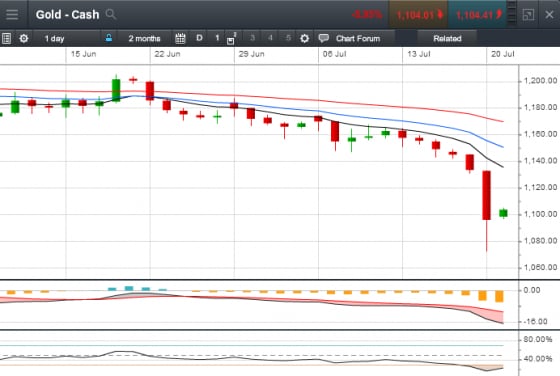 I will be looking to the lower time frames for short term moves to the down side, looking for support to break lower and pull back trades into Fibonacci levels and into the sell zone.
Silver also had a sell off but nothing as extreme as gold or platinum, that doesn't mean to say that it's not going to offer good trades this week though. Below is the daily chart and it's plain to see it's in a nice down trend right now.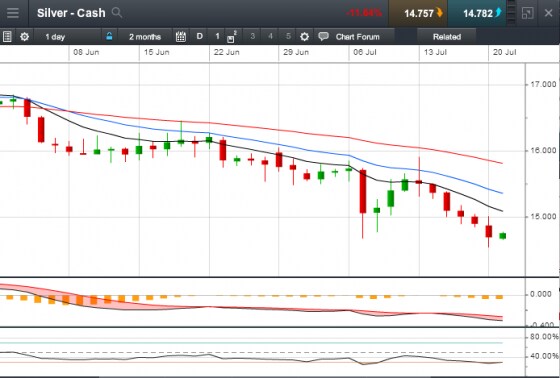 The 4 hour chart (below) has been trending lower for quite some time now so it will certainly be going onto my watch list for trades lower.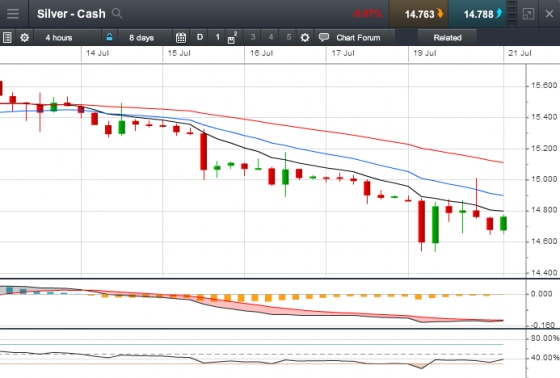 So it has been a great start to the week on the precious metals side of the market. It may take a couple of days to set up a golden trade but I am willing to wait because with the volatility around at the moment there could be some very nice moves to come.