A high degree of interconnection in market movement at the moment means many traders are following prices they don't normally watch. Following good leads from other markets, or allowing them to confirm a given market's action, can improve a trader's accuracy.
We looked at the importance of USD/JPY moves to global markets  (The Most Important Chart in the World Today) a fortnight ago, and the early warning of a rally may have helped. Now, as shares and commodities appear to stall after a big rally, there is an argument raging:
"Is this the end of the beginning, or the beginning of the end?"*
In other words, is the rally of the last two weeks the beginning of  a new bull market, or a correction in a bigger bear market that will take prices significantly lower?
Though I have an opinion on this, I prefer primary evidence - price action. And one instrument sits at the heart of many global concerns - oil. Whether a trader is concerned about China, deflation, bank failures or US interest rates, all themes have a tie back to the oil price. What is the price of oil telling us?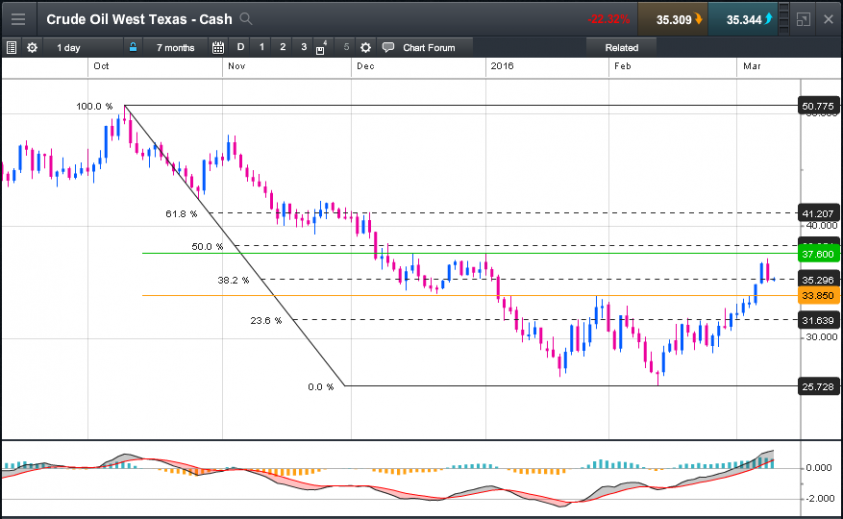 Here's the story of the tape. Notice how oil prices stabilised around three weeks ago - before share markets. This points to oil acting as a leading indicator at the moment. The rally brings West Texas to a decision area, with the combined weight of an overhead resistance at $37.60 (green line) and the 50% Fibonacci retracement level around $38.25. To make further gains, WTI will need to break through these impediments.
At the moment it is doing work around the 38.1% retracement level close to $35.30. The line in the sand is the top of the peak in the middle of the double bottom formation, represented by the yellow line at $33.85.
These two levels, $33.85 and $38.25, are now crucial to the outlook, not only for oil but for global risk sentiment.
A break below $33.85 would not only indicate further falls for WTI, but for industrial commodities and shares as well. On the other hand, trading above $38.25 could indicate, oil, copper,the Australia 200 index and BHP are all a "buy". Let the market decide.
*thanks to CMC Stockbroking's option guru Mick Newlands for the tagline.