Brent has arrived at a key chart resistance level. Given its status as a sentiment leader, the next couple of trading sessions might be pretty interesting.
The daily chart is now testing trend channel resistance.This channel has defined oil's rally from the $27  low in January. It will be Brent's third test of this resistance and looks pretty significant this time around.The 78.6% Fibonacci retracement is at the same level and often spells the end of a corrective rally.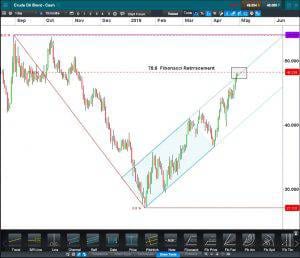 Crude Oil Brent - Cash CFD Daily
Click to enlarge
If Brent does reject this resistance it could signal potential for a return to the channel support and quite possibly a break below.
If things go the other way, and price pushes clearly above this resistance, the double top around $54 looks to be the next major barrier.
The fundamentals of the oil market have improved over the past couple of months. US production is now clearly trending down. However, inventories remain very large and are likely to keep a lid on any major rally for a while yet. Owners of all those barrels in storage are going to be pretty tempted to sell if prices get much higher. It wouldn't surprise to see the current rally begin to fade in the near future, at least for a while.
The US Dollar is the other key ingredient here. Dollar weakness has supported the oil rally. However, this oil resistance fits nicely with the potential USDCAD Bollinger Band set up I posted yesterday Oil is Canada's biggest export. If  the oil price heads down for a while we might also see $US begin to rally against its Canadian counterpart.