Volatility of the kind markets suffered on Friday has a tendency to create unsettled conditions for some time to come. The savagery of Friday's moves had a lot to do with the fact that markets were wrong footed by Brexit. They went into the event on a note of confidence and having removed the risk premium built into prices earlier in June. However, the size of the moves themselves will leave markets jittery.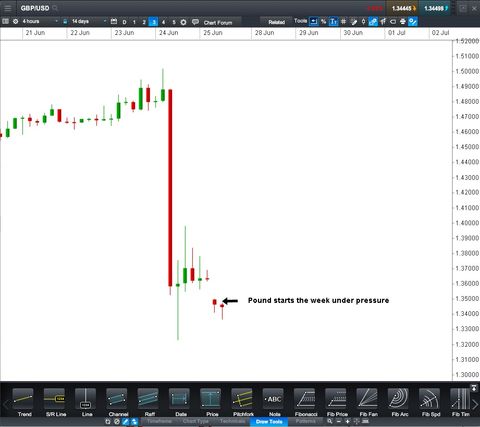 While some will be hoping that the Brexit price adjustment was completed in a single, savage day's trading; markets will once again be focussed on events in Europe as a potential source of global volatility over coming months.
There are 2 sources of potential risk arising from the Brexit vote. The first and most direct concerns relate to the UK. Markets will remain nervous until they get some clarity on the UK's leadership and how and when the negotiation of the UK's departure from the EU will proceed. These risks are being reflected in another weak session for the Pound this morning. However, the UK risk is not a banking crisis and the impact on Australian markets is likely to be limited.
The second source of risk from Brexit arises from concerns that it could trigger a period of major uncertainty about Europe. Markets got some good news on this front; with news that Spain's pro-European People's Party improved its position in this weekend's elections.
Another drop in the Pound and a stronger gold price this morning will have traders nervous about the opening on the local stock market. However, investors will also be aware of a number of positives that could limit downside risks in Australian stocks today. These include the pro-European result in Spain's elections; the fact that the US Fed is now less likely to lift rates for some months and the relatively limited impact for Australia of any slowdown that might emerge in the UK economy.