Earlier this year Apple made history in becoming the first US company to achieve a $1trn valuation, a level it maintained when it crossed above $207 a share last month.
Since then the share price moved up to as high as $229.67 earlier this month, before embarking on a four-day slide prompted by some profit-taking, ahead of this week's unveiling of a number of product upgrades to some of its flagship phones.
We've also seen some selling on the back of rising concerns that an escalation in the trade dispute between China and the US could see tariffs imposed on its products in China, which would result in higher prices for US consumers.
The warning of higher prices from Apple's management prompted a predictable response from President Trump, urging the company to on-shore its production inside the US. This rather simplistic response completely overlooks the fact that some of Apple's products would be even more expensive if they were produced inside the US, due to higher labour costs. 
At its last earnings update Apple defied expectations with profits coming in at $2.34c a share on revenues of $53.3bn, both beating expectations, and the company's best third quarter ever.
On a slightly worrying note the number of handsets sold did miss expectations, coming in at 41.3m, while the average sold price also fell slightly from $728 to $724, though this could well have been consumers holding back ahead of a host of Q4 upgrades. On the plus side, the services division continued to grow, with revenue rising to $9.55bn, a rise of 31%, while total revenue guidance for Q4 was also revised up to $60-62bn.
It is this area of falling handset sales that could start to become a concern, particularly since Apple is falling behind Samsung and Huawei in terms of dominance of the global mobile phone market. The dominant reason for this slowdown in sales is likely to be as a result of price point, where Apple's products are easily more expensive than the rest.
With the next key areas for growth likely to be in less mature markets like India, this could be a concern where consumers are likely to be much more price sensitive, and Apple's longer-term strategy appears to be going for much higher prices, as well as higher specifications. 
According to leaked reports, it is being widely speculated that we could see an upgrade to the £1k iPhone X, with the release of the iPhone XS. Not only that, we'll probably get upgrades to the iPhone 8, as well as a new Apple Watch, along with some upgrades to the various tablet versions, though the iPad mini may well be on borrowed time given we haven't seen an upgrade to that since 2015.
These upgrades are likely to come with higher price points and this appears to have prompted some brave investors to start short selling the Apple share price, on the basis that it may be time for a correction in heightened expectations.
This appears to be a risky bet given how metronomic Apple's share price advance has been – nonetheless when looking at a long-term weekly price chart, the air does look a little thin at current levels.
That's not to say that we can't see a move higher in the much longer term, but for now it might be prudent for the shares to take a bit of a breather given the advances over the last few months.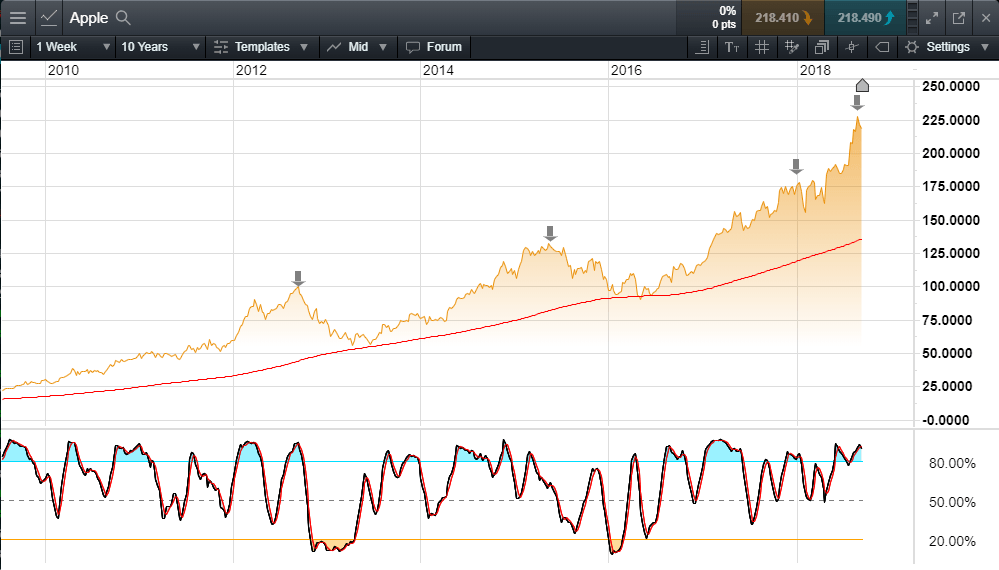 Source: CMC Markets
This price chart is particularly constructive given that the price action is currently well above the long-term weekly average mean, and has been for over a year now. That doesn't mean it can't continue to move higher, as can be seen from previous instances in 2012 and 2014, but at some point we will see a slowdown in the price; or we could see a correction.
The catalyst for such a move is unlikely to be tomorrow's Apple worldwide developers conference, but the unveiling of a range of new expensive products might signal a reassessment of Apple's ability to keep improving and updating its products, while also looking to convince its fans to keep paying ever higher prices.
After all, if you've just shelled out over £1k for an iPhone X, are you really going to pay out even more for an iPhone XS with a bigger screen? The big question is where is the next killer product coming from at a time when iPhone sales appear to be peaking?
To mitigate this we've already seen that Apple is making more money from its services division, and it is also expanding its video division, but no matter how much you diversify, can a slowdown in handset sales be completely offset by improvements in other areas, particularly when this includes autonomous motor vehicles?
Over the past 12 months there have been reports that Apple has been employing a number of ex-Tesla employees, with some reported to be working on an autonomous vehicle project called Project Titan. These sorts of project consume huge amounts of R&D, and in some parts of the investment community, has prompted speculation that Apple might be tempted to buy Tesla, though whether they'll want Elon Musk is another matter.
With the Tesla share price currently languishing just above one-year lows and well below the $420 'going private' price tag, any further declines could prompt increasing speculation in this area, no matter how unlikely it might seem at this point.
CMC Markets is an execution-only service provider. The material (whether or not it states any opinions) is for general information purposes only, and does not take into account your personal circumstances or objectives. Nothing in this material is (or should be considered to be) financial, investment or other advice on which reliance should be placed. No opinion given in the material constitutes a recommendation by CMC Markets or the author that any particular investment, security, transaction or investment strategy is suitable for any specific person.