Whenever the subject of technical analysis crops up, you can usually guarantee that most people's eyes will start to glaze over, particularly those who prefer fundamentals in analysing the markets.
I think there is room for both, though I do prefer technical, and this is where the study of price action can come in useful when looking at asset prices. It is through this prism that it might be prudent to take a step back from what is quickly becoming a consensus trade for 2018, that of US markets going ever higher.
With it becoming increasingly likely that we will get to see a tax reform bill passed by the end of the year the expectation is that US markets will continue to push even higher and build on the meteoric gains of the past two years.
This year alone the S&P500 and Dow Jones are on course to post gains of 19% and 25% respectively, on top of the gains seen in 2016 of 18% and 22% respectively.
Even if you accept the fact that the US economy is performing quite well and that US companies are operating at their most efficient, these are still extraordinary gains, when compared to markets elsewhere, around the world.
The big question is then how much higher can we go given that most of the gains seen this year have been predicated on there being some sort of fiscal stimulus or tax reform, which now looks like being delivered.
From an investment point of view that means that investors have a decision to make as we head into 2018. How much more gas is in the tank for this rally given the gains seen already.
This is where price charts can come in handy, and for this we can look at a simple weekly chart with a 200 week MA.
Since its inception in 1957 the S&P 500 has spent most of its time above the 200-week MA but it has rarely if ever been as far away from its long term average as it is now.
The same can be said of the Dow Jones, and as a long term rule prices eventually return to their long term average mean over time.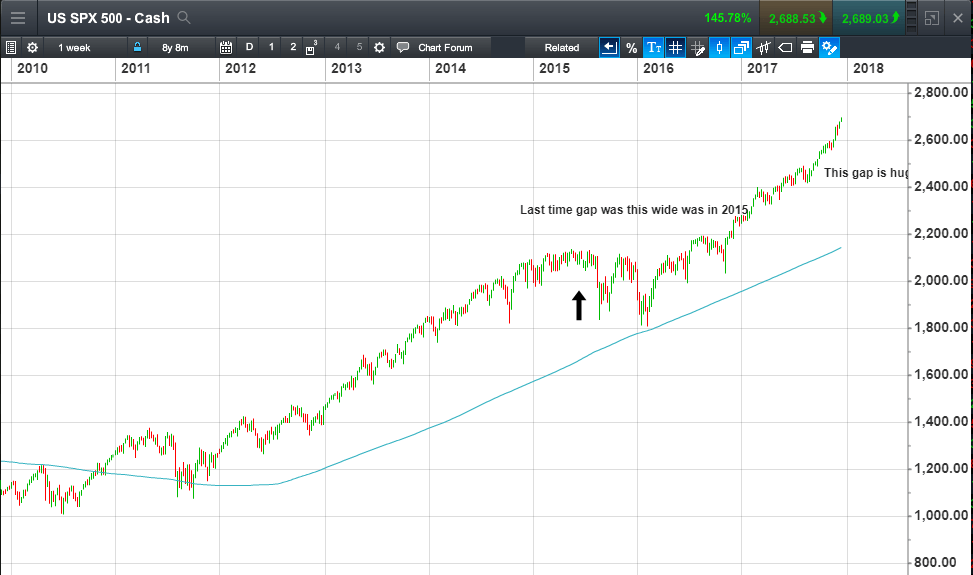 Source: CMC Markets
We saw this play out in 2015 when the S&P 500 was almost 500 points away from its 200 week MA.
One of two things can happen in a scenario like this. Either the price falls away and comes back to the 200 week MA, or we trade sideways for a while to allow equilibrium to be restored. This is what happened in 2015, which means markets may well have to temper their expectations for US stocks in 2018.
Quite simply the sort of moves that we've seen in the last two years are simply not sustainable, without some sort of consolidation, and if we need any more proof that this move higher is getting stretched one simply needs to look at the Dow Jones.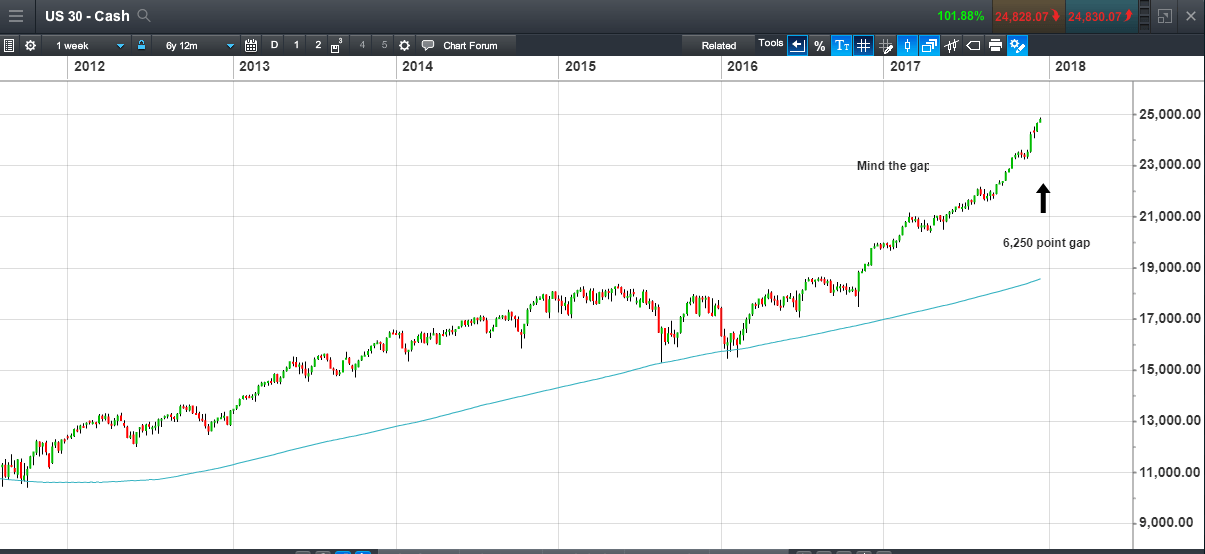 Source: CMC Markets
The gap between the price and the long term average is at an eye watering 6,250 points or in percentage terms at least 25%. This ought to give pause particularly since that having seen US politicians deliver on expectations, we need to decide what effects these moves when delivered will have on the US bond market, as well as the US dollar along with the US Federal Reserve's reaction function when it comes to US interest rate rises.
Given all of this and the price extremes US markets do appear remarkably stretched. They can of course go higher, after all the trend is your friend, but the air is already becoming very thin, so investors should be on their guard.
 
CMC Markets is an execution-only service provider. ​The material (whether or not it states any opinions) is for general information purposes only, and does not take into account your personal circumstances or objectives. Nothing in this material is (or should be considered to be) financial, investment or other advice on which reliance should be placed. No opinion given in the material constitutes a recommendation by CMC Markets or the author that any particular investment, security, transaction or investment strategy is suitable for any specific person.