By Adam Harris
Last week's strong bullish sentiment in the metals market slammed most of the precious metals into overhead resistance levels. These price structures proved a little too strong for the bulls causing, Palladium and Gold in particular, to capitulate and reject the highs. The story this week is that the price on both have retraced back on the weekly timeframe, down towards the key support levels. This has the potential for opportunity, let me explain.
On both metals, the two-hour timeframe chart is where I am watching. They are now providing optimal trending price action, with opportunities to enter in the Sell Zone - the area between the 10 & 20 Moving Averages (MAs). I will be monitoring price and waiting for it to retrace back into these areas, and then ideally will get a small bearish candle, which can offer very good reward-to-risk entries.
Starting with Palladium, and focusing on the two-hour chart, I particularly like the recent break of support at 970. This same area could provide me with a good entry, should price retrace up to test it as a new resistance level, especially as I can use that as additional protection for my stop-loss.
The nearest notable support level is close to 910, which is quite a distance away, so the potential reward is good.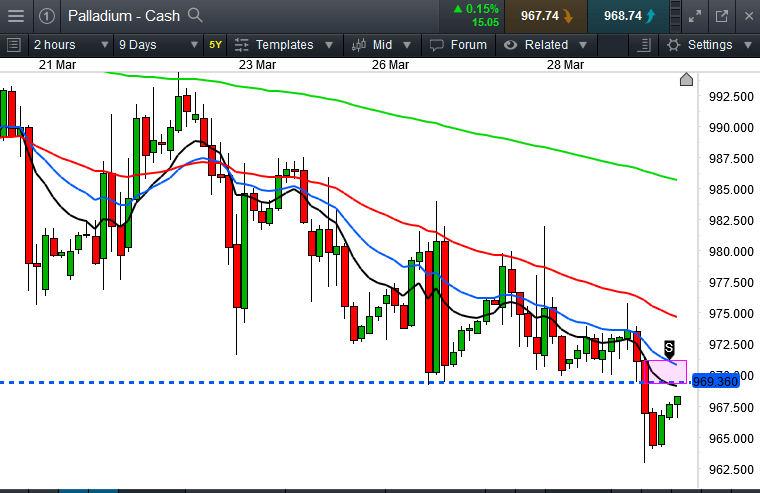 Looking at Gold on the same timeframe, this metal really needs to retrace and connect with the MAs as a point of equilibrium.
Because price action is moving at such a fast pace, lower timeframes are the most likely to trend. But to create my entry opportunity, price needs to pull back into the sell zone first, and then produce a small bearish candle. I'll likely enter on the break of the low of this candle, with my stop-loss above its high.
I see potential profit all the way down to 1,305. But I will still apply prudent risk management and close partial profits as I work towards achieving at least my 1:1 or 1:2 targets.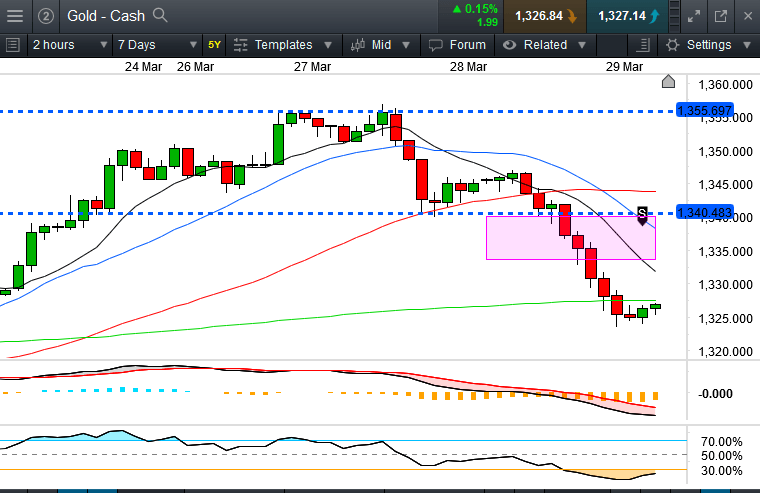 In the longer term, over the next few months, will we see the metals turn bullish again?
Happy trading.