The concept of digital disruption is now familiar to us all – new internet based businesses ripping the heart from traditional business models and re-creating the landscape. In fact, to many it is now old news. Yet the impact of digital disruption continues to unfold like a wave breaking in slow motion. And while there are many losers, there are also potential winners.
When calling to mind web based winners many of us tend towards the big names – Google, Facebook, Twitter, Atlassian. However, there are many successful transformations of older business models that should capture more attention, such as Southern Cross Media Group Ltd (SXL).
One of the reasons the company flies under many investors' radar is its formation out of a takeover deal that was completed just twelve days before the all-time high of the Australian share market, in November 2007. Essentially a merger of radio and regional television assets, many investors still think of SXL as a traditional media group. While it retains key assets in free to air TV and radio, the company has transformed itself organically, embracing digital TV and establishing a strong online and mobile presence to support its brands.
This means in addition to its affiliations with the Seven and Ten networks, SXL operates digital channels like ONE, 7Two, Go and Gem. It has digital TV partnerships in Tasmania and the NT. As well as the Triple M and Today radio networks, it has 80 websites, Facebook and Twitter communities, and 20+ mobile sites.
These could be viewed as a straddling of the old and new. Investors long enough in the tooth may recall the introduction of video and the relentless predictions of the demise of cinema. While cinema was clearly affected, there were survivors, and even winners. SXL's "across the gap" model may make them one of the free to air winners.
Despite its digital presence, SXL is still trading at a share price more akin to traditional media outlets. Currently around eleven times earnings, its long term growth prospects are estimated at around 2% pa. This sombre outlook is in my view a reflection of the currents state of the advertising cycle, rather than a fair assessment of SXL's prospects.
The long anticipated kick up in Australian growth could see these projections revised dramatically upward, along with other consumer discretionary stocks. Even without any change, the dividend yield based on the last two dividends is greater than 7% when franking credits are factored in.
SXL's share price is well up from the lows of 2015, but nowhere near the highs of 2013: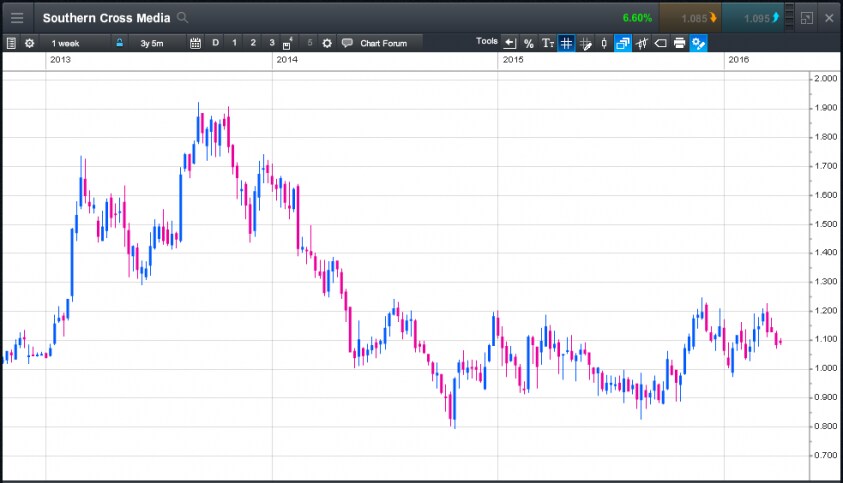 Alert investors will recall that just last week the Nine Entertainment Group put up their hand for 10% of SXL, purchasing from Macquarie Group. Nine paid $1.15 a share. Naturally, many analysts see this as a pre-emptive move ahead of any potential changes to media ownership laws.
There is much speculation that the current government has media ownership reform on the agenda. The current "two of three" restrictions for major population centres are built around television, radio and print, and are now obviously outmoded given the rise of internet based media.
Rationalisation is required. Naturally, political parties of all persuasions prefer to be onside with major media groups, given their potential to influence public opinion. This could see change ahead of the Federal election due this year, and if not, after. The reach of SXL's broadcast foot print, its lack of print exposures, and the relatively low share price make it in my opinion a natural target for both existing players and potential entrants.