A combination of a 6% share price rally over the past 2 weeks and a 2% miss on profit expectations; has produced a sell-off in ANZ this morning. This has set up a bearish chart pattern.
Profit Result
Markets had been getting pretty bullish about bank share results, driving share prices north over the past 2 weeks. Against that background, ANZ's result this morning proved disappointing.
It was a reminder that banks are operating in an environment of low credit and wage growth; moderate global trade volumes and increased regulatory intervention.
ANZ is doing a good job on costs which fell 1%. A good performance in institutional income also helped the result. However, the core, net interest revenue was down 2% with the margin between borrowing costs and lending revenue falling by 0.07% to 2%. This reflects competition for deposits and higher wholesale funding costs
Chart outlook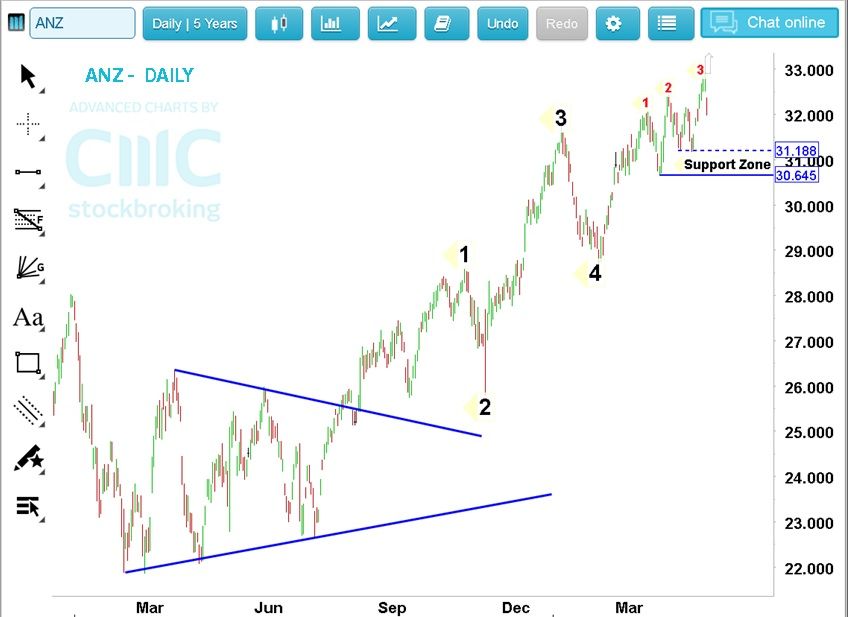 Today's sell off has completed a bearish "3 drives to a high pattern". This consists of 3 symmetrical moves higher and is a close cousin of the triple top.
 In this case, each of the 3 peaks is a bit higher. However, like the triple top, the moves higher are essentially weak; re-test style behaviour where the corrections overlap below previous peaks.  Low momentum rallies like this are often a sign that the market is struggling and susceptible to a full blown trend reversal.
Weakness here could see the ANZ share price retreat toward support between $30.65 and $31.19. That may yet be just another correction that could yet see ANZ advancing further, perhaps to $34-$35.
However, the other feature of this chart is that it looks as though it could be in the 5th and final swing of an Elliot 5 swing advance. That means the thing to watch out for, is a break below the $30.65 support. That could indicate that the whole 5 swing move is over and that ANZ is not about to push higher after a minor move lower. That would leave yesterday's $32.95 high as a major peak and suggest a deeper correction is in store.
Presumably a break of the support zone would require more than just a bit of disappointment at today's profit result. A major global "Sell in May and Go Away" risk off event would probably be required.