The Shanghai Steel Rebar market has been in the press a lot in recent weeks. It's usually dismissed as just the latest plaything for an army of highly leveraged Chinese speculators. That may be the case. However, it's also proving to be quiet a useful indicator for both the Aussie Dollar and Australian resource stocks. The Rebar chart is at a key level so I though readers might be interested in an update.
Shanghai Steel Rebar chart
Today will be interesting for this chart. It showed signs of losing momentum yesterday.
The 29% decline in price since 21 April looks to have taken an Elliot 5 wave structure. I've outlined this on the chart. If it moves higher today, it will overlap back through the low at "3". That's a constructive development and suggests that the 5 wave decline might be finished. A move past the peak at "4" would provide more certainty and could see a decent corrective rally established.
If a trend low does form at current levels, it will confirm the trend line support. At the same time, the slow stochastic is down in the over sold zone for the first time since January. Any rally could have some legs for a while.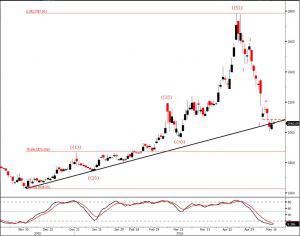 Shanghai Steel Rebar Daily
Source: Bloomberg
Aussie Dollar chart
Just like the Rebar market, the Aussie Dollar peaked on 21 April. Significantly this peak was neatly at the 38.2% Fibonacci retracement level
Now, just like the Rebar market, Aussie is testing support. It's also doing this from the over sold zone for the first time since January. In this case, the potential support is the 200 day moving average.
Rio Tinto chart
Just like the other two charts, this one peaked on the 21 April and is now testing support from the over sold zone
In this case, the support is the 78.6% Fibonacci retracement. It might also be making a minor double bottom here. This could be quite significant because it's also one of John Bollinger's W reversal set ups. The first leg in the "W" was below the lower Bollinger Band while the second is above it.
It would take a rally through the 200 day moving average and double bottom resistance to confirm all this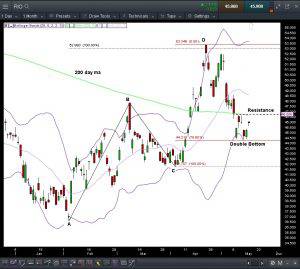 RIO.ASX Daily
Source: CMC Stockbroking
Market implications
This turning point is yet to be confirmed. If it is it may only mean a corrective bounce. More evidence will be required.
One lesson I have from this though, is that the Rebar market has been quite a useful tool for judging market sentiment. Whether it's just following other markets or has a leading role I don't know.
However, I am always very cautious about dismissing any market as being just "speculative" activity as the press often does. This applies especially to commodity markets. I have no experience of who does what in the Rebar market. If nothing else though, the recent rally was an indication that trade sellers were either not selling into it or didn't have enough firepower to prevent the big rally we had. Either way that was significant.