The big rally in gold is a clear sign that some serious "risk off positioning" is under way. That said, gold chart resistance is now close by. How gold handles this resistance could be a useful indicator of ongoing bearishness in stocks and commodities.
Risk Off
The recent gold rally is more than just currency related. It's up 15% from its December low while the US Dollar index is only down 4%.
There has also been a significant increase in gold ETF holdings. They have increased by about 3m ounces to 50m in recent weeks. This is a significant move. Although,to put things in perspective, they peaked at 85m ounces in 2012.
It's pretty obvious there are some major "risk off" portfolio allocations going on. The signs include:
Growing interest in gold;
Heavy buying of US bonds;
A stronger Japanese Yen and
Selling of bank and high PE stocks.
So how far might all this go? The gold chart might provide some clues
Gold Chart Resistance
Gold has been in a large declining wedge pattern since mid 2013. It's now approaching the resistance line around $1210-20. This is shown on the weekly chart below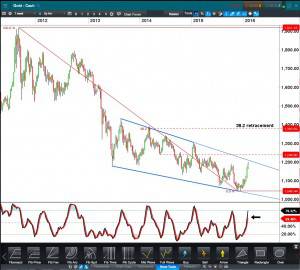 Gold cash CFD Weekly
Click to Enlarge
Taking a closer look, the daily chart reveals that gold reached a harmonic, CD=AB x 1.27 point last night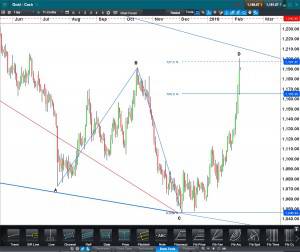 Gold Cash CFD Daily
Strong momentum leads to several possibilities
It's certainly possible this resistance zone could hold. That scenario should see a recovery in stock indices.
However, there is strong upward momentum in gold at the moment. This is indicated by the slow stochastic in the box below the weekly chart. It's trending up strongly but still well below the over bought zone. Strong upward momentum suggests taking this gold chart resistance cautiously at first. It might be prudent to wait for signs that gold is rejecting the resistance before selling.
While failure at the wedge resistance might be bearish for gold, a clear break above it would be bullish.
As usual it's best to keep an open mind to all possibilities. They could all provide trading opportunities, just different ones. For example we could easily see bullish scenarios for gold here. A couple that I have in mind are:
Pull back before a bullish break. We might see the ABCD level respected, leading to a pull back that sets up for a bullish break of the wedge resistance  or
Ongoing rally. The current strong momentum might see this rally extend to give us the long awaited break out of the wedge pattern
Higher gold chart resistance
If there is a clear break of the wedge resistance, what then?
The first significant resistance might be around the dashed horizontal line at $1240 shown on the weekly chart. Ultimately though, this might signify a correction of the whole move from $1921 down to $1046. In that case, gold is likely to get to at least the 38.2% Fibonacci retracement level. This is 15% above current prices at about $1380
Implications for Stock Indices
If the gold rally extends from here to clearly break the wedge resistance, stock indices are going to take out recent lows. The US SPX 500, for example, would take out the low after a neat 50% retracement rally.
As with gold, this scenario would imply a correction of the last major move. That could take it to at least the 38.2% level. That'a around 7% below current levels at 1731
If the gold resistance holds, the stock market support is likely to hold (even if there is a minor false break). That could set up for a rally above the recent 50% retracement at 1948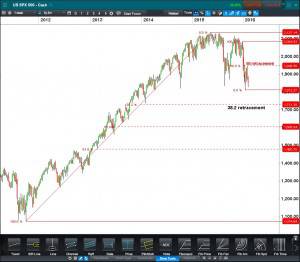 US SPX 500 cash CFD Weekly