In a testimony to the influence of low interest rates, world share markets have recovered nearly all their Brexit losses. The Australian market is no exception. The ASX 200 index looks likely to open within sight of last Thursday's pre Brexit level.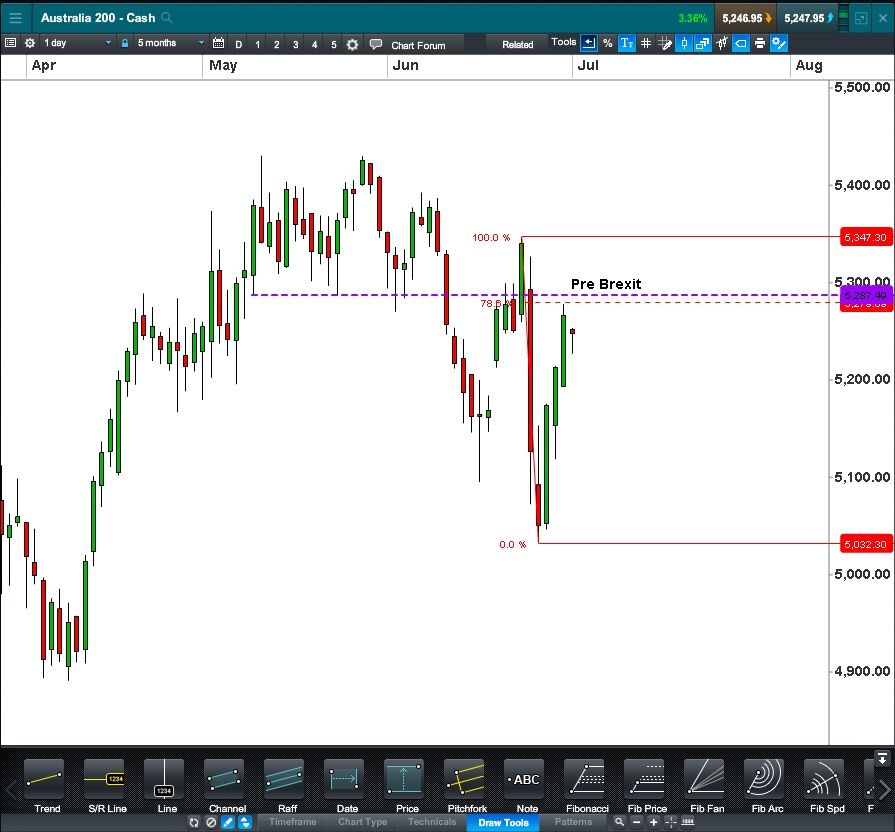 Low interest rates have shortened investors' time horizons when it comes to risk. Brexit does carry the potential for lower growth in the UK and Europe. It has also increased political risks in Europe. However, with the Australian 10 year bond back under 2% this morning, investors are willing to park money in equities and take the odds to potential risks that which may not emerge for several months or even years.
The macro environment which combines moderate growth; low interest rates and elevated risks is combining to create volatile but essentially flat lining stock indices. The ASX 200 index was down 4.1% in F2016 and 3% over the past 2 financial years. This belies strong gains and losses by individual stocks and different industry sectors.
Resource and Energy stocks joined the rally in the broader US stock market last night despite a lower oil price. News of a ceasefire in Nigeria will make it more difficult for the oil price to push past recent highs. If there is a lasting ceasefire in Nigeria, several hundred thousand barrels could return to the oil market.
Press reports have included BHP among a list of potential buyers for Canada's Potash Corporation. This could see investors build some risk premium into their valuation for BHP until the market has details of any offers for Potash that may emerge.
The strength of this week's rally in stock markets suggests that investors are not pricing in any risk around the Australian election. The biggest risk from a market point of view could be the uncertainty that could arise from a minority government or the composition of the Senate. At this stage investors appear to content to deal with these risks should they materialise next week
Markets will have a watching brief on the manufacturing PMI's in major economies that are due for release over the next trading day. The first of these will be China's PMI which is scheduled for release this morning. However, many of the economic releases over coming weeks may be discounted to the extent that they do not reflect the potential blow to confidence arising from the shock Brexit decision.