By Chloe Edwards, Trade With Precision
I have been waiting patiently for EURGBP to break out of its month-long sideways range, and this week it has done so, potentially yielding some excellent trend trading opportunities.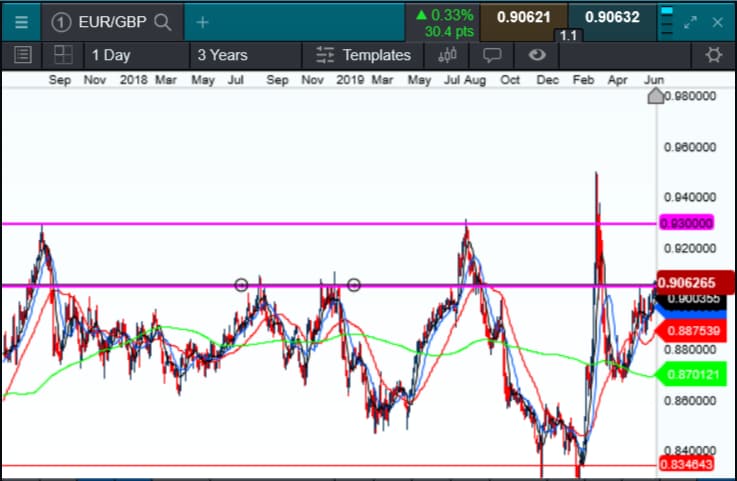 In order to clearly describe the horizontal levels I am using in this analysis, I need to zoom out on the daily chart. Here we can see the horizontal level that price is currently pushing through, at 0.9050, and the strong level of resistance above this at 0.9300, both marked in pink in the chart above.
Taking a closer look at the more recent price action on the daily timeframe above, I can see that price is currently just pushing up through the level of resistance at 0.9050. Price action has recently started to form higher highs and higher lows, potentially showing the beginning of an uptrend after the recent consolidation.
I also note that there is bullish moving average geometry, with the moving averages (MAs) sitting in the correct order and pointing upwards. I also notice bullish convergence of the momentum indicators, with both MACD and RSI trending upwards in agreement with price action and potentially confirming the health of this trend.
The higher level of resistance at 0.9300 gives me a potentially generous upside target if the trend continues. In terms of trading on the daily timeframe, I will be looking for a pullback into the buy zone around the 10 and 20 MAs, preferably also coinciding with a retest of the horizontal level at 0.9050. I will then be looking for a small bullish bar to print in this area, for a long swing trading opportunity.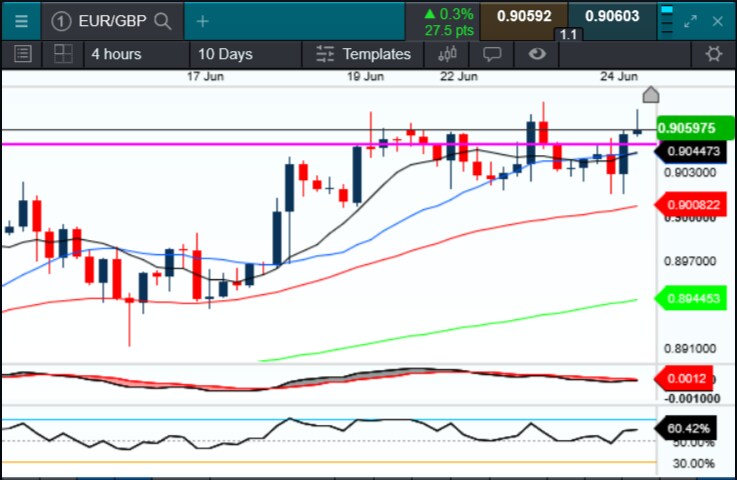 I will also look at the lower timeframes as they can offer some higher reward-to-risk opportunities. On the four-hourly timeframe above, I see that a range has formed in price action since 19 June, and while the MAs still show bullish geometry, I do not have higher highs and higher lows in price.
Furthermore, the MACD and RSI are diverging, so I do not see a current opportunity on this timeframe. I will wait to see if price breaks higher above the current range, and then I will await a pullback into this area and the MAs to look for a long trading opportunity.
Stay safe, and happy trading.