The Reserve Bank of New Zealand has joined the RBA in setting its currency alight with today's rate decision. The Kiwi has rallied hard this morning. However, it's closing in on the first of a couple of key resistance levels
RBNZ decision.
The RBNZ left its rate unchanged at 2.25%. Market opinion over whether it would cut had been divided. This left some scope for a rally in the Kiwi Dollar when the central bank left rates unchanged. However, the decision was hardly a shock.
What's got the market moving is the statement accompanying the decision. The RBNZ maintained its easing bias but the statement was a mixed bag. It revealed concerns about very high house prices which could easily be made worse by continued high net immigration levels. The Bank also noted that it expected inflation to strengthen.
These concerns create the impression that future rate cut decisions might be a finely balanced affair. The Bank is obviously attuned to the risks involved in cutting rates further as well as to the problems of a strong currency and current soft inflation levels.
Kiwi Dollar chart
The Kiwi climbed above 71c today and is closing in on the first of a couple of potential resistance levels.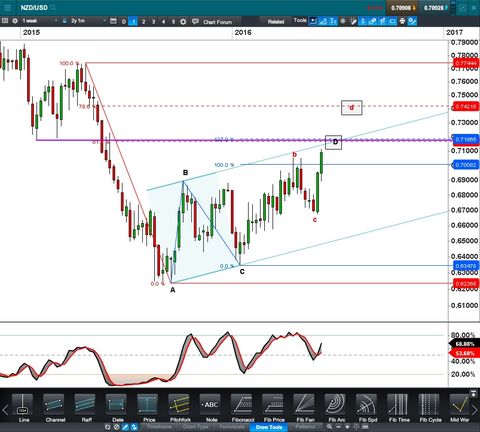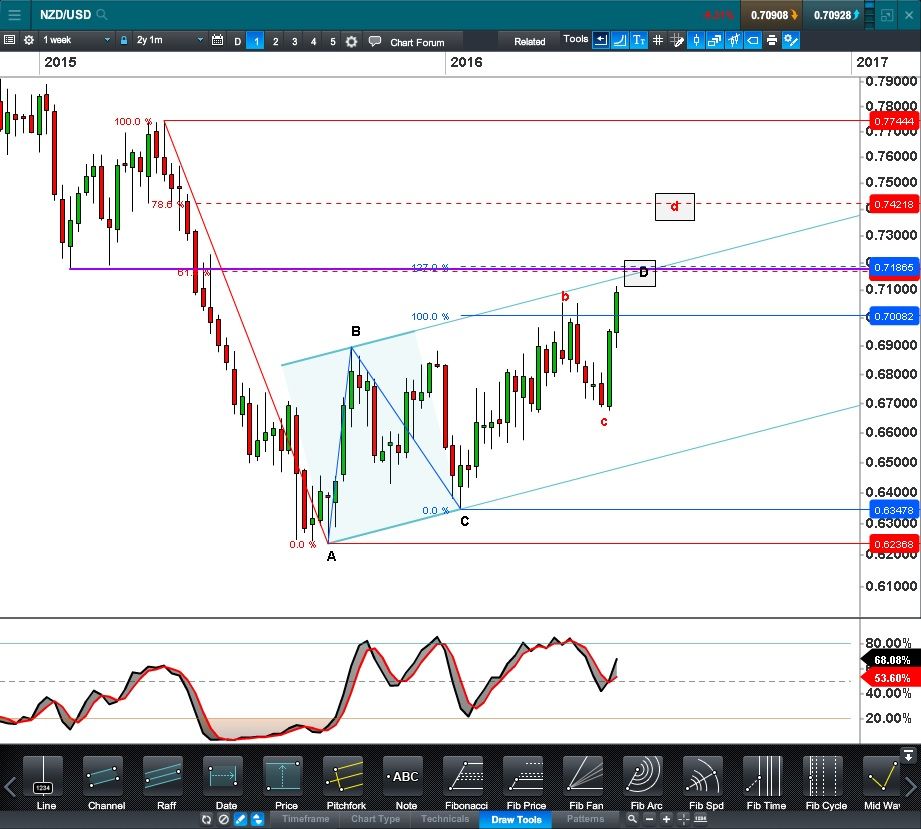 The first is around .718. This consists of
The February and March lows
The top of a potential trend channel
The 61.8% Fibonacci retracement level
A harmonic level where the last major swing (CD) will be 127% Fibonacci projection of the one before it (the AB swing)
If the Kiwi fails to give a sell set up at this level and punches straight through it, there is another level of interest right up at .742. This is the 78.6% retracement level that coincides with another harmonic ab=cd level (see the swings labelled in red on the chart)