There have been some big market moves since last week's US jobs data.  Markets are adjusting for scaled back expectations on Fed rate hikes. Here are a couple of key support levels that might provide some useful insight into how much further adjustment has to go.  
US 10 year bond yield chart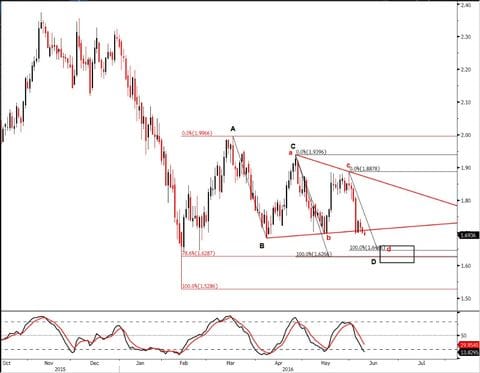 Source: Bloomberg
In the big picture, this chart may only be correcting the dramatic February/March rise in yields. This saw the 10 year bond yield rise from 1.53% to 2% after a blowout spike to the downside in early February.
Assuming this is only a correction, the big picture $US bull case remains intact. When the correction is over, we are likely to see rising US bond yields; a rising US Dollar and improved inflation expectations. Given recent strength in oil prices the latter would not surprise.
Right now though, bond yields are beginning to drop through the base of a triangle formation. Downward momentum continues to look pretty strong.
If yields continue to fall from here, the area around the 78.6% Fibonacci retracement looks as though it could form support (resistance for bond prices). There are also 2 harmonic AB=CD levels around here, adding to its significance
That would imply the 10 year bond yield falling from current levels around 1.69% to around 1.6/1.65%. That mightn't sound much but at current levels, even this sort of move has a pretty major impact on bond prices.
Of course, if the yield just sails straight down through this level it has no significance.
US Dollar Index chart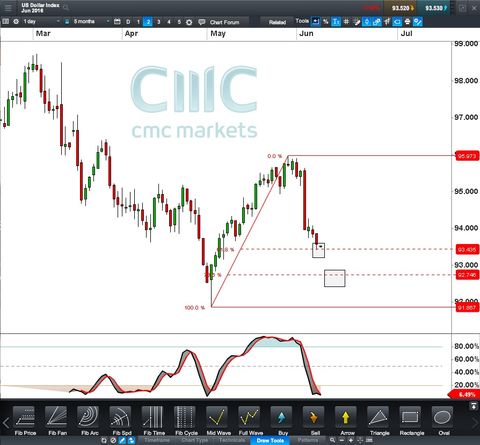 Just as the bond yield has hit triangle support, the Dollar Index has hit the 61.8% Fibonacci retracement. If the bond yield stays firm and begins to rise off its triangle support, the Dollar index is likely to reject the 61.8% retracement, setting up a potential buy opportunity.
If not, we could see the 78.6% retracement level come into play for both bond yields and the Dollar Index. The 78.6% level on the Dollar Index is around 92.75. A rejection of that level would also be a potential buy set up.