Like Sydney property, gold tends to be a polarising investment. Whatever your philosophical view on its investment merits, gold looks like a market worth watching in coming months.  It's had a big start to 2016 and seems to be saying something about investor sentiment.
According to the World Gold Council, overall gold demand was basically flat last year at 4,212 tonnes. A pick up in the second half of the year offset weak demand in the first half. In the final quarter, total demand was up 4% year on year. Jewellery and technology demand was soft but central banks and investors increased their tonnages.
These were the components of world gold demand in the December quarter:
Jewellery 671 tonnes (60% of the total)
Technology 85 tonnes (8%)
Investment 195 tonnes (17%)
Central banks 167 tonnes (15%)
Total World demand 1,118 tonnes
Exchange Traded Funds are now a big feature of the gold investment landscape. In recent years, they have been consistent net sellers of gold. In the December quarter, ETFs were net sellers of 69 tonnes. This offset the 263 tonnes purchased for bar and coin investments, reducing net investment demand to 195 tonnes.
Right from the outset, 2016 has heralded a big turnaround in this situation. This chart plots known holdings in gold ETFs.  Since the end of last year, they have grown by about 8.5m troy ounces or around 265 tonnes. These figures are not directly comparable with the World Council figures. What's clear though, is that there has been a big change. Investor ETFs swung from a significant negative to a large positive for total gold demand. Hardly a surprise then that we've seen a solid jump in the gold price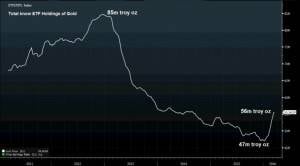 Known Gold ETF Holdings
Source: Bloomberg
It's difficult to know exactly what's motivated this big turnaround or what the source of this demand is.  However, it suggests increased concern about financial risk and/or a view that Fed rate hikes are going to be slow, keeping the US Dollar relatively low.  Unless gold starts to break back below significant chart points, the safe investment assumption may be that gold continues to say something about investor views. Markets are seeing elevated risks and/or low growth and inflation prospects, especially for the $US
Weekly Gold Chart
Gold has now made a clear break out of the large declining channel pattern that contained it since August 2013.
The old resistance line of this pattern looks like a useful line in the sand for judging sentiment towards gold. It now forms support and currently intersects around $1190. A break below this would indicate that gold has embarked on more than just a minor correction.
The really bullish and entirely possible construction of this chart is that gold has embarked on a major correction of the whole decline from its 2011 peak at $1921. If this scenario is correct, the chances are gold will ultimately get at least as far as the 38.2% Fibonacci retracement level or beginning of the channel pattern around $1380/$1430. In the meantime, the peak at $1308 forms the next minor resistance hurdle at $1308.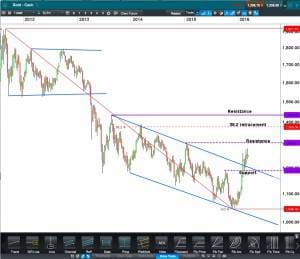 Gold cash CFD Weekly
Daily Gold chart
After popping nicely out of a pennant, gold came back to re test the support line of the old pennant resistance. Friday's high then saw it showing signs of rejecting my first pennant projection. For this I projected 61.8% of the flagpole height from the bottom of the pennant.
The short term bearish scenario for gold would be a break below the re test support around 1236. That might see an assault on the more significant $1190 support.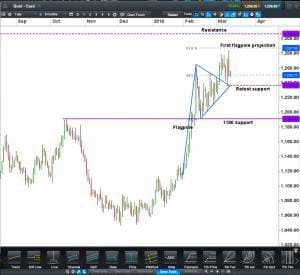 Gold cash CFD Daily