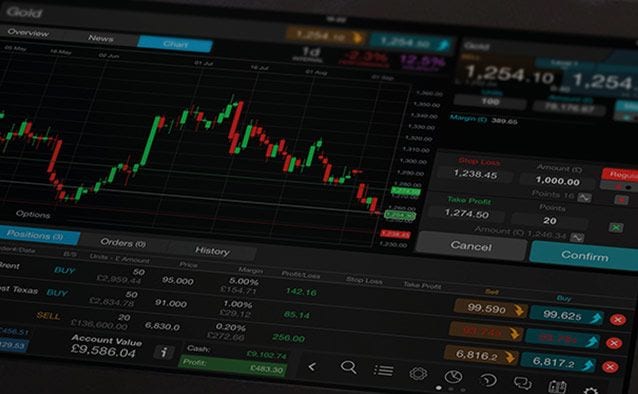 JB Hi-Fi has had a rollercoaster ride. It completed the transition from  favoured "market darling" to one of its most infamous outcasts.  Over the past couple of years, JBH had the dubious distinction of consistently topping the list of most shorted stocks on the ASX.
Since releasing its results in early February, life has again changed for JBH. It's risen a stellar 28%. In this blog I canvass a few thoughts on what may be the new trading range for this stock and discuss an approach to strategy that combines both fundamental and technical analysis.
Overview
JB Hi-Fi specialises in retailing electronic equipment and entertainment products. It has 176 stores in Australia and New Zealand plus an ongoing strategy of opening new locations. The company is targeting about 214 stores, an increase of 20% from current levels. Around 16 new stores are opening each year, meaning this strategy should be largely completed by 2015. JBH's main competitors are Harvey Norman, Dick Smith and the Good Guys
Price Earnings Chart
This chart shows the forward price: earnings ratio of both JBH and the 200 index over recent years. Price: Earnings ratios can be a useful for a couple of purposes
Comparing the valuations of different stocks and of individual stocks against the index. It means much more to know that one stock is trading at 15 times forward earnings and another at 16 times than trying to compare of a share price of say $14 and $3.
Comparing how the market sees a stock over different time periods. For example, a company's share price might rise over time simply because its earnings are rising and not because the market is attaching a higher valuation to those earnings.
As this chart shows JBH's share price plummeted from over 31 times earnings in late 2007 to less than 8 times in July last year. Unlike the index as a whole, JBH's forward PE multiple was at lower levels in 2012 than it was in late 2008 at the depths of the GFC.
As things currently stand, based on a Bloomberg survey of forecast earnings by analysts, JBH has a forward PE of 12.5 compared to 15.5 for the 200 index.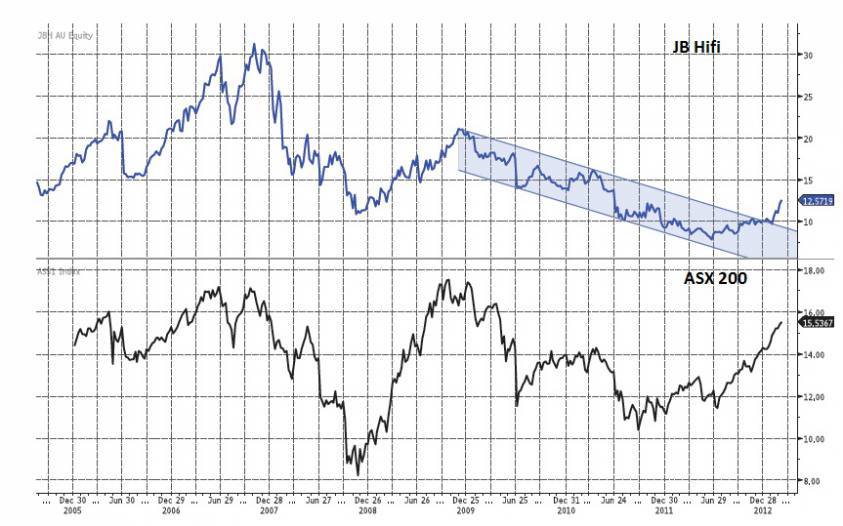 Weekly Chart
The long term weekly chart provides an overview of how these PE changes translated into price history. JB Hi-Fi's price actually peaked at $23.62 in November 2009. Its PE valuation at that time though was well below the 2007 peak reflecting strong earnings growth over that period . This is of course very different to the Index which has remained well below its 2007 peak in price terms
JBH CFD - Weekly. Source CMC Tracker
The good old days
JBH earned its market darling status with some consistent, clean and stellar earnings per share growth.  EPS was regularly increasing by 40-60% pa right through until 2008 and 2009.
This performance reflected a number of factors:
JBH was in the right place at the right time to capitalise on the early and explosive market penetration of new computer, mobile phone and digital TV technology
They had an excellent and fresh brand that appealed to the young adult demographic
Consumer spending was turbo charged with credit growth
The store growth strategy turbo charged earnings
JBH's strategy was delivered very efficiently giving them a lower cost base than competitors.
The Dark Days
Some of the short sellers in JBH came early to the realization that the strategic sands were shifting for this industry.
Online selling is a potential threat. JB's strategy of expanding bricks and mortar stores might compound this
The initial growth thrust from people taking up new technology was weakening. Some things JBH sells, especially digital TV's are settling back to more standard replacement markets
The high Aussie Dollar was making electronic imports cheaper but also reducing retailers profit margins. These are typically based on a percentage of selling price
Consumers are saving more and have a lower discretionary budget post GFC. They are also tending to spend more on services (child care and travel) than on goods.
JBH's store growth program is coming to an end. This creates strategy risk as management looks for growth alternatives.
Much of this was playing out in 2012.  Comparative store sales were lower, profit margin  fell and all this translated into a decline in earnings per shareon
Many traders were looking for more of the same in February's results. While PE values kicked off the bottom in the 2nd half of last year, they remained at historically low levels and short positions continued to be significant.
What changed
JB again suffered weak sales in the December half.  Comparable store sales fell 1%
However, the results announcement contained a couple of significant developments
Contrary to pessimistic expectations, gross margin on sales actually increased from 21.1 to 21.5%. This partly reflects less cut throat industry competition. But it also reflects a very effective management team. Good management represents a risk to short sellers in just the same way that poor management is a risk to investors
Management commentary noted that sales had improved in January. The possibility of things picking up was confirmed by the 0.9% increase in January retail sales announced by the Australian Bureau of Statistics this week. The real consumer confidence boost from rising share and house prices plus lower global risks may not have kicked in until after Christmas. Even a modest reduction in households' current 10% savings rate could be a real kicker for retail sales. The "E" estimates on which the Bloomberg surveys PE multiples are based may be a bit too low. This thinking is partly behind the strong buying we have seen recently in retail stocks.
These 2 factors show that with the benefit of hindsight, the market had become too pessimistic about JBH
New Range
Naturally readers will make up their own minds about appropriate valuations for JBH. My view is that while it was priced too pessimistically before the results announcement, many of the risk factors listed under the bad old days heading still apply. This means a significant risk premium is appropriate or, put another way, this stock is likely to maintain a PE rating quite a bit lower than the average for non mining stocks.
Here are my thoughts on a possible trading range for JBH based on PE multiples and earnings per share estimates.
Expensive would be about 12.5 times forecast earnings per share (eps) of 1.20. ( this translates to a share price of .00)
Fair value would be about 11 times forecast eps of 1.185 per share ( share price)
Cheap would be about 9.5 times eps of 1.15 ( share price)
Hint:  You can access analysts EPS and PE information via the Analyst Forecast research function on our stockbroking platform
Trading Strategy
One approach to trading stocks is to use technical analysis to assist with entry points once you have determined a broad trading range based on valuations.
Using the framework above a trader may be looking to sell in the region and buy in the region. In both cases profit would be taken at around the fair value zone of .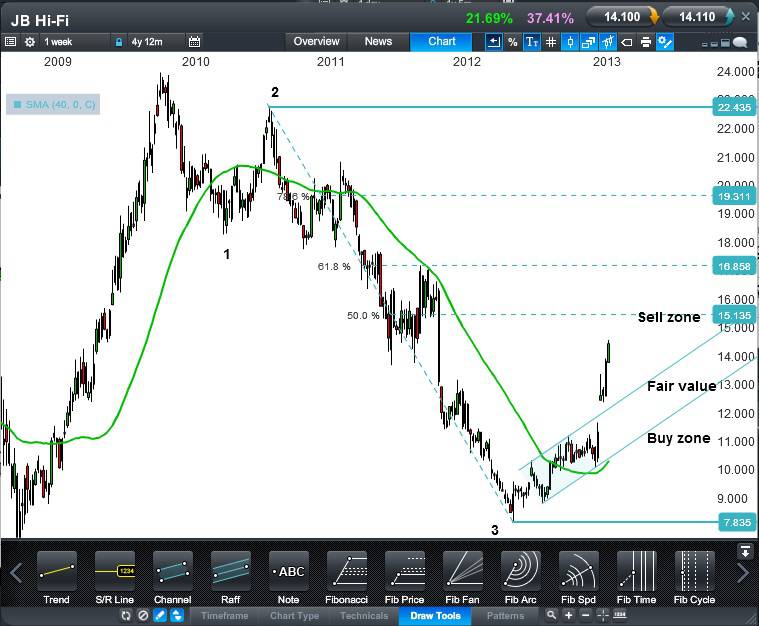 JBH CFD Weekly. Source: CMC Markets
Things are moving quickly in this stock. As things currently stand, I will be looking for potential shorting strategies based around the 50% retracement level on show on the weekly chart above.
This doesn't necessarily mean standing in front of the freight train once price hits $15. If price just powers through this level, then one approach is simply to wait for signs of declining momentum and a technical sell set up from around that level or higher. However, I will be looking for trend peaks at the 50% retracement level or other sell set ups at or above this price zone.
With a bit of luck, the more detailed daily chart may create set ups once we approach $15 or above.
If this happens, I'll post a follow up.