If you've been waiting for an opportunity to buy JB Hi-Fi, today's price action looks interesting.
Background
Along with most stocks in the discretionary retail sector, J B Hi-Fi has been under pressure in recent weeks. Yesterday, it closed down 27% from its peak in September.
In the meantime, its performance does not appear to have missed a beat. Comparable store sales growth was up 8.2% in the March quarter and guidance for profit growth remains intact.
Of course there are reasons for this apparent dichotomy. Markets are concerned about:
The impact of higher energy prices; low wage growth and  forecast weaker housing on consumer spending
Execution risk on the integration of the recently purchased Good Guys business  into JB Hi-Fi and
Most significantly; the looming arrival of AmazonMarketPlace in Australia. This looks set to put downward pressure on prices and profit margins as well as to taking market share in  electronic  goods retailing
All this has attracted short sellers. Based on the latest report from ASIC; 9.5% of JB Hi-Fi's stock is short sold.
Value
JB Hi-Fi's share price now represents a valuation of around 12.5 time's forward earnings (Forward PE). Over the 4 years to 2016, JB Hi-Fi had an average forward PE of 14.5. Its lowest valuation during this period was 11.25 times forward earnings.
The task before traders and investors is to consider when enough is enough. Has the market over played the Amazon risk
Some considerations include:
Strategically, JB Hi-Fi management has a good track record and they've had plenty of time to prepare. Amazon's arrival has been an open secret for some time.
JB Hi- Fi has a strong brand; an existing online  platform and the potential  advantage of in store pick up
Amazon will have its own challenges in Australia including the difficulty of finding large scale warehouse space in the very expensive Sydney and Melbourne real estate markets and the logistic problems created by Australia's concentrated population spread
No doubt Amazon's aggressive pricing strategy will have an impact, the question is how big
JB Hi- Fi chart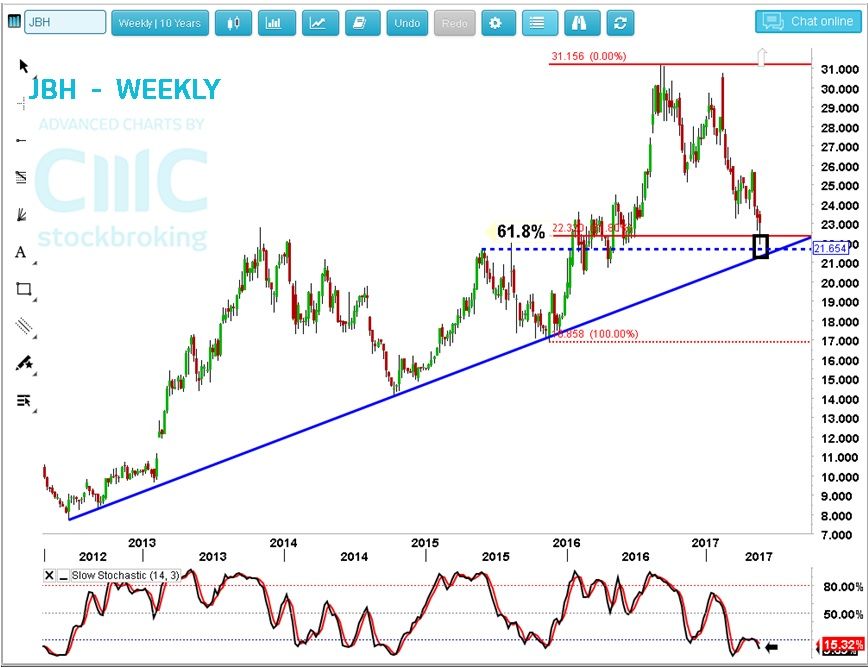 Last night's better than expected sales report by US based bricks and mortar, electronic goods retailer Best Buy, appears to have triggered a bout of short covering in JB Hi-Fi. The stock close up 3% on a weak day for the overall market.
The interesting thing about this from a chart point of view, is that this bounce comes out of a significant support zone and at a time when the slow stochastic on the weekly chart is oversold (see arrow).
The main feature of this support is the well-established trend line going back to 2012. This zone also finds the 61.8% Fibonacci retracement of the last rally off the trend line as well as the potential support of the 2015 peak (dashed line)
If today's rally proves to be a false start, it may be worth potential buyers keeping an eye on the possibility of the price drifting right back to the trend line or even making a minor false break below it in the $21- $21.50 range.