From Philipp Pfitzenmaier at Trade with Precision:
I really like my coffee, and there's nothing like finding an interesting set up on my favourite beverage's chart whilst sipping away on my first cup of java for the day.
Looking at the Coffee Robusta (Cash) daily chart, we can see that this market has been in an uptrend for quite some time. Currently price is pulling back into the moving average buy zone and usually, if a small bullish candle were to form in this zone, then that would give us a signal for a Trend Flow long setup to buy coffee. Right? "It's a trap!" as coined so eloquently by Admiral Ackbar in Star Wars, Episode VI.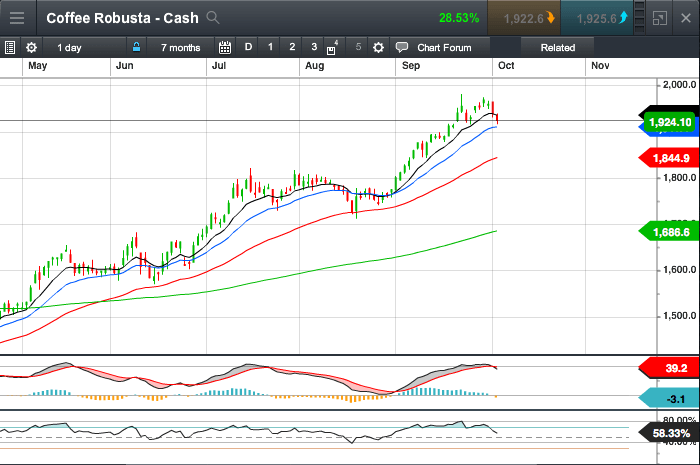 So what is wrong with this chart? Let us zoom in a little to see all the details …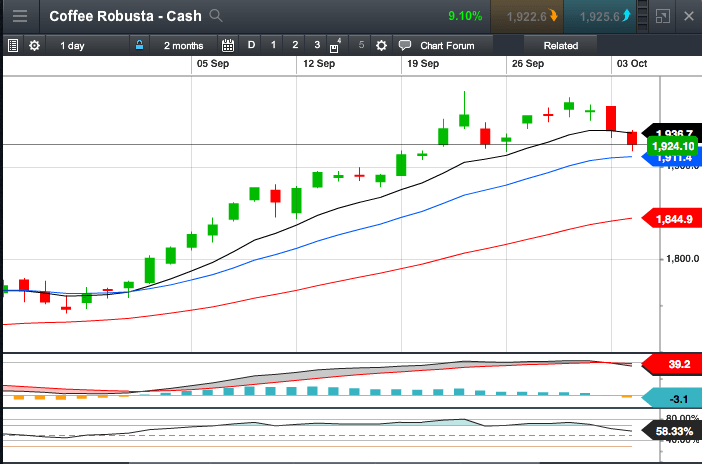 Now we can see more clearly that the trend on the daily chart is on the cusp of changing and will no longer be in an uptrend. Let me explain; on Sep 29th price made a lower high whilst today's low has come within a hairs breadth of forming a new lower low (just 1 point was missing for a new low which is a price move of 0.05%)
The trend is always very high on our checklist as it provides us with the proper context in which to apply our strategies; no trend = no trade! Another warning sign is that both the MACD and RSI indicators have rolled over, indicating a potential lack in bullish momentum.
Once we look at the weekly chart for confirmation, we can see that price is currently over-extended from the moving average buy zone and it looks like a deeper, extended pullback might be on its way which could mean further downside in the short term. Let me be clear here, the weekly chart is still in an uptrend with an overall bullish theme however a pullback to equilibrium would manifest bearish trends on the shorter timeframes.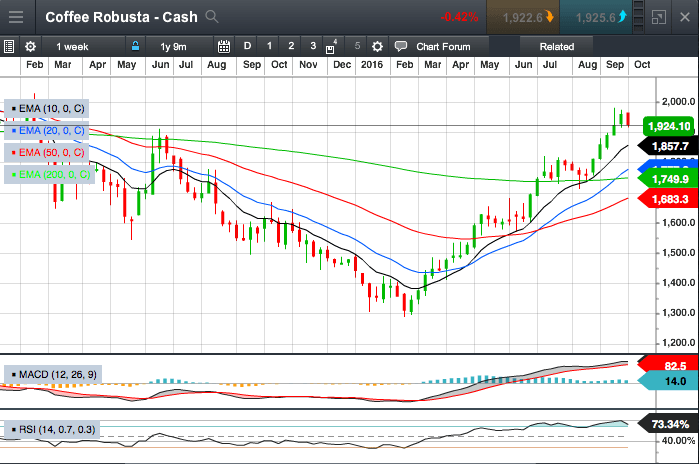 So how can we trade this market right now? It depends of course on your personality as a trader. If you are aggressive and want to focus on faster timeframes I would start to look at timeframes like the hourly for potential Trend Flow short setups once the trend on daily chart has clearly changed. The big question is: if we do short coffee then what might the potential target be?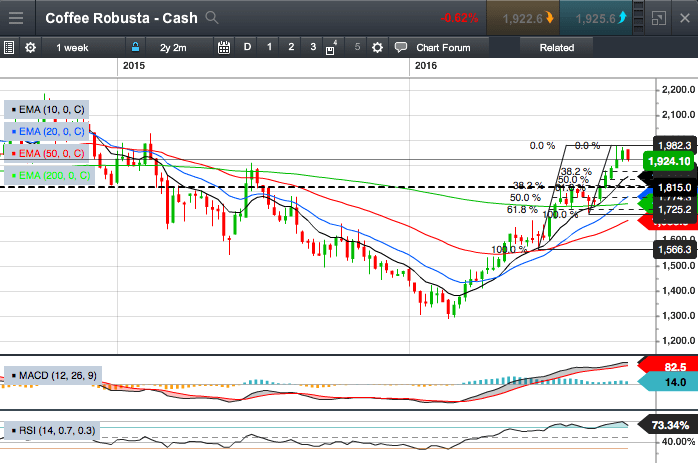 Again our chart gives us the answer. Here I have added two Fibonacci Retracements and a level to the weekly chart. The level at 1,815.0 happens to cluster almost perfectly with 61.8% retracement of the recent swing and the 38.2% retracement of the next higher swing. And this price cluster is currently pretty much in the middle of the buy zone in the weekly.
So we have a plausible profit target for a potential short trade. If you don't like trading on the dark side by going against the bullish weekly and monthly timeframe trend, then you could just wait for price to pullback to this support cluster and then stalk potential long trades if and when they occur.
So if you thought that the daily chart currently features a long setup, by now you hopefully don't need Obi-Wan Kenobi to show up, moving his hands mysteriously while mumbling "this is not the setup you're looking for!".
May the happy trading force be with you!
Philipp