The steel market has gone ballistic. If you don't normally pay much attention to it, now might be the time to start. It's become the latest focus for market volatility and its showing signs of reaching a crunch point, just as BHP and Rio back away from key chart levels. That could be significant for the Australia 200 index.
Steel, iron ore and the Chinese economy
China is responsible for about half the world'd steel production and 45% of steel demand.
Last month China's steel production increased by a stellar 13% to 70.7m tonnes. However, this needs some context. March production was up only 2.9% compared to last year and first quarter production was still down 3.2% on the same period in 2015.
However, the big jump in March production comes when there's a lot of talk suggesting China has made a move back its old investment led stimulus model. There are signs authorities are pulling out more stops to hold economic growth at target levels and support the job market.
The consensus outlook for the iron ore market remains pretty negative. This is based on a view that Chinese and world steel demand will continue to fall. The World Steel Association, for example, expects China's steel demand to fall 4% this year driving a 0.8% drop in global demand.
At the same time, iron ore supply is expected to increase. After some temporary relief from cut backs in high cost Chinese iron ore production, we are scheduled to see another ramp up from low cost international producers. The big Brazilian miner Vale, is forecasting that its production will increase 100m tonnes by 2018.
Falling demand and increasing supply is an ugly scenario for a commodity market. The consensus view was that this would push iron ore prices down to the vicinity of the average break even costs for low cost producers in the $US 30 range.
Given China's huge share of the steel and iron ore markets, any stimulus led change in demand could have a profound, if only temporary impact upsetting the consensus view. This would have major knock on impacts elsewhere. Not least for the Australian economy and Aussie Dollar
There are reasons to believe that any new round of investment stimulus will be a much more moderate affair than the post GFC bazooka which had such a big impact on world markets. There are still major property and infrastructure supply overhangs in a lot of second tier cities; unprofitable companies and excess capacity are a drag on many heavy manufacturing industries and there are substantial credit issues in many parts of the economy.
Even so, the job of sorting out whether last month's big increases are a one month wonder or the start of something bigger has now become a key factor for traders and investors.
The bearish case is that this is just an episode of Chinese volatility caused by inventory restocking with steel manufacturers taking advantage of the recent jump in prices. The bullish scenario will emerge if China's steel production lasts beyond March, sustained by higher underlying infrastructure demand.
Steel chart
The Shanghai Rebar market is now the subject of intense market scrutiny.
Rebar is the steel reinforcing used in concrete. The chart is below with prices quoted in Yuan per tonne
The market is up 14% over the past week. I don't know what readers think but to me, this chart looks like an Elliot 5 wave advance. If that's right, last week's move would fit with a "blow out" top scenario. An overlap below the latest peak at 2435 would be bearish, setting up for a correction of the whole rally from late November. Interesting to see it showing signs of getting wobbly today.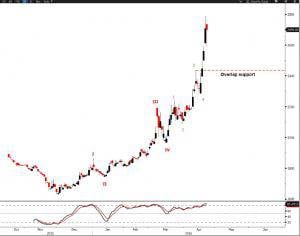 Shanghai Steel Rebar
Source: Bloombeg
BHP chart
The blow out top scenario for steel fits neatly with possible turning points in the BHP and Rio charts
Today, BHP has neatly rejected the 61.8% Fibonacci retracement and a harmonic AB=CD level. This is a Gartley sell set up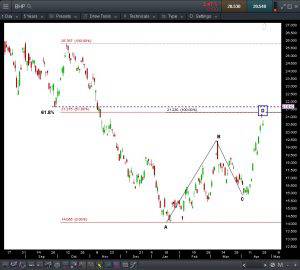 BHP.ASX Daily
CMC Pro Platform
Rio chart
The Rio chart is doing a similar thing. It's rejected a neat AB = CD level, just below major resistance today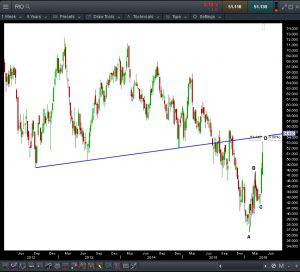 RIO.ASX Weekly
If these charts are correct in predicting a downward correction for the big 2 mining stocks, it's also likely to be a negative for the Australia 200 index