I'm a huge fan of Andrew Forrest's Fortescue Metals (FMG). Its a great Australian success story. However, successful traders usually keep emotions out of their trading - and patriotism has little or no place in the markets.
International steel markets are plagued by ongoing tariff disputes, and the US recently  raised anti-dumping tariffs against Taiwan. And a China Iron and Steel Association vice-president said yesterday that steel production will decline over the next three months, and with it iron ore demand, according to Bloomberg. This could have a severe impact on FMG's share price.
 The charts are pointing in the same direction - down. Above is the daily iron ore chart for Dalian futures. The price is in Renminbi. Note the double top formation, and the evening star that may herald a trend change to downward. Now, here's Fortescue: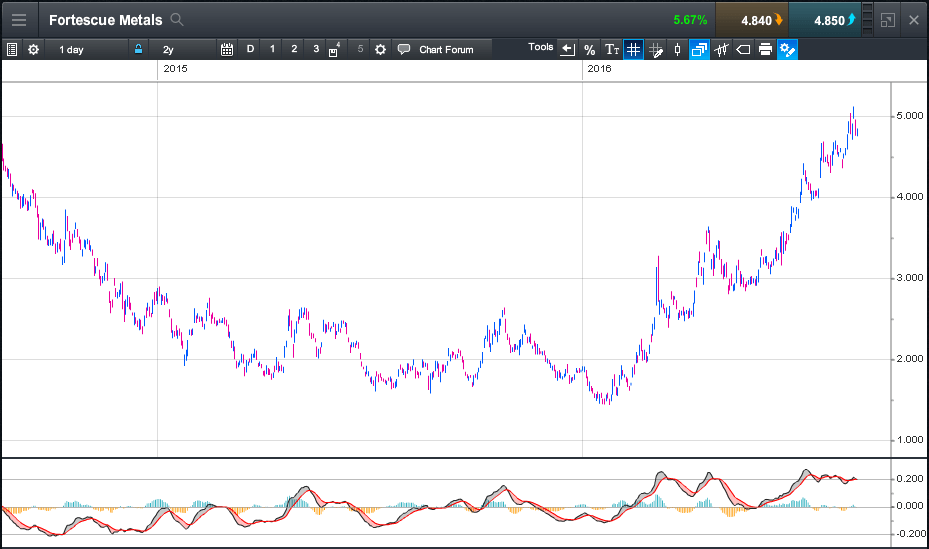 Shareholders benefitted over this year as FMG more than tripled in price. The last few trading days are showing a very similar pattern to the iron ore chart ie an evening star type reversal. With profits leveraged to the iron ore price, FMG may be susceptible to a significant correction. 
Rio is the other major iron ore play (BHP is more diversified). Its share price looks much less vulnerable, at least relative to the last two years: