In trading this week the Australia 200 index is sending a clear technical signal. The slice straight through resistance at 6,000 is a sign of underlying strength. On balance this market action indicates a test of the post GFC highs around 6,150.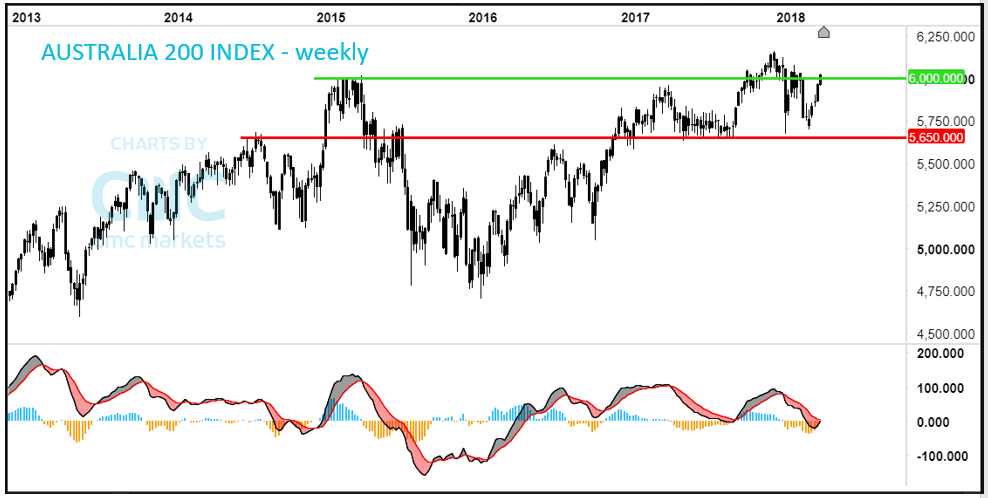 Commodity strength, a lower Australian dollar and relatively cheaper valuations could all contribute to the positive momentum. Whatever the drivers, the higher levels of the Australia 200 index could in itself force more cautious investors back into the market as underperformance (due to defensive positioning) becomes a more prominent risk.
Traders and investors should respond in ways that reflect their own circumstances as well as the change in the market. No one can say with certainty whether the index will break through 6,150 to make new post-GFC highs. However a move through that level would in big picture terms introduce the possibility of a test of the all-time highs around 6,852.
Even at its much reduced level the financial sector plays an important part in the Australia 200's performance. The sector comprises around 34% of the value of the index. That is substantially down on the peak composition of about 47%, reflecting the sell down in the sector from the 2015 peak. Mathematically, all the financial sector has to do for the index to make new post-GFC highs is sit still. Given a positive outlook for industrial commodities, any further recovery in financials (up 1.9% yesterday) may see those marks hit well before most investors currently expect.