The under performance of buy and hold strategies in 2015 sees many investors taking a more active approach to their portfolios.
The conflicting actions of global central banks will likely further increase market volatility in 2016. Combined with a modestly positive economic outlook and significant overhanging risks, the potential for wildly swinging sentiment to drive markets in either direction demands a strategic response from investors.
Put simply, the highest returns this year may go to those who position to take advantage of market swings – buying when prices are low, and selling after significant gains. The full or half year results reported by companies over the coming weeks could be a catalyst for moves in either direction. Those taking an active approach are likely on alert.
There are many ways in which active investors can improve returns through the reporting season. This may mean acting ahead of a company report, as well as taking advantage of any market moves after a company has announced its results.
Conventionally, many investors prefer not to act ahead of the latest company snapshot, and traders tend to view holding positions through a report as a 50/50 proposition, and therefore not worthwhile. However, the current market fragility  means that any disappointment can cause a share price to sink.
The action in Bega Cheese this week is a good example. The interest in food supply chains to China, and the excellent reputation of Australian agricultural products make Bega a market darling – a good company with strong prospects trading at a rich valuation. After the company announced the loss of a supply contract to Coles, the shares were slammed, despite trading below recent all-time highs: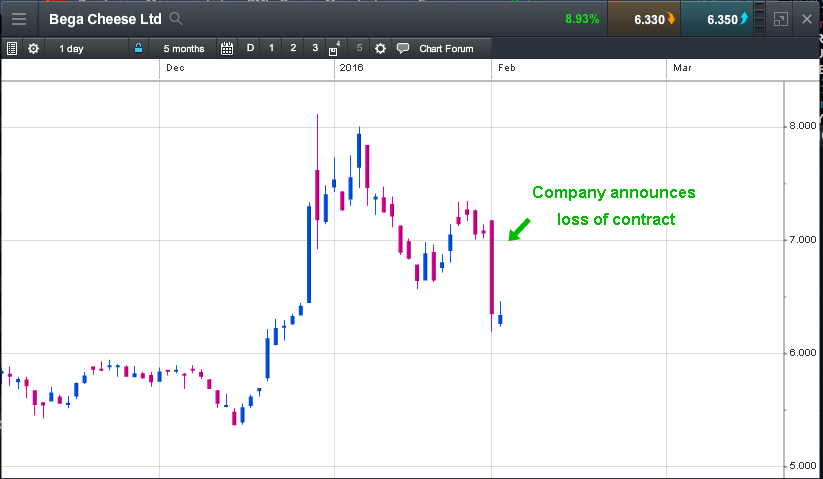 Although this was a one-off, the share price impact of a poorer than expected result could be similar.
Investors are all different, and the right course of action depends on personal circumstances as much as market conditions. Investors unsure about the  right approach should seek expert advice. With that in mind, the following stocks may be ripe for profit taking ahead of a their reports. This is not a reflection of their quality, or their longer term prospects. Most of these stocks are highly desirable.
However, selling ahead of a potential 10-20% fall, possibly with a view to buying back in at lower levels, is a useful tactic in an active investor strategy.
CSL Ltd is a prime example of the risk in market darlings. CSL is a great Australian success story, with truly global operations and an impressive track record in research and product development. However, it is trading at record share prices, despite some analysts revising earnings expectations down (albeit slightly) over the last six months. There are other analysts  who are expecting better than consensus earnings, with uncertainty surrounding the impact of a lower Australian dollar. Its share price is up more than 20% in three months, and it is now trading on a forward Price to Earnings ratio around 26 to 1.  Any disappointment at its half-year profit result on February 16 could see a significant share price reaction.
Carsales.com Ltd (CAR) is another example of a much loved stock. Up 25% since mid-November, it's also touched record highs and is trading at a P/E around 25x. Once again, this is a higher quality company with a strong track record (although I was rather disturbed to visit their investor relations site and find a very poorly designed forward calendar – Bloomberg says February 18). Nonetheless, the share price at current levels in my view represents what the boffins call "asymmetric risk". That is, the potential fall if CAR disappoints is much larger than any likely rally if they surprise on the upside.
REA Group Ltd has similarities, and more urgency for investors – it reports on February 5. Although it has pulled back from the all-time high hit in the first week of January, it is up 30% since September 2015. While the prospects are good, this is reflected in its valuation. The P/E is around 29x.
This approach may rub some investors the wrong way. In a low return environment, increasing transactions (and therefore transaction costs) appears counter-intuitive. However, this thinking may also relate to the good old days, given that most online brokers now charge one-eighth of a percent or less per transaction.
Investors seeking average returns should do what the average investor does. Investors seeking superior returns must be prepared to move away from the herd. An active investment strategy is one rational response to the anticipated increase in market volatility over the course of the year.