I

n celebration of International Women's Day, we wanted to shine a spotlight on several Australian-born and multi-national companies, which are led by some of the most influential women in business. With women standing at the helm, these companies have seen significant growth and varying strategies.

 
Susan Lloyd-Hurwitz, CEO: Mirvac Group (ASX:MGR)
In the past 5.5 years, Mirvac's stock price has grown by almost 60 per cent, reaching a post-Global Financial Crisis high. Given that the Mirvac business is well diversified across office, retail, industrial and residential assets, the Company has navigated the Australian property downturn seen over the last 12 months quite successfully. 
Mirvac CEO since 2012, Susan Lloyd-Hurwitz is a strong believer in workplace engagement as a powerful predictor of business performance. It's therefore no surprise that under her leadership employee engagement has risen by over 50 per cent – a world-class standard for workplace engagement and under Susan's philosophy, a key driver of Mirvac's success.
With the Company posting a 26 per cent increase in after-tax operating profit to $290 million and a six per cent improvement in net tangible asset to $2.44 per security, investors appear to be clearly satisfied with the executive team's long-term performance.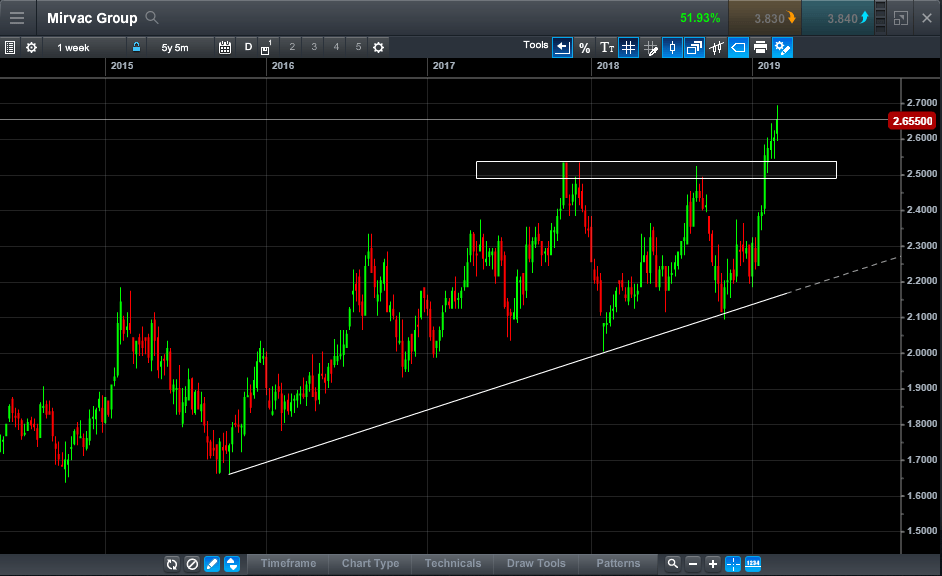 Mary Dillon, CEO: Ulta Beauty (NASDAQ:ULTA)
US stock, Ulta Beauty has had a stellar five years with the share price moving in a steady upward trend that has now seen the stock move back into $312 resistance area for the third time. Since 2013, the Company's stock price has climbed up 25 per cent, reaching an all-time high, which should prove to be the next big test for the stock over the short term.
CEO, Mary Dillon, was appointed to the role in 2013 and listed on Fortune's 2018 Businesspeople of the Year. Under her leadership, the Company's stock value has more than tripled since joining.
Though Ulta Beauty is susceptible to performance cycles seen in the retail industry, it does a good job of balancing its brick-and-mortar business with online sales, which will keep it growing. The business is due to report its 2018 fourth quarter results on March 14, so a positive earnings report could prove to be the catalyst for the stock to finally break out to new all-time highs.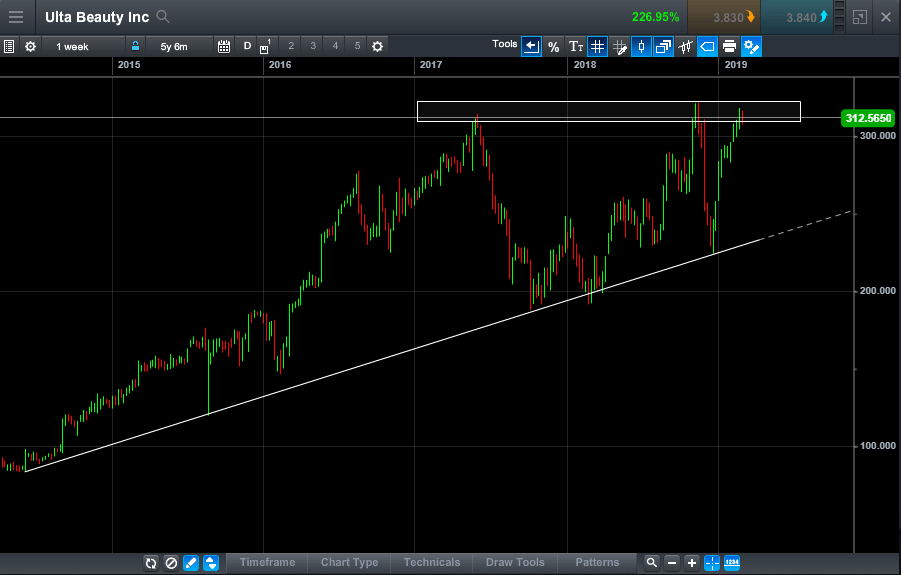 Katie Page, CEO: Harvey Norman (ASX:HVN) 
With the wider retail industry experiencing a decline, Harvey Norman's share price has decreased substantially over the past three years. However, in the last two months, the Company's share price appears to be revitalised, rallying 26.77 per cent off the December lows. The price is pushing back into the $4.00 resistance level and up against the descending trend line which, in the short term could prove to be the next big test for the stock.
Long-standing CEO, Katie Page, has been with the company since 1987 and was appointed CEO in 1999. Under her leadership Harvey Norman's share price has grown by 25 per cent in the past 5.5 years, as she works to commandeer a business with more than 200 stores in Australia and across seven other countries.
The Company has an annual turnover of more than $2.6 billion a year, and with offshore expansion plans in Malaysia slated for 2019, Harvey Norman's performance is one to watch.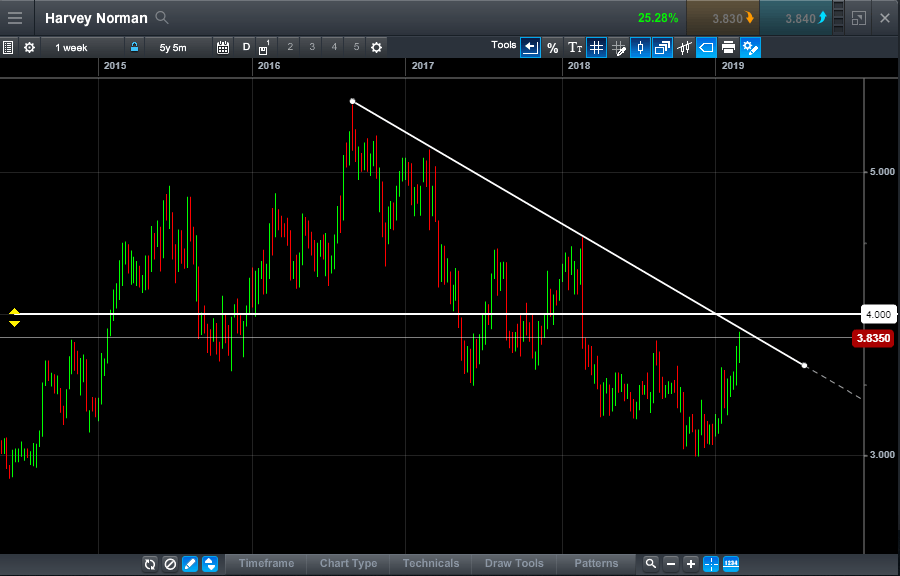 Trade a broad range of Australian and international shares and a variety of other instruments, including CFDs, forex, indices and commodities.