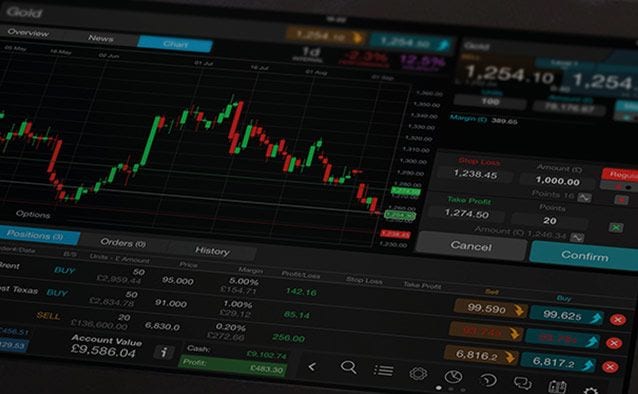 Tight spreads, big moves, volatility and plenty of opportunity is what is on offer in the index markets. If you haven't traded them yet, you have to ask yourself; 'why not?' There is no reason not to trade these amazing instruments and the best news is that you always have something to choose from, round the clock there is a market open, this means you can always be hunting for the next trade!
Let's explore what you need to do to find the markets that are open when you are ready to trade? Let me guide you through what I have done prior to making my time zone watch lists.
Step 1. Find out what time the cash market is open in that country. What this means is that I want to be trading the index when it is at its most active and that will be when the underlying stock market for which it represents is open.
Step 2. Group together the cash markets that will be open around the same time so that you have a few to scan through. For example I have mine set up as a business hours list and an after hours list to make it nice and clear.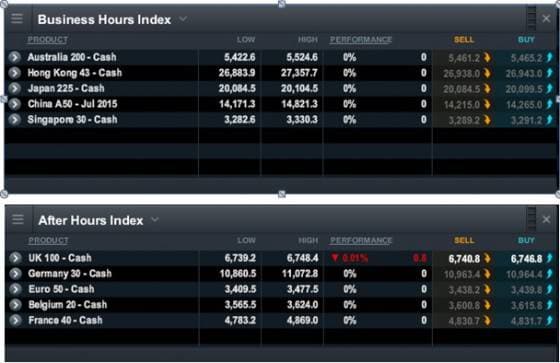 Step 3. Just do your scans through these lists you've created, it's as simple as that. If however you do wish to know more about each product to double check margin rates or to know when the markets will open and close on the CMC platform then you just need to pull up the product overview to find out everything you need to know.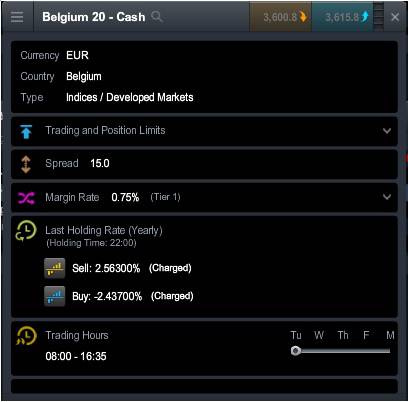 Now that I have covered how to get your lists set up I can cover how I like to trade the index markets.
My approach is to swing trade or intraday trade these markets, I do however really love to trade the lower time frames on the markets with the very tight spreads such as the German 30. This market roughly has a 100 pip daily range and offers me a spread of only 1 pip which for an intraday trader is great. The other big reason I like to trade the German 30 on the lower time frames is that it is open at a time that I am very focused which is towards the end of my day.
I will happily trade off the 2 minute time frame on the German 30 because it has enough volatility to allow for some very smooth trends while the cash market is open. Below is an example of the German 30 on a 2 minute chart. Have a look at how smooth the price action is, a really smooth flowing trend even on this low time frame.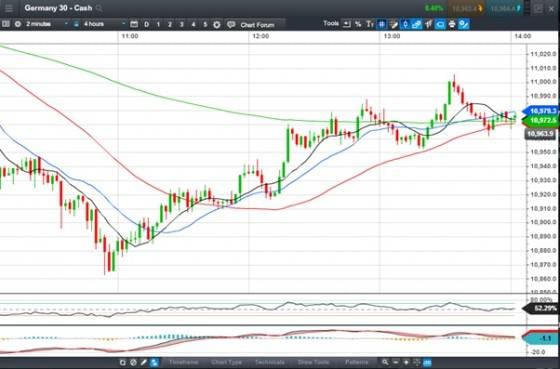 As for the strategies I use to trade these markets, I have 2 or 3 dynamic strategies, two of which are taught on the CMC Markets Advanced Education Course. They are dynamic as they work on most liquid markets and on any timeframe. My go-to strategy of choice is the Trend Flow Strategy as it is simple in its design; moving averages, RSI, MACD, candlesticks and multiple timeframes all used in a unique way. All that is required is a liquid and volatile market!
I love trading the global index markets because it opens me up to opportunities around the clock, some of the products have tight spreads allowing me to trade very low time frames and I can create my own plans around the markets and their hours of trading. To put it simply, if you're not trading index markets right now you really should be asking yourself why not?