Today's IEA report paints a more downbeat picture for oil demand heading into year-end than it did in its July update. Outages caused by disruptions in Nigeria and the Canadian wildfires, were pretty much shrugged off by increased production from Saudi Arabia as well as the return of Gabon, sending output to an eight year high by the middle of the summer, where prices peaked at $52 a barrel.
Even so the downgrade to demand by the IEA has raised concerns that lower oil prices could well be with us for a little while longer, great news for consumers, not so much for oil exporters, and oil company share prices that have rallied on the basis that oil prices are on their way back up again.
This recovery in oil prices has been a welcome respite to those US shale producers who Saudi Arabia decided to take on when they allowed prices to fall below $70 a barrel in 2014, and prompted the run down to $27 a barrel.
The recent rebound, while welcome is little or no comfort to countries like Venezuela, Qatar and Ecuador who have seen their margins decimated, even though in Venezuela's case a lot of their problems are self-inflicted given their production has dived to 13 year lows, due to power shortages and chronic underinvestment. The problem for Venezuela is not the price; it is that they've allowed other producers to fill the gap; their slide in output and underinvestment has created.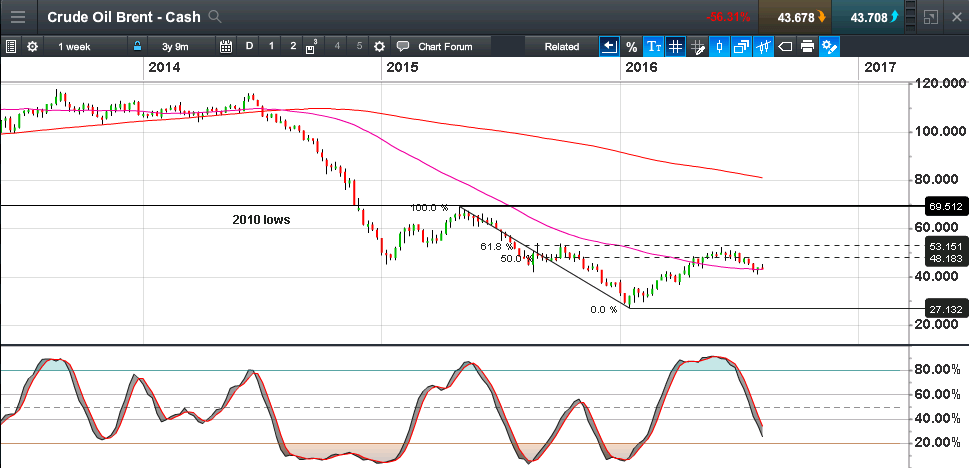 It is for this reason that Venezuela's pleas for a production freeze is likely to fall on deaf ears, and why Russia's oil minister ruled one out earlier this week when OPEC leaders get set to meet next month in Algiers for an unofficial gathering.
Having found support at $27 a barrel very early on this year, in the process drawing a line under an eye watering decline, which has created a lot of pain for a lot of over leveraged oil producers, speculation is now rising as to whether we can head back to those 2015 peaks near $70 a barrel.
And here lies the problem, while a lot of uneconomic capacity has been shut down or lost, the market continues to remain oversupplied, both in the US and globally as well, and with demand for oil likely to remain below the ability to supply it, the overhang of inventories is likely to continue to weigh on prices, something this morning's IEA outlook has drawn attention to.
In the US, since bottoming in May this year at 404 the Baker Hughes rig count has started to rebound, and while it is only up 60 at 464, the direction of travel does suggest that we may have seen a stabilisation from the falls of the past 12 months. At the end of last year the rig count was at 700, while at its peak in 2011 there were 2,026 rigs, which would suggest that if prices were to push back above $50 a lot more idle rigs could well come back on stream.
For now the oil price appears to have found an upper level, just above $50, and while we've seen some support near $40 a barrel, that doesn't mean we can't go lower.
The current down move has found some support just below the 200 day MA and above the 50% retracement of the up move from the lows earlier this year, at $39.70.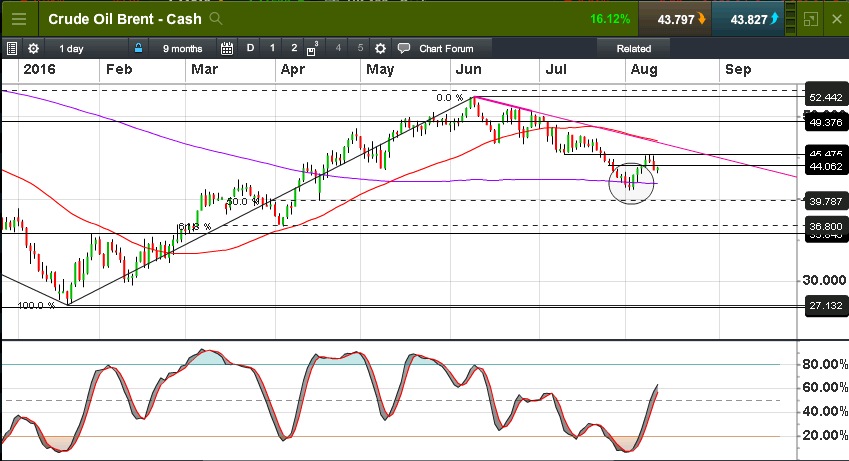 The US dollar is also likely to have a big part to play in the oil story. It is no coincidence that oil prices rebounded soon after the US dollar started to pull back in the wake of the Fed's first rate hike in 9 years. The scaling back of expectations of a Fed rate increase this year has seen the US dollar weaken, in the process lessening the vice a stronger US dollar was having on the commodity complex, and helping put a floor under prices.
Ultimately OPEC's ability to influence prices is likely to be limited in the context of the willingness of the Saudi's to cut production, not likely given their current record output and the current scorching Middle East summer, or the Russians, again not likely given that any price for a barrel of oil is better than no price, given their current economic problems.
That leaves the Iranians, and given that they want to build up their output to in excess of 4m barrels a day, any freeze here seems unlikely too given current output levels of 3.85m barrels. On the latest estimates Iranian exports to Asia rose by 47% on the previous year, up to June.
This would suggest that the best of all worlds given the current environment would be for oil prices to stabilise at or around current levels, with further jawboning expected if we fall near to or below the $40 a barrel level, in the hope that in 2017, the supply overhang has dissipated enough for demand to pick up the remaining slack and push prices higher.
Current resistance on Brent crude prices sits at this week's high at $45.50, while behind that the line of declining peaks and 50 day MA at $47 a barrel.
On the downside support comes in at $40.90 the lows this month, and below that at $39.70.
CMC Markets is an execution only service provider. The material (whether or not it states any opinions) is for general information purposes only, and does not take into account your personal circumstances or objectives. Nothing in this material is (or should be considered to be) financial, investment or other advice on which reliance should be placed. No opinion given in the material constitutes a recommendation by CMC Markets or the author that any particular investment, security, transaction or investment strategy is suitable for any specific person.