I happened to be looking at Australian property stock, Scentre Group on Friday. I think it's quite an interesting example for framing a discussion on how far the current sell-off in stocks might have to play out.
Yield based sell-off and tonight's Brainard speech
US stock markets had been holding out resolutely in the face of mounting evidence that the next Fed rate hike is coming. On Friday, market resolution seemed to crack. The catalyst was comments by dovish Fed Governor, Eric Rosengren. He indicated that he is thinking that the time is right for the next Fed rate hike. The logic is that if Fed doves are thinking this way, a rate hike can't be far away. 
Tonight's speech by another dovish Fed Governor, Lael Brainard now shapes as a potentially big market event.  
Aussie yield context
The chart of Australian three year bond yields above, helps give some local context to all this.
This shows chart resistance between about 1.7 and 2.2%. Three year bond yields spent much of last year and the first part of this year in this range but dropped below support after the RBA cut rates in May. Since then the Australian 3 year bond yield fell to a low of 1.36% but has now recovered to 1.57%
Let's assume a relatively positive view of world economies where inflation stabilises and perhaps starts to head a bit higher and no major risk events emerge. This would see the Fed very gradually begin to lead global central banks out of the post GFC monetary stimulus era. Readers will have their own views but under that scenario I can envisage a markets beginning to look forward to one or perhaps even 2 RBA rate hikes by the end of next year or early 2018 i.e back to where they were before this year's rate cuts 
That scenario could put 3 year bond yields back into the 2015 range
"Yield" based stocks like Scentre Group (SCG: ASX)
Today's Australia 200 sell- off has looks to have powerful momentum so might easily have further to go. At the very least this momentum suggests it might be a while before it would be prudent to assume the Australia 200 is forming a base. Amongst other things, the last Fed rate hike triggered concerns about emerging market outflows and this might again trigger wider concerns. 
However, for many sectors in the  Australian market, today's sell off is a just a continuation of an valuation adjustment that's been going on for some weeks.
Scentre Group, for example, is now down 16% from its peak in late July. This morning it has dropped below support including its 200 day moving average.
Scentre Group is a real estate investment trust. It owns the Westfield shopping centres in Australia. This makes it the classic "yield stock" with high quality assets and relatively stable earnings.
During 2015 when 3 year bond yields were up in the 1.7/2.25% range, Scentre Group was valued pretty well where it is now at 18.6 times earnings and a forward dividend of about 4.8%. This implies the bulk of the adjustment for higher interest rates in this stock might already have been made.
Scentre Group chart
However, markets have a habit of overshooting and downward momentum remains strong. A retreat to the next support level and the 61.8% Fibonacci retracement around $4.25$4.32 could easily be on the radar. At that level, Scentre Group would be another 4% below this morning's price. It would trading on a forward dividend yield of around 5.1% If a gradual increase in interest rates is the market's only concern, this support will be on my radar as a possible opportunity in this stock. 
If the market really gets worried, the next chart support around $4 takes SCG right back to a valuation of around 16.5 times forward earning which is the sort of level it was trading at in 2014 when 3 year bond yields were 3%. That would imply another 12% below current levels and a dividend yield of about 5.4%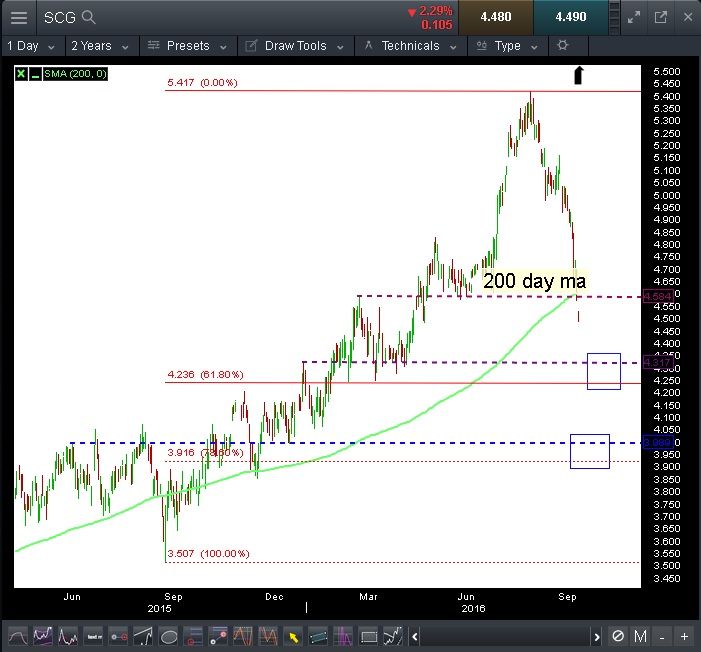 If the sell-