The overall strength of China's economy and its potential to create real problems for the rest of world is a polarising issue for market followers at the moment.
What is clear though, is that progress is being made on re balancing China's economy towards domestic consumption. Retail sales growth is solid, and has averaged 11% year on year over recent months. Private consumption now accounts for around half China's GDP and it's contributing nearly two thirds to growth in output.
This trend has helped some of some of Australia's food and health supplement stocks become the major investment success stories of the past year. Stocks like Blackmores, Bellamy's and Bega Cheese are seen as ideally positioned to leverage their reputation for clean, green and healthy products into the burgeoning growth of China's middle class.
High growth stocks are not immune to market corrections. Their lofty PE multiples and price tags make them vulnerable to market nerves or any hint of a slight miss on forecasts. On the flip side, many potential investors are looking to get some exposure to these stocks and sweating on the possibility of price corrections to create some value. If you are in that category, here's a review of hot stock chart supports.
Bellamy's Australia (BAL:ASX)
Milk formula producer, Bellamy's had a bit of a 'blow out top" when it peaked on 30 December. Its trading range that day represented about 19% of the stock's value. After being sharply higher it finished well down on the day. A significant correction has followed.
The $16.50 peak that day looks like the end of an Elliot 5 wave advance which began right down at $4.35. A significant retracement of at least 38.2% usually follows the end of a 5 wave move. So far this is exactly what's happened. Last Friday's low was at the 38.2% Fibonacci retracement level. If Bellamy's is only going to have a shallow correction that might be as low as it gets
However, it's also very common for a bounce off 38.2% to be just the finish of the first leg down in a deeper and more complex correction. If that happens the 50 day moving average might become support. It has acted as reliable support for the magnificent uptrend in this stock right back from the time it started around $1.70
Another possibility for a deep correction would be the black trend line and 50% retracement around $10.50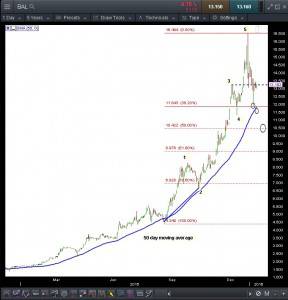 Bellamy's Daily
Source: CMC Pro Platform
Blackmores
The vitamin and supplements producer has ridden the wave of soaring Chinese demand to become the number one hot stock in the ASX 200 index
Chart followers got a warning of impending price weakness last week when the small double top formation on the chart showed bearish divergence with the RSI momentum indicator. This is displayed in the box under the chart and was making lower highs while price was still making higher highs.
I haven't shown as much history on this chart but the 50 day moving average has done a great job defining the Blackmores as well.  Blackmores has so far had a much smaller correction than Bellamy's. This possibly reflects the fact that it didn't get nearly as far above its 50 day average as Bellamy's in the latest rally
Yesterday Blackmores got close to the 50 day moving average around $190. On a bad day for the overall market it's stayed above that level as well today. So the 50 day average may yet again prove to be a support level for Blacmores
A clear break below the 50 day moving average would be a worry, indicating potential for a much more serious correction, perhaps to the  38.2% retracement around $166.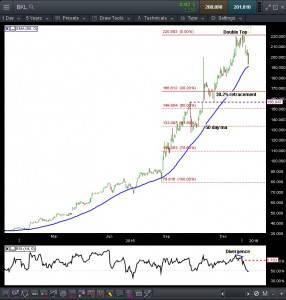 BKL.ASX
Click to Enlarge
Bega Cheese (BGA.ASX)
Bega Cheese joined this party making agreements with Bellamy's and Blackmore's to supply infant formula. Like Bellamy's, Bega Cheese had a blowout top on 30 December. It's having a bad day today and a correction is now well underway.
Since the share price took off in the middle of last year, the 50 day moving average has come into play with Bega Cheese as well. The stock got a long way above this moving average and from a chart point of view this made it vulnerable. Despite a considerable drop over the past week its still 12% above the 50 day moving average. Potential supports for Bega now include:
The 50% retracement around $6.73
The 61.8% Fibonacci retracement around $6.40 of
A broad zone between the 50 day moving average, trend line support and the 78.6% retracement - $5.95/$6.15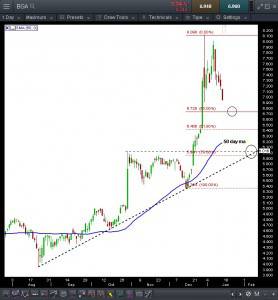 BGA.ASX Daily
Click to Enlarge