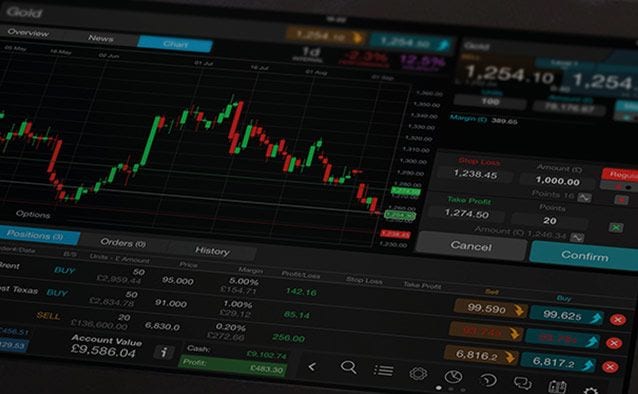 From CMC's prolific North American chief market strategist, Colin Cieszynski:
Trading Analysis - gold breaks out as ECB starts bond buying
Gold continues to rally today, breaking through $1,250 and its 50-day moving average. These gains come at a particularly interesting time because action in gold relative to other markets today highlights which are the primary drivers behind trends in the yellow metal.
Continued gains in gold appear to be defying many of the factors that historically have had an influence on gold.
It's not a fear driven move into defensive havens. With stocks rallying around the world, one would expect to see capital flowing out of gold on a day like today.
It's not a USD driven move as the greenback has been steady the last few days after last week's trading correction. Anticipation of more hawkish US monetary policy going forward has been a headwind for gold and tailwind for USD.
It's not a commodity inflation driven move as Brent and WTI crude oil are hovering just above their 52-week lows.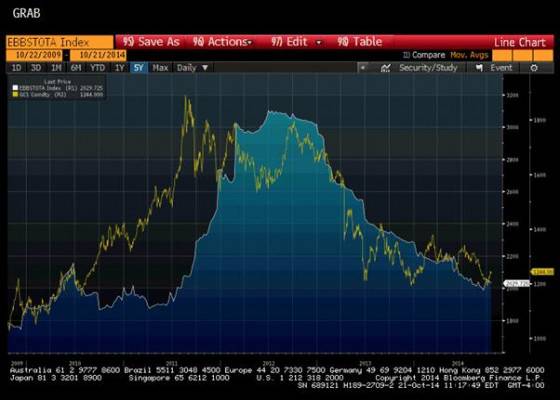 Source: Bloomberg L.P.
Ruling out all of these, leaves the main factor driving gold the same one that has dominated gold trading for the last five years, changes in monetary policy in Europe.
Since the start of this decade, the price trend in gold has been linked to the size of the ECB balance sheet. Gold started to climb in 2010 as the debt crises in Europe deepened leading to the LTRO program that led to a huge expansion of the ECB's asset base in late 2011 and early 2012. Gold peaked and levelled off as this expansion was underway.
For the last two years, gold has been steadily dropping along with the ECB's asset base as the central bank conducted a stealth taper reducing its balance sheet as banks repaid their LTRO loans.
The ECB has indicated that it plans over the next two years to put the trillion euros it shaved off its balance sheet back into the market. Last month's targeted LTRO offer didn't get much takeup but speculation has increased that the central bank may be getting more serious about stimulus with bond purchases starting this week. Anticipation of a bigger ECB balance sheet while the Fed takes its time to reduce its own (going back to before could take the rest of this decade), appears to be sparking renewed interest in gold.
Seasonal factors including demand from wedding season in India may also be playing a role.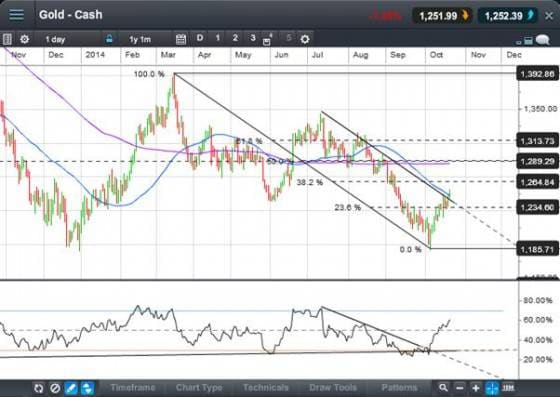 Source: CMC Markets Next Generation Trading Platform
In addition to clearing $1,250 and its 50-day average, the chart below shows that gold has also broken out of a three month downtrend, while $1,235 has emerged as new higher support near a Fibonacci level. Meanwhile the RSI indicates that upward momentum continues to accelerate and it's not even close to being overbought.
Next potential upside resistance tests on trend appear near $1,265 and in particular near $1,290 where two Fibonacci levels and the 200-day moving average cluster.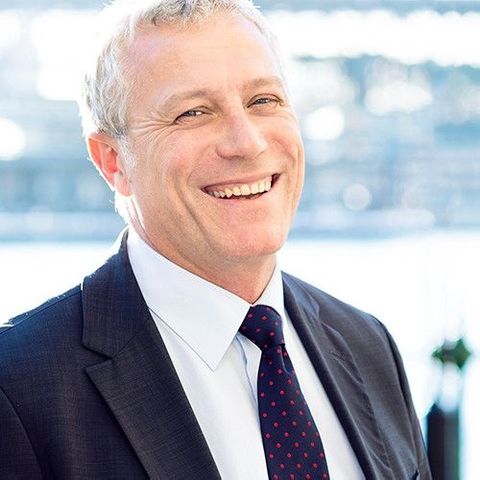 Michael McCarthy