By Chloe Edwards, Trade With Precision
When the world is facing uncertain times, Gold is often seen as a safe haven asset, which can result in an increase in value as investors remove their interests in falling stock markets and instead buy Gold.
But we haven't seen times as uncertain as these in most people's memories. Adding to the global concern is that the underlying cause of the current economic crisis is a biological entity over which neither we, nor our governments and central banks, have much control.
I therefore have a fundamental, as well as a technical, reason to be looking for long opportunities in this precious metal commodity.
As the COVID-19 crisis intensified in early March, we saw a heavy fall in the value of Gold along with many other markets. That may have been unexpected for those seeing Gold as a safe haven. However, this could have been due to investors liquidating assets in order to generate cash. Since the lows were established in the third week of March, we have seen a rally and a return to the uptrend.
As always, I am keeping risk management at the forefront of my mind in these uncertain times, while continuing to look for opportunities to take advantage of the bull trend.
The first thing I need to do is establish any key horizontal levels that may aid or hinder my trade idea, and in order to do this I look to the monthly chart, where I note a clear level of resistance at the highs of 2012, around $1,790.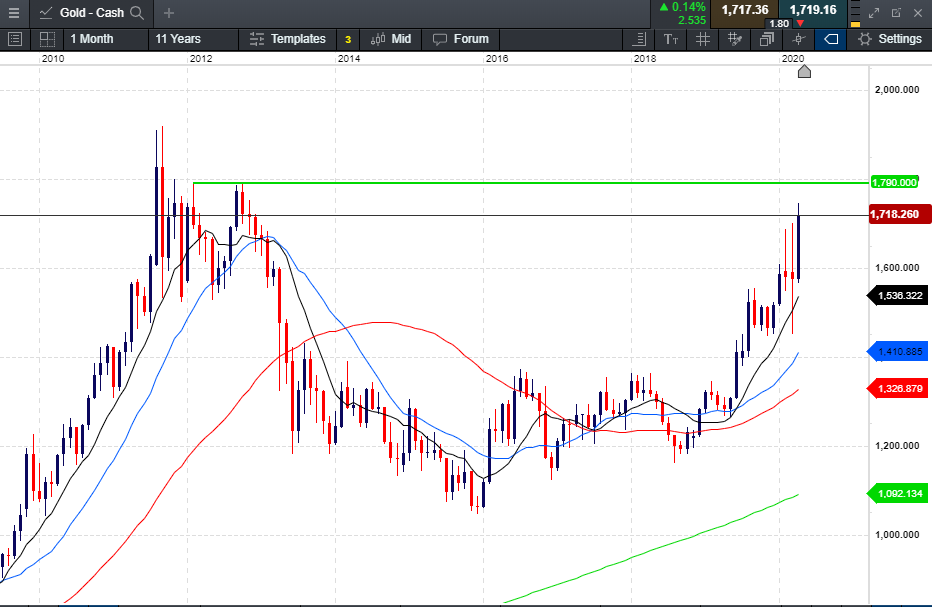 On the daily chart, I can see an uptrend in place, with price action forming higher highs and higher lows, and the 10, 20, 50 and 200 moving averages (MAs) just starting to line up again to show good bullish geometry. Both the
MACD
and the RSI indicators are trending higher in a bullish fashion, showing convergence with price that could confirm the trend momentum to the upside.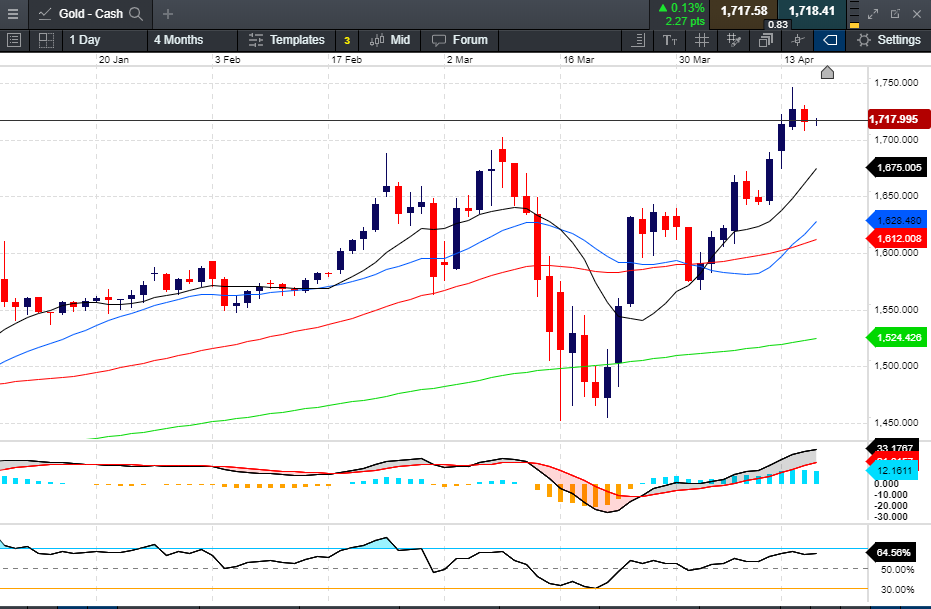 The combination of this price action and the indicators suggests to me the potential for possible long swing trading opportunities, so I am currently looking for a pullback into the area around the 10 and 20 MAs on this timeframe.
I will then look for a small bullish bar to form around this area, and if this happens I will use it as the basis for a long entry. If I await this pullback, it looks likely that there could be a decent reward-to-risk potential for the trade, up to the aforementioned 1,790 level.
In order to gain a potentially even better reward-to-risk trade, I am also looking down to the four hour timeframe. I notice the same bullish geometry of the MAs, along with higher highs and higher lows in price action, and overall bullish convergence of the momentum indicators.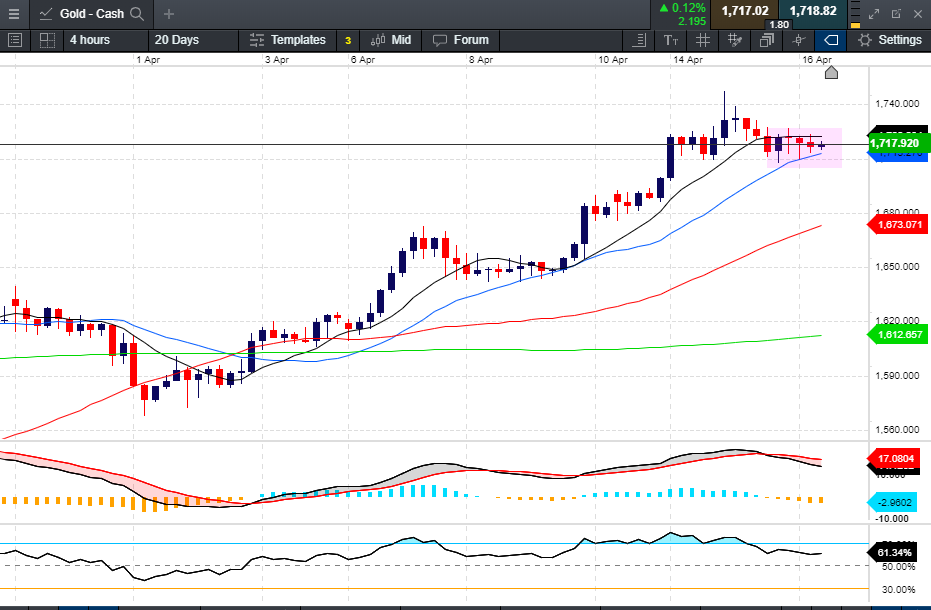 However, the RSI looks to be weakening, so I will likely reduce the risk even further on any trade setup here. I notice that price has pulled back into the MA buy zone around the 10 and 20 MAs on this timeframe, and small candles are printing in this zone marked in magenta. I am currently stalking a break out of this zone with a stop loss below the low of it. My ultimate target is 1,790, which could potentially provide  a reward approximately four times greater than risk on this trade.
Stay safe and healthy, and happy trading.