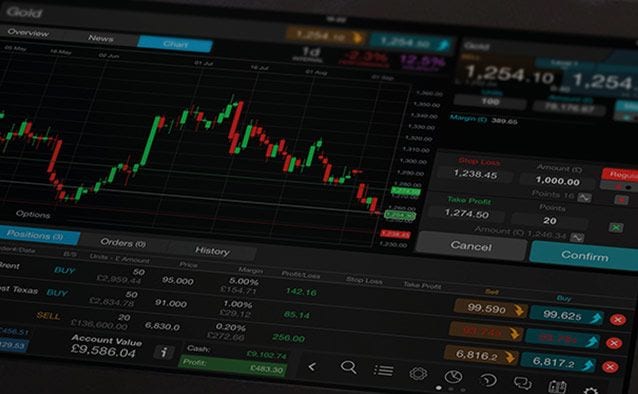 It's Non Farm Payrolls night and the stakes look even higher than usual given the big moves in bond market this week. A strong number could see bond selling continue with negatives implications for stock markets.
Given the chance of large scale volatility surrounding the US Dollar and equity markets, I've decided to feature a cross rate pair, EURJPY today. Here's my logic.
EURJPY weekly chart
The Euro has struggled to get past resistance around 136.00 against the Yen this week. This level has acted as significant support or resistance over the past 15 months.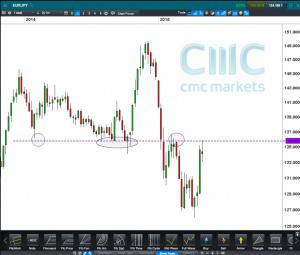 EURJPY CFD Weekly
Click to Enlarge
EURJPY daily chart
The daily chart is showing signs of completing an "M" or double top style formation which would provide a medium term sell set up from this resistance
Bollinger bands are also pointing to loss of momentum from a high starting point on the daily chart. The first peak in the M formation was above the upper band indicating strong ongoing momentum but the second one was made just under it suggesting weaker momentum.
One approach to this situation is to sell, if this M formation is confirmed by price moving clearly below yesterday's low. Assuming the market doesn't take out yesterday's high, this would see a trend change in the daily time frame with candles making lower highs and lower lows.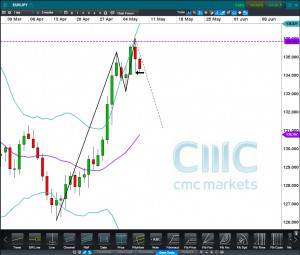 EURJPY Daily.
Click to Enlarge
Non Farm Payrolls
If you are trading tonight, tune into the live webinar discussion with my colleagues Michael Hewson in London and Colin Csieszynski in Canada.This will begin at 10.15pm AEST. There's no charge but you will need to register first and you can do that here