These are busy times for international short sellers. After several days of concerted buying in Australian banks, they've been obliged to turn their urgent attention to scrambling out of iron ore stocks. A rising Aussie Dollar is adding to the pain
While the Fortescue rally is mainly about the surprise jump in iron ore prices, investors are also digesting this morning's news that it has signed a non binding memorandum of understanding with Brazilian miner, Vale. The companies have agreed to pursue long term joint venture opportunities of provide blended iron ore to Chinese customers.  Currently, Chinese steel mills buy iron ore ore from various sources then blend them to requirement for steel production. The joint venture plan would be to do the blending for the mills, creating efficiencies and saving costs.
The agreement also has the market thinking about the potential for further collaboration between the companies including the possibility that Vale might take an equity stake in Fortescue. At this stage though, Vale has balance sheet problems of its own and is looking to sell assets rather than make acquisitions.
Fortescue rally - chart levels
Fortescue gapped above resistance yesterday and closed up 24%. From a chart point of view, this now looks as though it could be a correction of the entire $6.23 to $1.44 decline. If that's the case, the 38.2% retracement around $3.27 is a point of interest. It's often the first resting place for a corrective rally. It can also quite often be the ending point for relatively shallow corrections. However, given the momentum of this rally you would want to wait for evidence that the market is going to respect this level.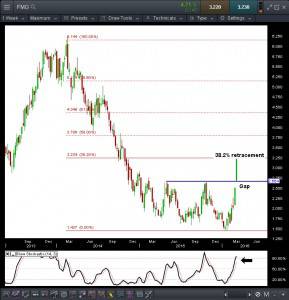 Fortescue rally
Weekly chart: Source CMC pro platform