In what's starting to become an established pattern, Fortescue Metals unveiled another strong quarterly production report yesterday. This company which many saw as a potential casualty of the commodity bear cycle, is getting its house in order. It's looking more and more like a survivor.
Fortescue's iron ore production and shipments were largely disruption free during the March quarter. Consequently, volumes were steady to slightly stronger compared to the previous quarter.
However the best news was that costs continue to fall while revenues rose. C1 costs which are basically the cash operating costs of mining, were down to an average $US 14.79 per tonne. This was achieved despite the negative impact of a stronger Aussie Dollar.
Meanwhile Fortescue's  average iron ore sales price rose to $US 45.94 per tonne compared to $US 40.60 in the previous quarter.
The more quarterly results Fortescue Metals has like this, the more progress it will make on bolstering its balance sheet. This will strengthen its position should iron ore prices do fall again as many are forecasting.
Fortescue's all up break even cost for iron ore is now down to about $US 33 per tonne. This includes interest costs of $US 3.20. It's net debt now stands at $US 5.9bn but it has cash on hand of $US 2.5bn. It has advised that about $US 1.5bn of this will be available to further reduce debt either via a buy back or early repayment.
It's recent joint venture agreement with Brazilian giant, Vale could further strengthen Fortescues marketing position. This involves investigation for joint marketing of iron ore that is a blend of Fortescue's ore with Vale's higher grade product.
Fortescue Metals Chart
The share price has gained a stellar 28% over the past 2 week
This morning, the stock is making an attempt at  breaking the resistance of its recent peak and the 38.2% Fibonacci retracement level around $3.26. As I write, it's nudged through it but is yet to move convincingly clear.
This could be a significant short term chart level for Fortescue. If it does get clearly through this, a rally to the 50% retracement level around $3.83 doesn't look out of the question. $3.83 also represents a 161.8% Fibonacci expansion of the last minor downward correction, potentially adding to its significance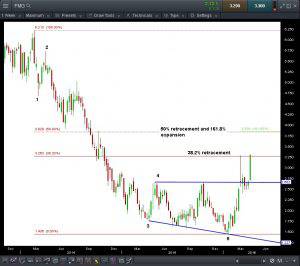 Fortescue Metals Weekly
Click to Enlarge