By John Sheridan
Just a few months back, the traditionally flightless Kiwi was in a very tradable uptrend against the USD. But no market trend lasts forever, and this currency pair is now giving us opportunities to the downside.
As you can see from the weekly chart below, for all of May, June & July, the momentum was clearly to the upside. Then the trend broke down and made a lower low, followed by a lower high and a further lower low. 
We are now definitely in a downtrend on this timeframe, with the direction of the momentum confirmed by the RSI as well as the MACD indicators.  While the moving averages aren't yet in the optimal geometric configuration, this is to be expected at the early stages of a trend.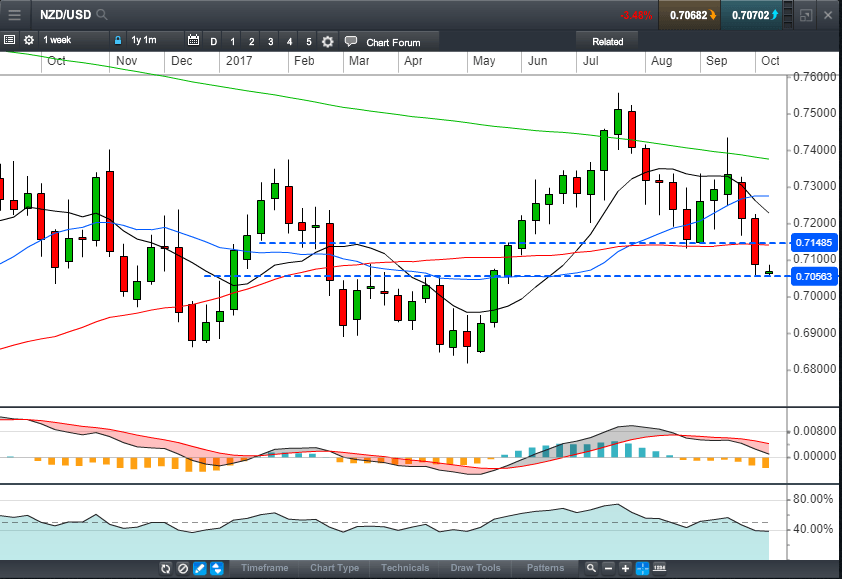 Moving down to the daily timeframe now, we can see that some decent chart structure is taking shape. This, in conjunction with our higher timeframe trend, is what has put the NZD/USD pair firmly on my watchlist.
We can see that we are down trending on the daily chart, with the moving averages in an almost optimal configuration, indicating good trend strength. Again, the downward momentum is confirmed for us by both the RSI and the MACD indicators, and we can see that price action has gone very cleanly through the significant level of 0.7148 and looks to have found support at 0.7056. 
As price is currently over-extended from the moving averages on the daily chart, at this point there is no trade setup for me, but this configuration has the potential for one of my favourite trade setups.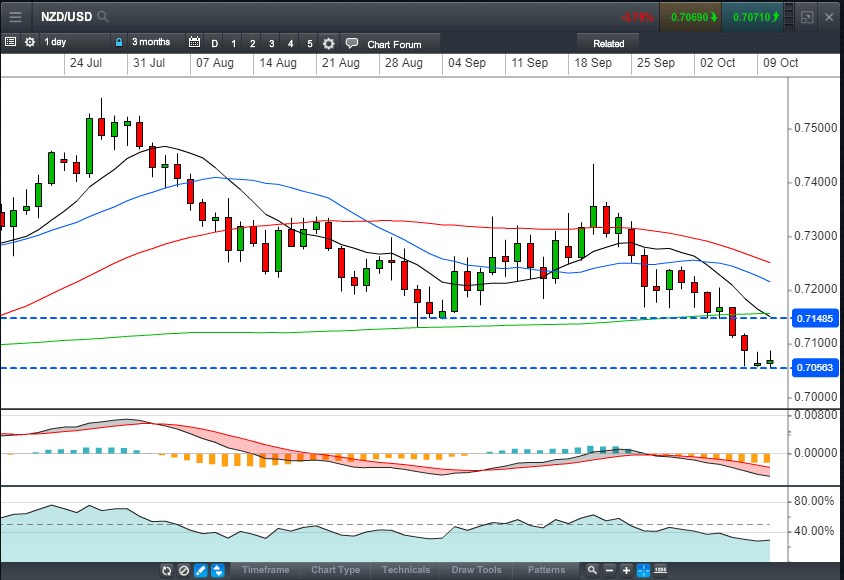 What I will be looking for on the daily chart is for price to pull back to the 0.7148 level, which by then should coincide with our moving average sell zone - the area just around and between the 10 & 20 period moving averages. We would then be looking for a small bearish candle to form and act as a trigger candle. Once that candle has closed, we would look to enter the trade should the low of the candle be taken out, and we will place our stop loss just above the most recent swing high.
In the event that price pulls back as anticipated, but we don't get a valid trigger candle forming on the daily chart, we can look for a valid technical setup on a lower time, such as the four-hour chart, once the downtrend has been re-established there.
In summary, NZD/USD is firmly on my watchlist at this moment and has the potential for a few different trade setups, depending on how the Kiwi takes flight.