The Australia 200 index and its biggest stock, CBA, both looked wobbly at key chart resistance today. While lower interest rates should support stock market valuations; it might be time to tighten stop losses in case a pull back develops.
CBA chart
A little over a month ago, CBA shareholders faced the ugly prospect of a bearish break below chart support.
Instead, the support held. A 10% rally followed and today saw CBA testing chart resistance.Shareholders now find themselves facing the pleasant possibility of a bullish break out of a double bottom pattern.
If price can get well clear of the double bottom resistance, then a rally to the 78.6% Fibonacci retracement around $82.50 or to the last major peak around $85.80 both look quite possible.
That said, today's price action is not particularly encouraging for the bullish break scenario. Things started well, with CBA's price gapping above the resistance. Worryingly, this gap was quickly closed and CBA closed well below its high. If it makes a lower high and lower low tomorrow,  the resistance will have been rejected after a small false break
CBA ;interest rates and a new trading range
As  recent profit reports clearly demonstrated, banks are struggling for revenue growth and earnings are brittle. More volatile range trading in their shares would not surprise
That said, I reckon last week's rate cut was a real positive for bank share prices. Over 2 weeks, Australian 3 year bond yields fell from 2.08% to a low of 1.53% yesterday. There's now every prospect they could fall even further over coming months. That's a game changer for Australian investors and for bank valuations. At a dividend yield of 5.3% (7.6% after franking) CBA is now likely to find support at higher levels. The bottom of the trading range may be higher than it was before.
The other thing about lower interest rates, is that they are likely to postpone the much feared deterioration in bank bad debt expenses. Any flattening out or down turn in off the plan apartments sales or the housing market generally is less likely now that mortgage rates are even lower and still falling.
So that volatile trading range might just have a higher support and a higher resistance than it did before. The new range for CBA might be something more like $75-$83 and not $70-78 range that has applied so far this year.
Interest rates and the pull back scenario
If CBA's chart does reject the double bottom resistance now, it doesn't necessarily mean a retreat to the $70 support. Another distinct possibility is a partial pull back that eventually sets up for a break through the resistance.
Given lower interest rates, this alternative looks the more likely scenario. The 3 year bond yield chart support this outlook. Today, yields rose off a neat, harmonic AB=CD level. A bit of retracement is on the cards. A minor pull back to retest  the old support or the 38.2% Fibonacci retracement looks possible.  That would fit neatly with the partial pull back for theory for CBA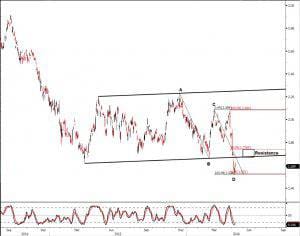 Australia 3 year bond yield
Source: Bloomberg
Australia 200 resistance
Mike posted a piece on this resistance yesterday.  To add weight to it, there is a harmonic AB=CD level just above it. Like CBA, the index has fallen away from this resistance today. This needs to be confirmed tomorrow by a lower high and lower low. If not it could be onwards and upwards
However, if this resistance is rejected, then the impact of lower interest rates on banks and other "yield stocks" needs to be considered. They make up a big part of the index.  A partial pull back might be the likely scenario for the index as well.