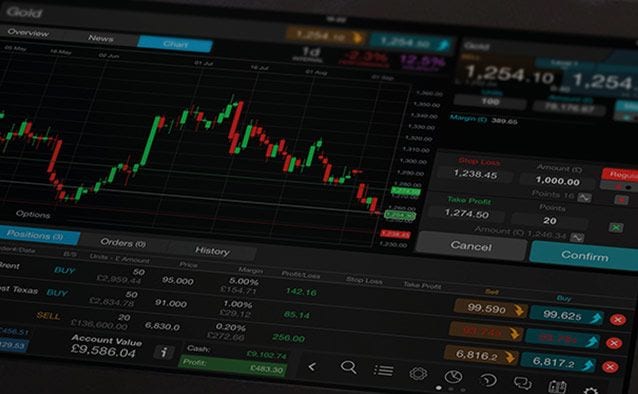 What a few weeks we have seen! Massive gaps greeting us on Monday mornings following news out of Greece/Europe has had both the heart beating and accounts pumping on more than one occasion. With all the uncertainty coming out of the situation in Europe I thought I would focus this week's blog on what isn't directly linked to the Greek situation.
AUDUSD is nice and local and is also trending. This currency has seen a break down through a well-established support level on Friday resulting in this pair beginning to down trend. This has me interested. I will be looking to short AUDUSD if and when the chance arises with my preferred option being up around the old break out level of 0.7600.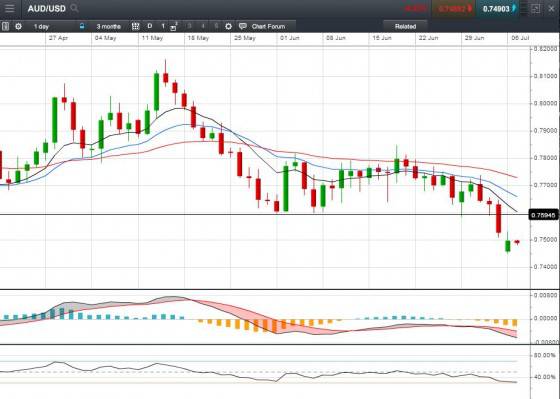 Second on the list is another local mover and it is NZDUSD; what a trend it has been! A solid, steady and consistent slide presenting the savvy trader with multiple entries on the way down. This has to be one of my preferred trends because it is just such a great example and I'm sure it will come as no surprise to avid followers of TWP that I am looking for the daily to pull back up into the sell zone which is the area around the 10 and 20 period moving average, a small bearish candle and then a trade to the short side.  Failing that, anything that fits my rules on the short side will keep me happy.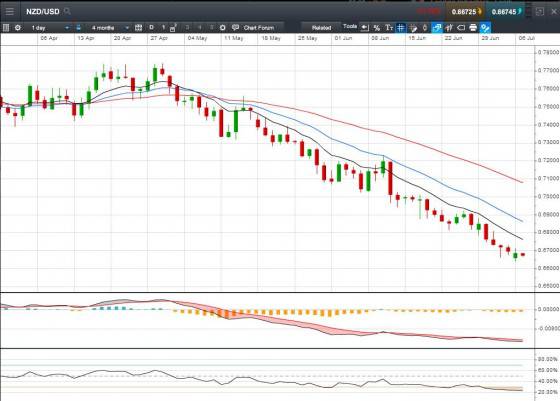 Next up is Crude Oil. With the weekly and daily now showing their true colours towards moving lower. This week I am looking to be short on a pull back and for that I am heading to the 4 hour. The chart below shows a good example of a downtrend and I intend on joining it at the first opportunity I get. Small bearish candles in the sell zone from the 4 hour or lower time frames will be what is on my radar.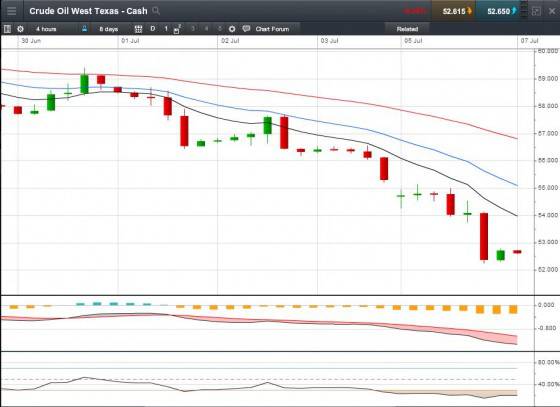 Finally there is Coffee; not something considered in my life to be a sell too often considering it makes up such an integral part of my morning ritual but the trend is tasty and warm and the opportunities will come. It has the least strong of the trends currently in this mix of 'Fantastic Four' markets, however if it continues to sell off then I will be looking for opportunities to sell the pull backs.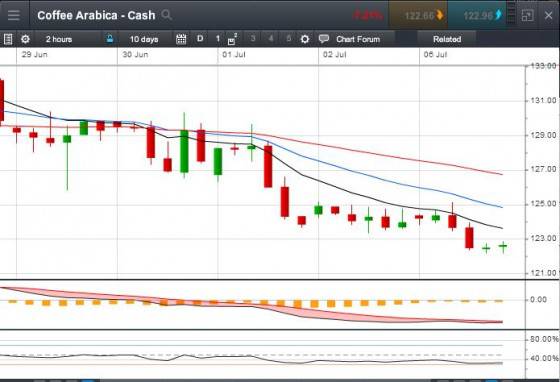 So that wraps up my fantastic four markets that don't have a direct link to the Greek situation. Keep in mind that currently there is a greater risk of markets opening with significant gaps both higher or lower at the moment so it would be well worth knowing the closing times of the markets you are trading especially come the weekend and ensuring you adhere to your risk management rules. Have a great week!