For quite some time investors have been trying to pick the top in the tech story given the significant outperformance that we've seen in this sector since the beginning of 2016. Recent slowdowns in user growth has caused some to question whether the correction that a lot of investors have long feared may have already begun, and that we've seen the peaks in the short term.
Companies like Facebook, Netflix, Amazon, Twitter, and Alphabet have at different times seen significant amounts of scepticism about their ability to monetise their growing user bases, with Twitter in particular enjoying a roller-coaster ride, while Apple's reputation as a cash machine has only been doubted in the context of its ability to innovate with new products.
This may help explain why Apple has underperformed relative to its peers. In fact as far as its peers are concerned it is hard to compare Apple with the rest of the sector given that it is not only a seller of hardware, but its services division has continued to grow in importance, even at the risk of handset sales slowing.
Samsung's numbers this morning were a warning of a slowing handset market and something that could well show up in Apple's numbers later today. Even accounting for a slowdown in handset sales, investors are now paying more attention to services which has grown in importance from generating $2bn of revenue per quarter back in 2012 to $9bn a quarter now.
Apple is looking at 41.8m iPhones for Q3, however that is less important than the average sale price which saw a drop in Q2 from an iPhone X elevated bump of $741 in Q1, down to $728. If that trend continues then there is an argument that maybe we have reached peak iPhone X.
More worrying though is the lack of innovation from Apple in terms of new products since the Watch, whose sales numbers we still don't have a clear idea about. iPhone upgrades are all well and good but when you've just shelled out $1,000 for a new iPhone X, how likely is it you'll be in a hurry to upgrade to a new one, even if we do get a host of upgrades in September.
Furthermore an increase in services revenues, no matter how large, is no substitution for a slowdown in the bigger ticket items. Putting all that to one side Apple is still a strong company and its underperformance relative to the rest of the tech sector is likely to insulate it from any earnings disappointment given it can't be reasonably considered as being overvalued.
The same can't be said for companies like Netflix, who while it is true has added users at an accelerating rate, is planning to spend money faster than it is adding new users, as it looks to add new content. Management have raised prices to address this, and the company is still managing to make a profit, however when you miss your user growth target and trade on forward earnings of 120 times investors are entitled to ask whether a stock that has risen 250% may be a little on the pricey side.
We've also seen significant outperformance from Amazon which also trades on a similarly elevated forward earnings valuation of 105, though unlike Netflix the company does have other strings to its bow and still lags behind in terms of share price performance over the past couple of years.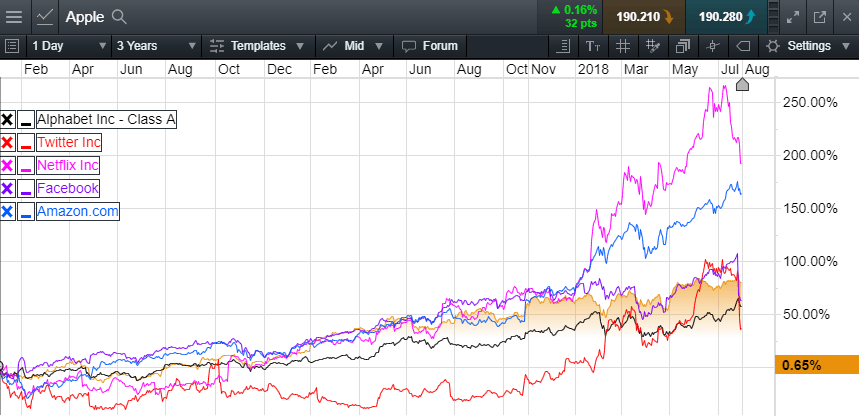 Source: CMC Markets
It is interesting to note that the next biggest fallers are Facebook and Twitter, both free to use services who use advertising to monetise their business model. Facebook is starting to feel the heat from the bad publicity from the Cambridge Analytica scandal, while GDPR could also be starting to have an effect on the user growth model that has driven share price gains over the past few months.
Google, on the other hand, or Alphabet to use the parent company name, has seen fairly steady progress higher, and despite the fine from the European Union continues to shrug off whatever regulators seem to want to throw at it.
Global trade is also likely to be a key factor for all of these companies but for those calling for the end of the tech bubble some stocks are more vulnerable than others, which means that investors need to ask themselves some serious questions when they look at the various companies in the sector.
The main one being whether the pace of growth is sustainable on a company by company basis, and whether current valuations are sustainable at their current levels. If the answer is no then we could well see further sharp falls in the weeks ahead, with some stocks being hit hard than others.
CMC Markets is an execution only service provider. The material (whether or not it states any opinions) is for general information purposes only, and does not take into account your personal circumstances or objectives. Nothing in this material is (or should be considered to be) financial, investment or other advice on which reliance should be placed. No opinion given in the material constitutes a recommendation by CMC Markets or the author that any particular investment, security, transaction or investment strategy is suitable for any specific person.