Janet Yellen has the opportunity to set market expectations on the next Fed rate hike in her speech this Friday. Leading into this EURUSD is parked at a simple trend line that has acted as a point of control over recent months
EURUSD chart
In the big picture, the Euro has been in a large trading range since March last year
The upper and lower boundaries of this are shown by the solid blue lines. Resistance is around 1.155 compared to current levels of 1.13. Support is about 1.055 creating a 9% range
One medium term scenario is that  Euro is now heading back to support after the latest rejection of resistance in May
In recent weeks there has been in a short term corrective rally
AND as so often happens, the Euro has now come to rest at resistance while the market waits on the Yellen speech
That resistance is in form of sloping trend line which has regularly acted as a point of control since November.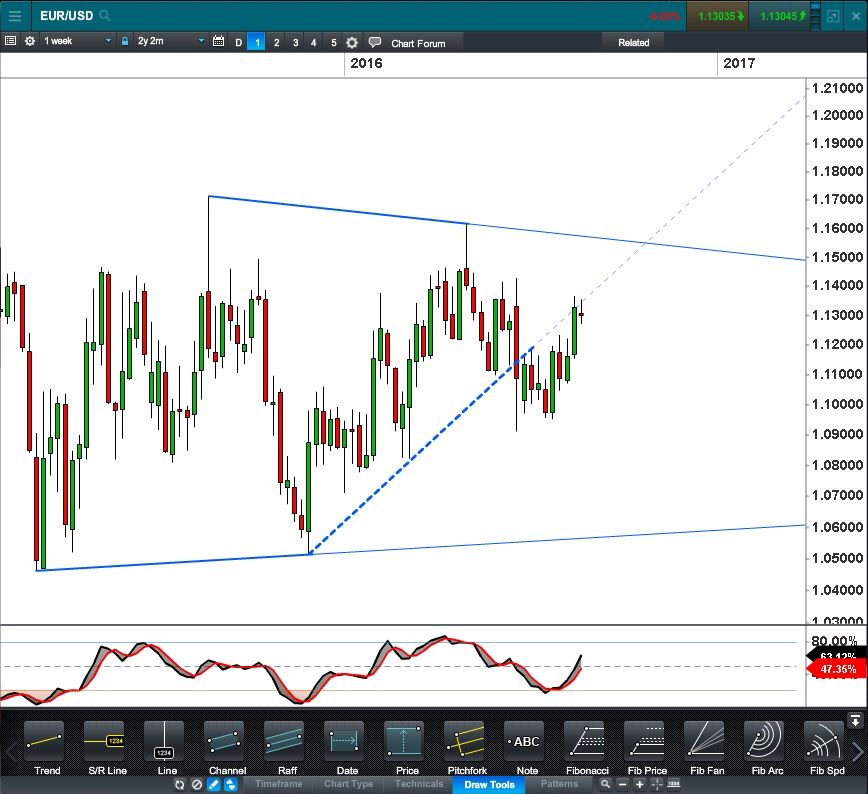 Balance of risk
In the big picture I suspect Euro is in top part of its range against $US. There is a limit to how far it can go  on theme of ongoing Fed caution. The US remains the stronger economy and we are likely to see US rates rising gradually. At the same time there is ongoing political risk in Europe which will cap rallies. 
However, there was a a bit of a sell off on Stanley Fischer so if Yellen is dovish, we'll see that unwound and Euro may push some way through this resistance 
What can we expect from Janet Yellen? Here are my thoughts:
My suspicion is that she'll be disappointingly vague
I suspect we are headed for a December rate hike
But Janet Yellen will want this to be a "dovish" hike that doesn't put too much upward pressure on $US
While the Fed will want to set the groundwork for the next rate hike, there's not much mileage for Janet Yellen in appearing to lock that in too early 
In fact the relative weakness of $US will make it easier for the Fed to act
I suspect that she won't say anything  to contradict Stanley Fischer but will also balance that out with kind of caution contained in the last FOMC minutes. 
All that said any process of laying the ground work for a Fed rate hike this year is likely to trigger some US buying (Euro selling)