The contrarian in me feels that the biggest scope for a move in the Euro after the  3 big "risk" events of the next 24 hours,might come if every thing turns out to be OK
 This could involve the ECB staying dovish (bearish Euro) and the Comey testimony doing little to further weaken the Trump Administration (relief rally in $US).
While a win by the Conservatives in the UK might be seen as supportive for a "clean Brexit" process, the Euro has already run hard on the she'll be right theme since the French election.  
Even if the net effect of all these events is risk off, the Euro chart looks positioned for a potential buy the rumour; sell the fact response.
We have already had some hints that events of the next 24 hours may not be too bullish for the Euro. There are reports that the ECB will lower its inflation forecast leading it to maintain a dovish stance on stimulus for the time being. In addition, the transcript of former FBI director Comey's opening statement to Congress does not appear to contain much about the Trump Administration's involvement with Russia that was not already known
However, given that the Euro faces these 3 risk events over the next 24 hours, it may be that traders will be cautious until we get to the end of the third one and the UK election result becomes clear. 
EURUSD chart – M reversal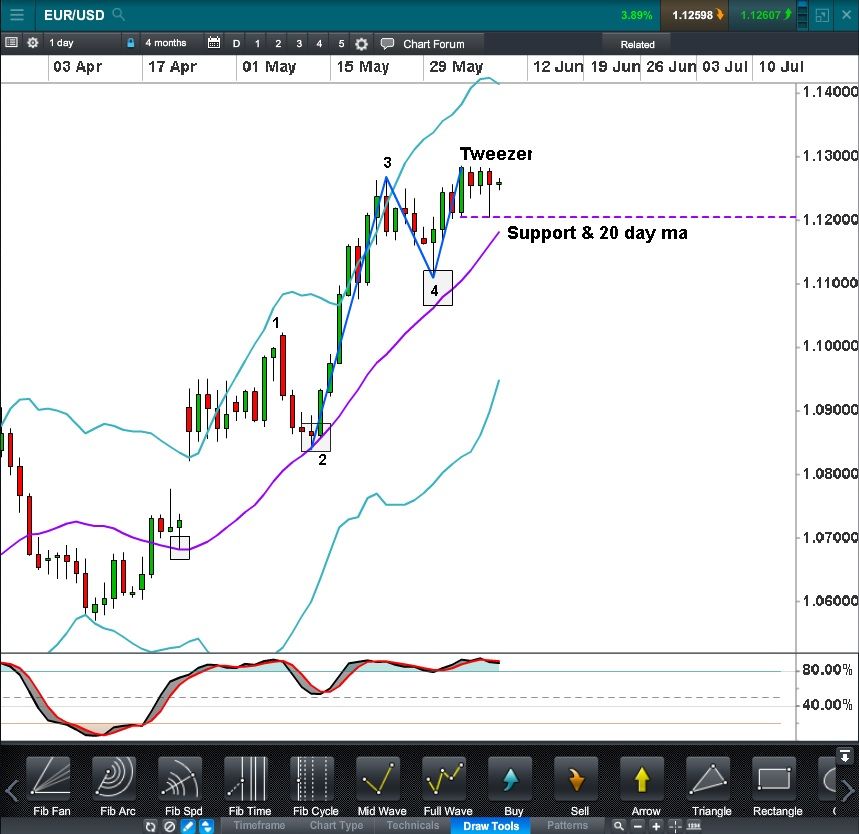 As things currently stand, the Euro chart is threatening to complete a double top style pattern which potentially comes at the end of an Elliot 5 wave advance.
Bollinger Bands are indicating weakening momentum with the 2nd peak under the upper band and the first above it. This is John Bollinger's "M" reversal set up
The last few days have set up a minor trading range. The top of the range is a bearish, candlestick Tweezer pattern (several candles with highs at the same level)
The 20 day moving average (middle Bollinger Band) has done a good job defining the EURUSD uptrend in recent weeks. The last 3 corrections have bounced off it.
From here, a move below recent lows and the 20 day average would indicate a trend change with potential for a significant downward correction to follow.
However, what might be even more attractive for potential short sellers, would be for the Euro push up through the Tweezer but go onto complete an M reversal set up some time in the next few days.  That would involve a higher trend peak but one which is still below the upper Bollinger Band.