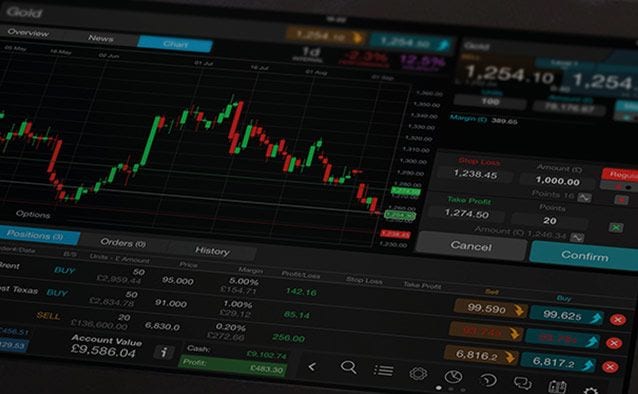 Guest Post by DV34
Looking at some long term charts there are a couple of setups occurring now with EURCAD, EURNZD and NZDJPY
To disclose, I am currently long EURCAD and have a pending order for EURNZD which will likely be filled this week; or if this month closes bullish (near where it is or higher) I will enter at market on Friday 1st Aug. As of today, I have no position or order in NZDJPY
 EURCAD Monthly Chart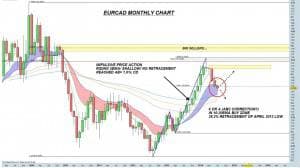 EURCAD Monthly
Click to Enlarge
The EURCAD Monthly shows a very impulsive trend, we are currently sitting in the 10-20ema buying zone and a 38.2% retracement of the most recent swing move up from April 2013
EURCAD Weekly Chart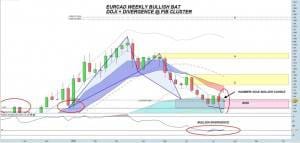 EURCAD Weekly
On the EURCAD weekly chart there is a bat pattern present with a triple fib cluster, the price very nearly stopped me out last week getting to within 25 pips of my stop loss (on a weekly chart - that is close...) but formed a doji or hammer candle with bullish divergence on Fridays close
The 3x red arrows denote possible targets with the first being around 1.48 and a 1.5:1 R:R trade
EURNZD Quarterly Chart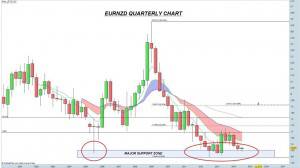 EURNZD Quarterly
On the EURNZD we are currently sitting near a long term support zone going back to 2005, the current bar is yet to close (end of Sept)
EURNZD Monthly Chart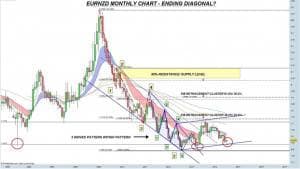 EURNZD Monthly
The monthly EURNZD has what I believe to be an ending diagonal pattern that finished last year and was retested where the second red circle is.
Longer term I am bullish this pair and the current small green candle has 3-4 days to close and is rejecting the lower trend line support/ major buying level.
Longer term I would not be surprised to see EURNZD hit the 1.90 level over the next 2-3 years, holding a position for that long though could be quite expensive
EURNZD Weekly Chart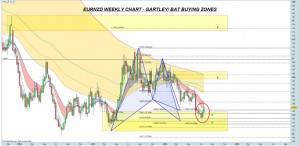 EURNZD Weekly
The Weekly chart of EURNZD show two possibly buying zones, and two separate buy patterns, the first has already triggered and is a bullish gartley pattern, the second is a bat pattern which is around 1.5330
If you look at the overall price structure we had a bullish impulsive move in May 2013 and since that time price has been retracing in a choppy overlapping corrective fashion
(Apologies for the messy fib levels shown here, the key levels are shown by the two green arrows)
I would prefer to buy near 1.5330 but if this month closes bullish as it is now I will buy on Friday stop below the low (which is also a tweezer bottom) and if stopped out buy again at 1.5330
NZDJPY Quarterly Chart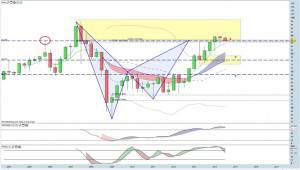 NZDJPY Quarterly
The NZDJPY is now at an interesting level, which on a quarterly chart has now completed a macro level Gartley 222 pattern
NZDJPY Weekly Chart 1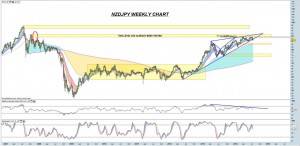 NZDJPY Weekly
On the weekly chart, we are at a major level, although this particular level has already been tested back in 2007,
The price has rejected here twice now recently. The RSI hints at slowing momentum and there appears to be a complete 5 wave structure from the late 2012 low, with the current 5th wave being something similar to an ending diagonal (Triangles and flats are quite common in waves 4's)
NZDJPY Weekly Chart 2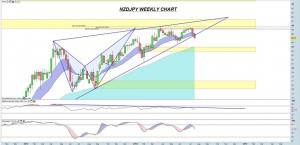 NZDJPY Weekly
Looking at the weekly chart in a little more detail there is now a 161% butterfly pattern completed right at the significant level, and we have now officially closed below the trend line and the 20ema.
Butterflies in general are far from my favourite patterns as I personally find it difficult to determine a good stop loss position, but in this case it confirms the higher timeframe Gartley 222 so fits into the larger picture
One thing to be aware of is that selling NZDJPY has a high carry cost due to the interest rate differential between the two countries, NZD being one of the highest interest rates in a stable western economy, Therefore holding short NZD over longer periods can eat away at any potential profits….
The potential R:R should reflect this prior to considering it for a long period of time, and/ or adjusting your position size down to account for the 'true' risk/cost of the position
For my style of trading I do not like chasing price, so prefer to sell pull backs but this appears set to sell off further in the coming weeks possibly down to at least 85 short term and the 50 week ema.
If price rallies from here to the top trend line breaking the most recent highs then I wouldn't be adverse to selling it around 91.50 for the 3rd test of the upper diagonal/ wedge boundary
While these are what some traders might call 'investments', weeks to months to years I still consider them positional trades as I am not trading it for carry/ interest spread income – they can be lower stress/ lower maintenance trades, the downside is if you don't have the patience for them to setup or resolve themselves or you cannot afford the larger pip risks involved within your risk limits.
Even if trading shorter term, looking at the higher timeframes can sometimes show the forest through the trees and allow you to get better perspective of key levels
Definitely a few for the watch list…  I hope this helps and welcome your comments
DV