Bullish divergence in February kicked off a 9% rally in the Euro against the Aussie Dollar. Now it is showing signs of bearish divergence that could see the uptrend reversed.
Background
Over recent months the Euro has benefitted from improved economic data, admittedly off a low base.  For example, GDP grew a relatively respectable 1.7% in the March quarter while the manufacturing PMI last recorded a healthy 56.7
However, the Euro uptrend really picked up momentum when it became clear that Marine Le Pen would lose the French election.
The Aussie Dollar on the other hand, has been knocked by the weaker iron ore price and a patchy economic outlook with concerns about low wage growth; soft consumer demand and a potential property downturn.
The market will get a lot of data that could impact the Aussie Dollar this week. Yet to come is:
The question of whether Friday's sell-off in iron ore will continue once Chinese markets resume tomorrow after a 2 day holiday
China's manufacturing  PMI
Australian retail sales and Capex data on Thursday.
EURAUD chart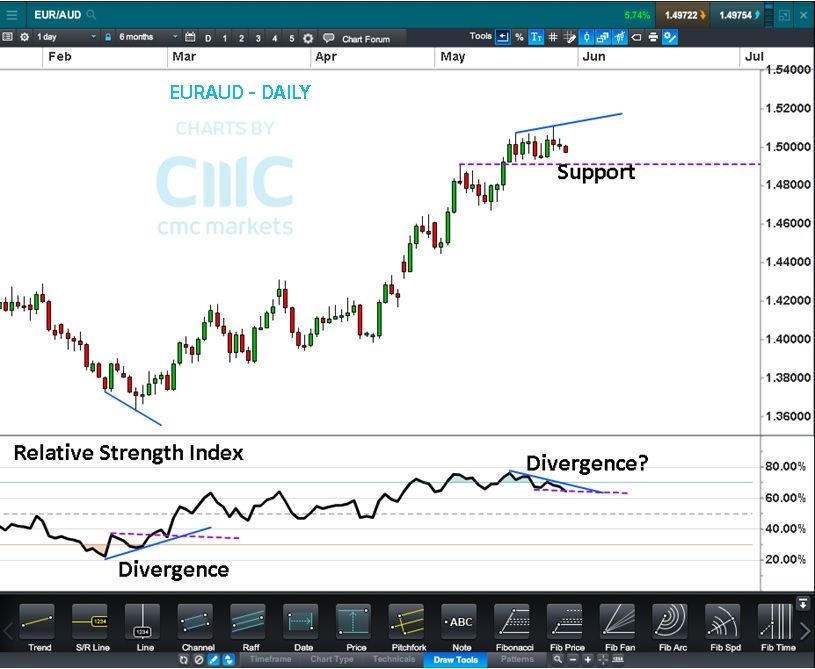 The daily chart is showing divergence with the 14 period RSI. Price is still making higher highs but the RSI is making lower highs and has dropped out of the overbought zone above 70%. The trend is still up but momentum is now falling.
This situation tends to produce either continued weak trending behaviour or a full blown trend reversal.  Signs of potential reversal might include price breaking the dashed support around 1.49 and/or the RSI closing below recent support.
This bearish divergence suggests that the biggest market reaction this week could be to better than expected Aussie data or worse than expected European data. Concerns over an earlier than expected Italian election might also give the Euro bear case a helping hand.