Today looks like being another relatively steady session for Australian stocks. Investors are not seeing the need to rotate out of equities. The consensus outlook remains for continued low interest rates and moderate profit growth. It may not be exiting but neither are the alternatives.
The energy sector had a good session in US markets overnight. Time is increasingly on the oil market's side. Demand growth is moving the market closer to the point where the balance between supply and demand will be achieved. With greater visibility on this, downside risk in the oil price looks more limited than it was a few months ago.
The strong performance by US energy stocks last night will put stocks like Oil Search, Santos and Woodside in focus today. These stocks all attracted buying support yesterday with investors prepared to look through the negative influence of a stronger Aussie Dollar. This support may continue in this morning's session.
Events in both the US and Australia have conspired to push the Aussie Dollar sharply higher. Disappointing economic data from the US has seen the US Dollar weaken as expectations for the next Fed rate hike have been pushed well into the second half of the year. At the same time, yesterday's RBA statement was pointedly silent on any rate cutting bias pushing the Aussie Dollar higher.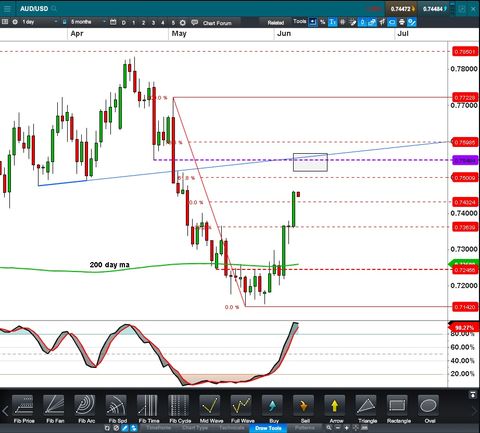 AUDUSD moved decisively through chart resistance around .74 yesterday and has held ground close to its high around .745. While the current move may ultimately prove to be no more than a corrective rally, it could easily take the Aussie Dollar back above 75 cents over coming days and weeks.