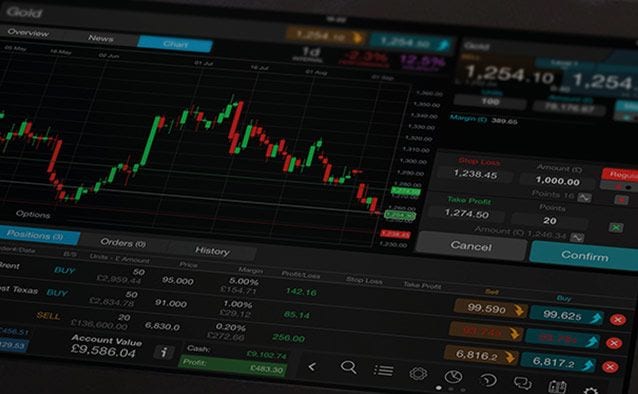 From Trade with Precision's Craig Cobb:
It's not long now until another year is wrapped up and consigned to the pages of history. For some, this will be a welcome break from their day to day routine and for others it will be a break from the markets. Personally, I love Christmas and any holidays to be honest, I mean who doesn't! I do miss trading over the holidays though because I am passionate about it. The old saying rings true that if you find something you love you will never work a day in your life. That's me.
So what am I getting at here? Well I am getting at the fact that the markets remain open right up to Christmas and a few days between the Christmas and New Years break too. There will be fewer hours to trade over some of these days but the markets will still trade. Volatility may drop a little over these days too but that doesn't worry a trend trader who has a strategy. I mean some are saying that even this week it's not a good time to trade, if you believe that then you will believe I am a talking dog with a specially designed keyboard that allows my hairy paws to type. Want proof of that, here it comes!
The Nikkei (Japan 225) has had a fall from grace the last couple of days and now I see a down trend on the lower time frames and will be hunting short trades off 17,000 into the end of the year. (below)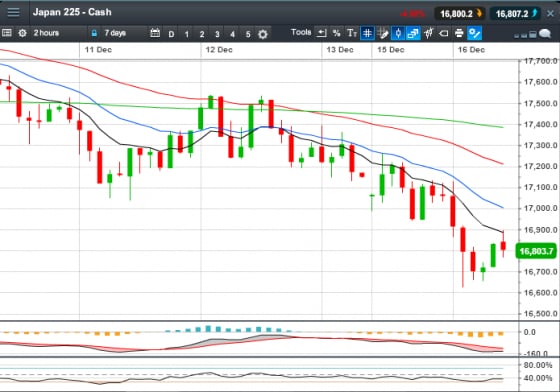 EURCAD (below) is another that is in a great trend and offering optimal chart structure for the way I trade and most trend traders. I am looking for pull backs into the buy zone and it would be lovely to see a pull back to 1.4400 for the chance to join the long side again.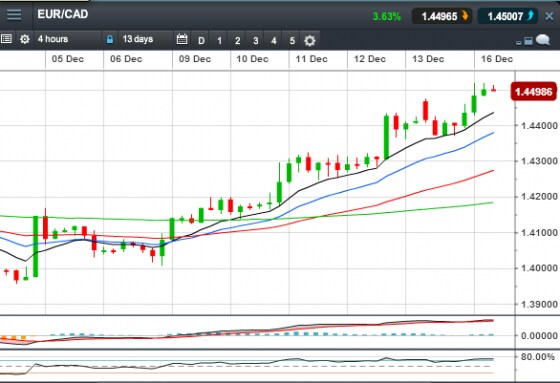 Finally and probably the story of the week/year is Crude Oil and its staggering fall from grace. Crude has been steadily falling since the end of June and has been gaining pace the last couple of months. Whether you look at it on the daily, 4 hour or 2 hour charts it has been in a cracking down trend and giving off short signals left, right and center. I don't know many trend following traders that haven't managed some decent profits from this fall.
I am still looking to trade Crude Oil short so long as it continues to show signs of weakness. For all the people that keep buying it, good luck to you, I hope you still have some trading capital left. The fact is the 4 hour (below) has been setting up short after short after short and I will continue to hunt shorts.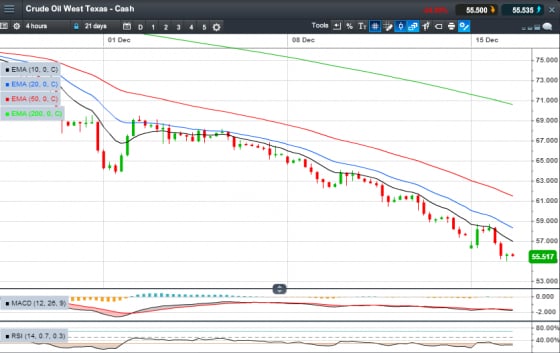 If the 4 hour is a little slow for you and isn't quiet giving you the trade you are looking for then why not the 2 hour, it's still trending just as strong as you can see on the chart below.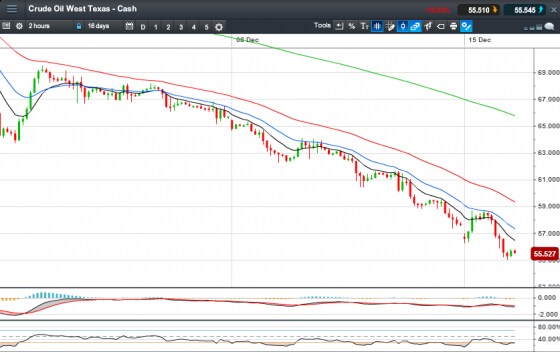 The fact is I love my trading and I love my holidays so until one stops and the other starts I will be as enthusiastic as ever. Something even better is enthusiasm in an enthusiastic market and wow we have plenty of good trends out there right now.  So go get them before the sun sets on another year!
This will be our last written blog post for 2014 so from the entire team at Trade With Precision we want to wish you all a very Merry and Safe Christmas and look forward to providing you all with more great content in 2015.